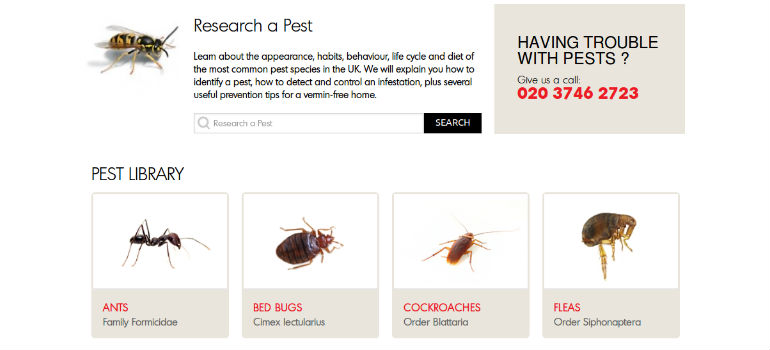 Want to know more about those pesky little creatures that keep venturing into your home? You need to venture over to our pest library and hopefully put your mind at ease.
We've gathered together as much information as we can and placed it all in one accessible place – our brand new Pest Library. It currently contains profiles of the most common UK pests but we'll be expanding it over the coming months and years to keep you up to date with the latest invaders to our shore.
We're often asked by our customers to identify the pests they think they have. We get pictures emailed to us and even uploaded directly via the GoFantastic app.
Our customers often worry about pests lurking in their homes and it's only made worse if they don't know what they are. For those customers who want to know more about any likely pests we've created a library just for you. You'll be able to understand what may have caused the infestation, how to prevent it in the future and what to do if your house is under siege.
To help you even further Fantastic Pest Control is always on hand to help with identification, create an action plan for the removal and go even further than that by creating a profile for each and every creature we encounter. Don't be frightened by hordes of unwelcome guests.
Nothing in this country is really dangerous but the presence of hundreds of unwanted pests can never the less be very distressing. Call as soon as you think you've got a problem and we'll come and remove it, effectively and safely.
Sign Me Up for Fresh Updates I want to have fantastic stories delivered straight to my inbox for free.