Skip the line, request and book a service online
CHAT
Call us now, you're one step away from an expert bird control service!
The feathery neighbours will no longer destroy your property.
Proofing with nets and spikes
Humane, effective and discreet service
Inspections with a drone
Same-day availability
Fully trained and insured technicians
Get proven bird control and proofing treatment by a fantastic pest expert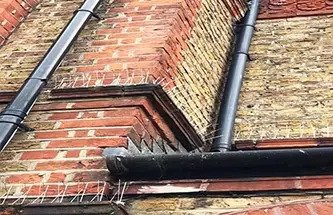 Birds, like seagulls and pigeons, commonly cause problems to buildings in London and the UK. They can make a real mess of your property's facade, windows and roof by "painting" them over with their droppings. Pigeons' nesting habits and feather shedding can block your guttering system and cause water damage, too. Last but not least, their faeces contain dangerous pathogens and emits unpleasant odours, as well.
Birds are attracted to your home and business because they provide a convenient spot for them to rest and build their nests. But also:
Food source - seeds from nearby trees, pet food, food scraps

Shelter - gaps in attics and under-roof spaces;

Water - standing water offers the opportunity for drinking and bathing.

Our humane bird control methods can put a stop to the invasion.
How we execute our bird control service
Survey
Your Fantastic pest controller will inspect your property by using a drone camera to determine what exactly attracts the birds to your place. The exterminator will identify the level of infestation and where the affected areas are.
Treatment
The pigeon control specialist will install nets and/or spikes all over the roof of your property. Also, they can apply a special "fire" gel on outdoor surfaces, which is used to repel birds. As birds see ultraviolet light, the "fire gel" appears to them as flame and keeps them away from the building.
Observation
Depending on the service you booked, your technician can return to your property upon request within a period of 3 months.
Prevention
At the end of the service, the specialist will even offer you some useful advice on how to avoid future problems with pigeons and will give you a copy of the report for the service.
Check some of the benefits you will get by hiring us:
Service is done by professionals
We will send trained and RSPH-certified experts;
Contact anytime
We are available 24/7 every day, even during bank holidays and evenings;
Guaranteed service
Upon request, 2-follow ups can be arranged free of charge within 3 months;
We care about you
Protection for your property

As a member of the Fantastic club, you can get £30 OFF for 10 different services within 1 year.
How to prevent birds from settling on your property

There are a few things you should keep in mind, in order to protect your home or commercial property from a pigeon or seagull invasion, apart from setting up bird-repellent devices.
Remove their nests if you can
Ensure that you keep your outdoor space clean
Keep bin lids secure, especially if you run a food service business
Make sure window ledges are unwelcome to birds by installing spikes
Seal entry points and gaps, leading to under-roof spaces
Ensure to cover areas where rainwater accumulates
Q: Why do I have so many birds around my house?
A: Birds keep flying into houses because they are either being led by indoor lights, seeking food, shelter, or a place to nest. In most cases, the presence of pigeons, starlings, and house sparrows becomes a problem in most homes.
Q: How do you stop birds from nesting on your property?
A: Pigeons prefer sheltered places to nest, such as under eaves and roofs. You can use bird netting as one of the humane deterrents to prevent them from doing so. The net will trap pigeons without hurting them, so they will quickly learn that coming to your property is pointless.
Q: Is it allowed to remove a pigeon nest with eggs?
A: Moving a pigeon nest may seem humane, but nests and eggs, if any, are protected by the Wildlife and Countryside Act of 1981, so moving them is an offence.
Q: How to get rid of pigeons but not other birds?
A: Using the right equipment and simple tricks, you can get rid of pigeons without disturbing other birds. Despite pigeons being classified as pests, you should treat them humanely.
Q: What is the best bird deterrent?
A: There are many ways to deter birds, such as decoys, rubber snakes, bird deterrent wire, etc. Reflective, shiny objects serve as excellent deterrents to problematic birds. Light reflections from these objects discourage birds from returning to these areas.
Q: How much does bird removal cost UK?
A: Pigeons can cause damage to your property that will cost you hundreds of pounds to repair. The cost of removing birds from your home can range from £70 to £200. We offer drone surveys for residential and commercial properties.
Bird control in London and the rest of England