Call us now, you're one step away from an expert bird control service!
The feathery neighbours will no longer destroy your property.
Become a Fantastic Club
member and get up to 20% OFF!
Proofing with nets and spikes
Humane, effective and discreet service
Professional disinfection upon request
Same-day availability
Fully trained and insured technicians
Get Proven Bird Control and Proofing Treatment in London by a Fantastic Pest Expert
Birds, like seagulls and pigeons, commonly cause problems to buildings in London and the UK. They can make a real mess of your property's facade, windows and roof by "painting" them over with their droppings. Pigeons' nesting habits and feather shedding can block your guttering system and cause water damage, too. Last but not least, their poop contains dangerous pathogens and emits unpleasant odours, as well.
What attracts birds to your home or business premises is generally the convenient spot for resting and building nests that it provides. But also:
Food source - seeds from nearby trees, pet food, food scraps
Shelter - gaps in attics and under-roof spaces;
Water - standing water offers the opportunity for drinking and bathing.
Our humane bird control methods can put a stop on the invasion.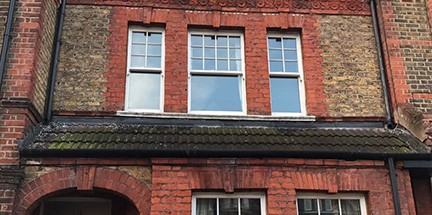 Your Fantastic pest controller will look around your property to determine what exactly attracts the birds to your place – for example, there might be some unknown source of food nearby.
Then your pest control specialist will proceed with the actual proofing against birds.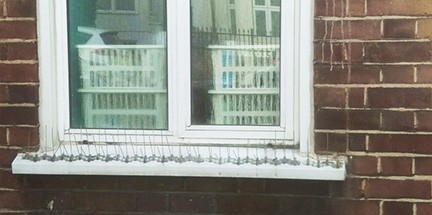 Your pigeon control specialist will install nets and/or spikes all over the roof of your property to prevent the birds from landing there. The bird netting and spikes used by Fantastic Pest Control are made of durable materials so you can be sure they will last.
In addition, the pest controller can apply a special "fire" gel on the outdoor surfaces. Birds see ultraviolet light and when they look at the gel it appears to them as fire so this serves as repellent against them.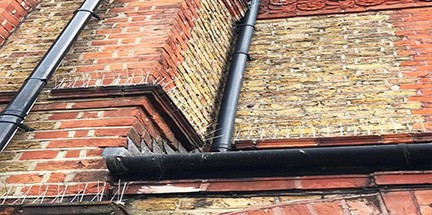 Depending on the service you booked, your technician can return to your property upon request within a period of 3 months, in case the birds continue to bother you, and take further measures.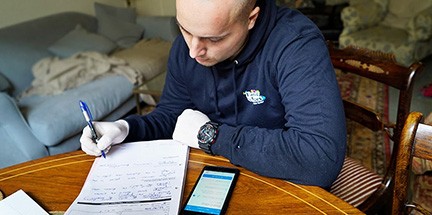 At the end of the service, the pest control officer will even offer you some useful advice on how to avoid future problems with pigeons, seagulls and other kinds of birds. He will also give a copy of the written report for the service.
The price for bird control and proofing may vary depending on the level of infestation, the height of your property, the weather and the materials we will need. To receive a personalised and accurate quote you can either give the needed details to our operators or we can arrange a survey. The technician will inspect the infested areas and provide you with the best solution for your case.
Please call us or use our online form to fill in your details and receive more information about the service.
Take a look at our fantastic deals
Frequently Asked Questions
How can pigeons affect my property?
The feral pigeon is the most popular bird pest in the UK and should not be taken lightly. Their acidic and foul-smelling droppings can result in serious damage to buildings, while their feathers can block the gutters and cause water damage. They have even been noted to lift loose roof tiles and coverings in order to find shelter, exposing the roof to the mercy of the elements.
Are pigeon faeces harmful to humans?
The numerous pathogens that are packed within pigeon guano can be very easily transmitted via direct contact or inhaled through a building's ventilation system. In addition, pigeon excrement has been linked with many fungal infections, such as cryptococcosis and histoplasmosis. These birds are also very likely to carry salmonella, tuberculosis, and ornithosis.
How do I keep pigeons away from my house?
To give the birds a hint that they should leave your property, find and destroy their nests as many times as needed until they give up and relocate somewhere else. If you have a bird bath in your garden or any areas that accumulate rainwater, you should make sure to remove those as soon as possible. Other ways of deterring pigeons include placing rows of spikes on ledges and window sills or sealing the nesting areas with some caulk, glass, wood, or wire mesh.
Why should I clean the birds' excrements?
There are many reasons why you should remove pigeon droppings. The most obvious one is, of course, to eliminate unpleasant smells. If you have previously suffered from a pre-existing respiratory condition, the large amounts of dried bird faeces can also cause significant health problems. Lastly, the smells are likely to attract quite a variety of insects to your property.
Do you offer any special discounts?
You can benefit throughout the entire year from numerous fantastic deals and discounts by simply joining our

Fantastic Club.
How do I remove pigeon droppings?
The removal of pigeon excrements, especially from a property's interior, is an expensive and laborious task that can easily do more damage that the guano itself if not done right. That is why we recommend hiring experienced professionals who can legally remove all waste from your premises and thoroughly sanitise the area in order to prevent bacterial or fungal infections.
What are the steps for making any alterations to my bird control appointment?
You can contact us but it's much more convenient to you if you use a Fantastic account. It will take you almost no time to create an account and with its intuitive design you can easily manage all details around all bookings you have.
How pigeons survive in an urban environment?
There are feral pigeons which cannot survive on food scraps only. So, they live in the city where particular individuals will feed them with quality food like grain or corn. The flocks will increase and this is when the risk of pigeon infestations arises.
How to keep pigeons away from the house - birds and pigeons can seem harmless, but they can cause huge damages to your property, make a mess and even transmit diseases. For that reason, check our article where you can find information about the most efficient methods to keep pigeons away.
Pigeon nest: removal and lifecycle - read our information guide that covers everything about pigeon's nesting habits and their life cycle
Bird mites: what are they and how to get rid of them - Barely known, bird mites are parasites of the bird species. These microscopic insects can bring many troubles to people. Read more about them, like how to identify them, where do they live, what to do in case of an infestation and more.