Professional ant removal services
Show the ants the way out.
Thu 19th
Same day callouts available today
Safe and eco-friendly pest control methods
Trained, vetted, and certified local technicians
Same-day & emergency visits available
24/7 customer care
Professional ant control by RSPH-certified technicians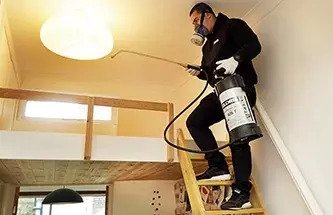 Although ants are not your typical pest, as they are considered beneficial insects to our ecosystem, the little hard workers can infest our homes and cause problems, especially in the kitchen. At first, you may notice just a few of them scouting around and checking for available food sources. But sooner or later, you can expect the entire colony to join them.

The ants that you'll see in your home are not health-hazardous, but some species do bite if disturbed. That being said, these tiny insects can cause some serious damage to your property. For example, if a family of carpenter ants decides to move in with you, you can expect some serious structural damage to your home that can cost you a significant amount of time and money to fix. Ants can also cause issues with the wiring - believe it or not, the crawling insects can actually chew through the plastic covering of a cable and create a potential fire hazard. And we are not quite done yet - if an ant colony settles behind the walls of your home, the moisture from their new nest can affect your household appliances. So, next time your oven starts acting weird, maybe you have an ant problem on your hands.
These are just some of the many reasons why you should opt for a professional solution if you start seeing tiny, black dots walking around your property.
How the ant removal service works
Survey
On the day of your service appointment, we'll send you a fully equipped ant exterminator. They will inspect your property, look for entry points, and determine the seriousness of the infestation. Once done, the specialist will choose the best ant control treatment.
Treatment
The ant exterminator will set special gel baits in strategic areas, mainly around entry points and close to the ants' nests. This type of treatment is extremely effective and will take care of the infestation once and for all.
Observation
Upon additional request, your ant removal specialist can visit your property again in a few weeks to see if the ant infestation is gone. If there are still signs of the insects, further measures will be taken.
Proofing
Your ant pest control expert will offer you some useful advice that will prevent future ant infestations. Also, they'll write down a report, describing what has been done in your property during the pest control service.
Why book our ant control service
24/7 service options
You can book late-night sessions, Monday to Sunday, and on bank holidays
Flexible pricing
Affordable prices, no hidden charges
Convenience
We can arrange a key pick up and delivery
Availability
We offer same- and next-day appointments

As a member of the Fantastic club, you can get £30 OFF for 10 different services within 1 year.
What to do before and after the ant removal service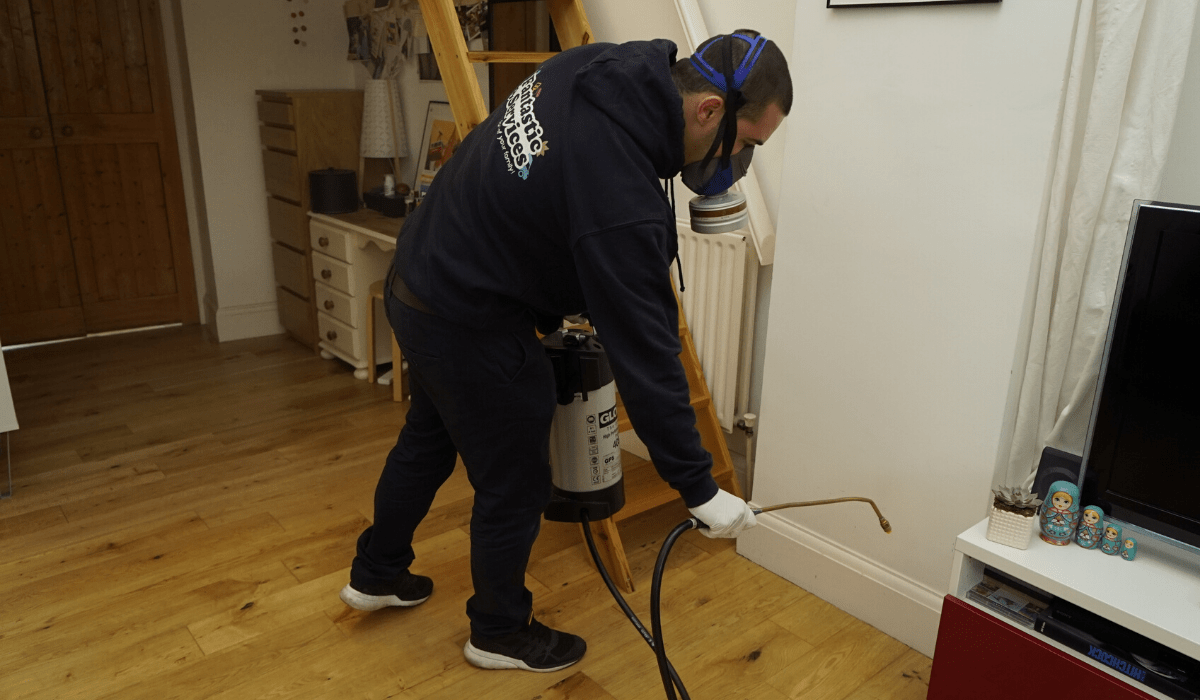 Before your pest control technician arrives, you'll need to prepare yourself and your property for the treatment. Some of the things that you'll have to do before the ant removal service are the following:
Make sure to remove all of the food from your kitchen cupboards;
Thoroughly vacuum your carpeted areas before the ant exterminator arrives.
What to do after the ant control service has been completed:
Leave the treated areas alone for at least a couple of hours;
Once enough time has passed from the ant removal session, open your windows for about 10 minutes;
Avoid hoovering or cleaning your property for at least 4 days after the ant eradication service.
If you have any further questions about your ant control service, you can ask the exterminator on-site or give our customer support team a call - pick the option that is most convenient for you.
Q: Why are there ant problems in my house?
A: The answer is simple - the insects are looking for a good food source and your kitchen happens to be ideal for the job. If you want to eliminate the risk of an infested home, you need to make sure that both your human food and pet food are properly stored in airtight containers. This prevention measure alone can save you the hassle of researching home remedies and investing in spraying detergents that just don't work. Learn more: How to get rid of ants?
Q: How do I stop ants from invading my house?
A: The best way to keep ants away from your home is by not giving them incentives to sneak in. This means no dirty dishes in the sink and to invest time in frequent cleaning of floors, worktops, and cupboards. Also, if you have any small holes, cracks, and crevices, you can seal them, so that the insects don't have a way to get it.
Q: When should I book an ant treatment appointment?
A: You should call one of the London pest exterminators as soon as you spot any signs of an ant infestation. Some ant species, such as carpenter ants, can inflict some serious damage to your property. Before you know it, you can end up with damaged wood in your home that will cost you a lot to repair.
Q: How do you calculate the cost of your ant pest control service?
A: It depends on the number of rooms that require treatment and how many visits you've booked with the exterminator. We charge per job done, not per hour.
Q: Can you take care of my ant problem at the weekend?
A: Of course, we can. The technicians can help you get rid of ants any day of the week, including on Saturdays, Sundays, and on bank holidays.
Q: Can you send a pest control technician on the same day of getting in touch with you?
A: Yes. We offer emergency and same-day ant treatment services, so worry not, we'll help you out right away.
Q: Can I get a discount for my ant control service?
A: Yes, of course. You can always join our Fantastic Club. By becoming part of the membership programme, you get to take advantage of lower prices, seasonal deals, cool perks, and many more benefits.
You have a very specific pest question?
Fill in the form, upload images and click send. One of the expert pest technicians at Fantastic Pest Control will provide you with an answer ASAP.
Ant control in London and the rest of England
Learn more about ants
Check our tips, tricks and other useful information regarding ants.