They Crawl? They Fly? Let's Say 'GOODBYE'!
Safety first: child- & pet-safe methods
Emergency pest control service: we can arrive within 1 hour
Guaranteed packages or single treatments
Complete care: inspection + treatment + prevention
Fantastic Club - get up to 20% off any service for £59/year
Fantastic Pest Control London will
S.T.O.P.

the Pest Problems Today!

Survey

Your Fantastic Pest Controller will fully inspect your domestic or commercial property to determine the type of pest and level of infestation. This will help him choose the fastest and most effective way to get rid of the pest problem. If you have rodents, upon request, the pest technician will use endoscope cameras to detect activity in hard-to-reach places.

Treatment

With advanced pest control treatments in London and the UK, we can eliminate every last insect and rodent present at your property. Our services are not hourly-based, meaning your Fantastic exterminator will work until all affected areas are properly treated and the pest is completely eradicated. We offer emergency treatments and guaranteed pest control procedures depending on the pest and level of infestation.

Observation

Monitoring is an important part of the local pest control. You can request up to two additional sessions within a period of 3 months after the initial treatment if you have booked a guaranteed service. Your technician will return to check if the pest treatment was fully effective and proceed with more actions if needed.

Proofing & prevention

Your Fantastic Pest Controller will block any accessible entry points as a final touch in order to prevent further intrusion. He will also give you a written report for the service done as well as some useful tips for future prevention. Additional services such as dead animal removal, property fumigation and rodent proofing are available at all times.
Meet the Fantastic Pest Technicians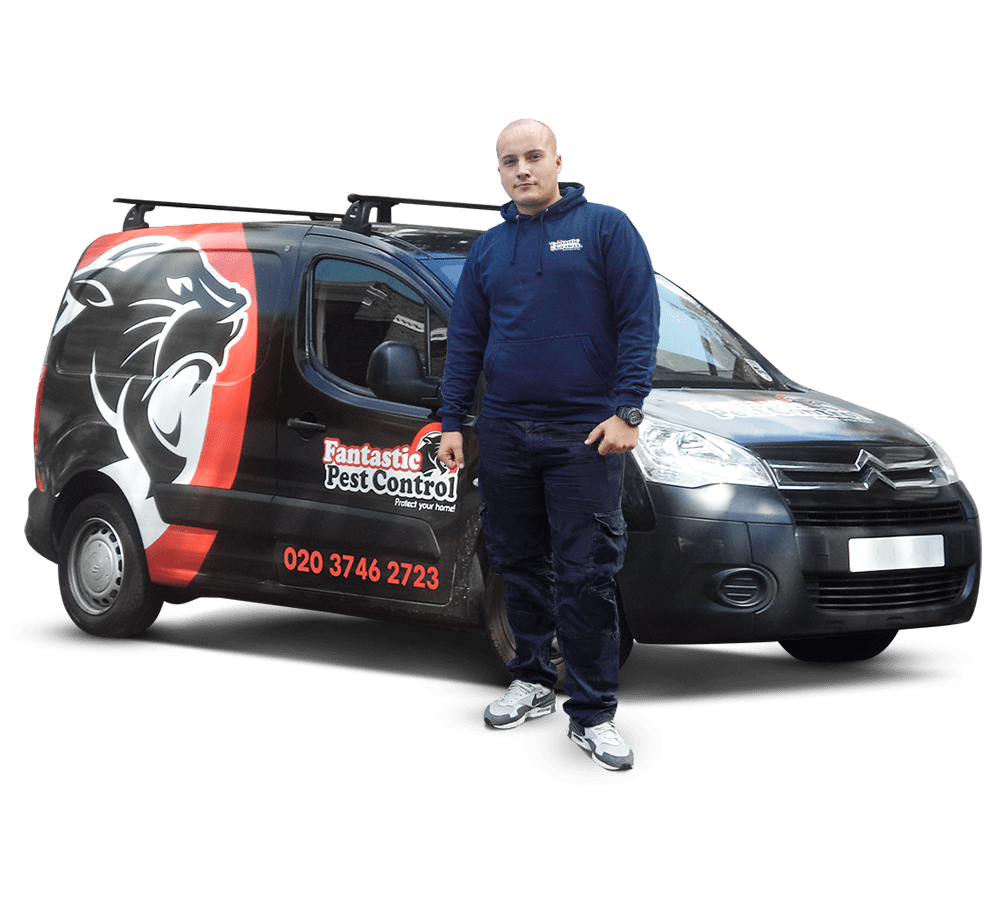 Fully prepared & certified:
Professionally trained by the Fantastic Academy;
Passed courses for safe use of rodent and insect control products;
With public liability insurance of up to £1 million;
Following all health & safety regulations, including COSHH 1988;
Against all infestations:
Quick to recognise the infestation signs and determine the pest species;
Evaluating the problem to find the quickest pest control solution;
Applying the latest effective methods for proofing and prevention;
Using agency-approved products, traps, bait boxes and sealants;
High-end professional equipment;
Check What our Clients Say About us
We are currently expanding outside of Greater London!
The team of Fantastic Pest Control works hard to provide professional services for clients in and outside of the M25 zone. Now, we can resolve any pest infestation problem in North West and South East England, as well.  We are at your disposal in:
And more! Local exterminators will cover the entire UK to provide you with impeccable pest control services whenever and wherever you need them. Pests in England don't stand a chance against us! Fantastic Pest Control is available for you.
Check All Locations
Frequently Asked Questions
What are your opening hours?
Our phone lines are at your disposal at any day and hour, weekends and bank holidays included. You can even hire the technicians for after hour and evening appointments.
Do you offer a same-day service?
Yes, we can assist you with emergency pest control services at your preferred time.
How is the price for pest control formed?
We charge per job and not by the hour. This means that your local exterminator will remain at your property until the job is finished.
Are your services guaranteed?
Our full treatment service includes a three-month guarantee during which you can schedule up to two additional visits free of charge. We also recommend booking our heat treatment service to eliminate the insect population with 100% efficiency.
Are your pest treatments safe?
Our services are safe for children, pregnant women, and pets. However, it would be best to keep children and animals out of the treated premises for a couple of hours until the insecticides settle down and dry out. If there is a fish tank in the property, it should be covered during the treatment. Make sure to follow your exterminator's instructions strictly.
What kind of products and equipment do you use?
We use safe and approved insecticides by a reliable UK pest control supplier. The products are quite powerful, aiming to achieve complete pest extermination, so they are nothing like the ones you can find in your local shop. We also take advantage of state-of-the-art equipment for pest inspection and treatment, which includes an endoscope camera, thermographic camera, UV vacuum cleaner, special heaters for out heat treatment procedures and more.
What types of properties do you treat?
We provide professional services for residential, as well as for public and commercial properties such as hotels, restaurants, schools, hospitals, shops, warehouses, and many more.
How many exterminators should I expect?
We usually send out a single local exterminator to a property. But depending on the size of the building and your pest control plan, a team of two pest controllers may be required.