Flea Pest Control in London and the UK
Flea treatment by certified pest controllers.
Sun 3rd
UP TO £60 OFF CALL US TO CLAIM THE DEAL
Same-day availability & emergency flea pest control
Inspection, treatment of fleas & prevention included
The service is not hourly-based
Child- and pet-safe flea removal methods
How we execute the flea removal service
Survey
The flea exterminator will visit your property and will carefully examine it to figure out the type and level of infestation. Then the expert will determine the best flea treatment method.
Treatment
The pest controller will spray the affected areas with an insecticide, effectively eradicating any fleas in the process. With its residual effect, it will remain active for a long time.
Observation
When a full flea pest control service is booked the flea exterminator can return upon request after some time to examine your property again.
Prevention
The technician will offer you some helpful advice on how to avoid any future trouble with fleas and will provide a report for the performed service.
Protect your home and pets with effective flea pest control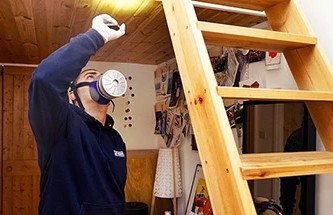 You could be de-fleaing your cat or dog regularly and still have a flea infestation at home, gone out of hand. Why? There are two main reasons for this:
Flea eggs are difficult to kill - Eggs are not killed 100% by a standard fipronil pet treatment. They drop on the floor (your carpet, in between floorboards and in your pet's bed), where they soon hatch. The young fleas jump back on the host - your unsuspecting dog or cat, despite their flea collar.

You're dealing with a secondary infestation - You're unaware that a rodent family in your attic has brought fleas into your home.
Often, without a professional flea treatment and comprehensive control, the parasites will simply thrive and keep breeding.
What is required for effective flea treatment?

Make sure to take the following measures prior to the flea treatment:
Vacuum carpets, furnishings and upholstery.
Empty the vacuum cleaner away from your house.
Don't be present on the same floor where treatment is taking place.
Your cat or dog should be out of the property during the flea removal service.
After the flea control :
Wait at least two hours before returning home after the service
Upon your return to the property, open all doors and windows.
Do not vacuum or mop the treated areas for 5 days.
Consider repeating the flea treatment in a few weeks.

As a member of the Fantastic club, you can get £30 OFF for 10 different services within 1 year.
Flea control in London and the rest of England
Q: How to get rid of fleas?
A: Treat your pet for fleas regularly. Keep bedding clean and vacuum furniture, floors, and skirting boards regularly to help destroy fleas at every stage of their life cycle. Remove the dust bag from your vacuum after each use to avoid flea eggs and larvae developing.
Q: How much does it cost to get rid of fleas?
A: Flea pest control costs between £80 and £350 depending on the severity of the flea infestation and takes three to five hours. Keep in mind that these are basic prices that may increase depending on your situation. For example, the level of infestation will determine how many treatments are needed.
Q: Can fleas live in your bed?
A: Fleas take advantage of warm environments, and a bed is ideal. Adult fleas lay eggs within the mattress material and excrete faecal matter to feed larvae.
Q: How long can a flea infestation last?
A: A flea can survive for a year in ideal conditions but only one to two weeks without a host. Once all the eggs mature, emerge, and die, the flea infestation will be over.
Q: Will vacuuming everyday get rid of fleas?
A: The best way to get rid of fleas is to vacuum your carpets daily, including under the furniture and right up to the skirting boards. In that way, you can remove every flea egg before it becomes an adult and produces more eggs by vacuuming daily.
Q: Can a pest control get rid of fleas?
A: A residual insecticide is applied to any infested premises. All floor surfaces are treated with insecticide. Eggs and pupae will continue to develop throughout the treatment, ultimately emerging as adult fleas. A residual effect of the insecticide will kill newly-formed fleas.