Professional cockroach control treatments in London
Emergency cockroach eradication services
Sun 3rd
UP TO £60 OFF CALL US TO CLAIM THE DEAL
A roach exterminator near you will visit within 60 minutes
Detecting and removing cockroach nests
Certified roach pest controllers
A 3-month guarantee on cockroach treatments
Cockroach control service: how it works
Survey
To determine how serious the cockroach infestation is, a fully equipped cockroach exterminator will inspect the property.
Treatment
A specialised gel bait will be used by the pest technician to attract the roaches. The bait's poison will kill any cockroach that consumes it.
Observation
You get 2 extra visits from the pest exterminator after the initial cockroach treatment if you choose our guaranteed cockroach treatment service.
Prevention
As part of the cockroach control, the exterminator will even offer some advice on how to avoid cockroach infestations in the future.
Control cockroaches effectively for a healthy environment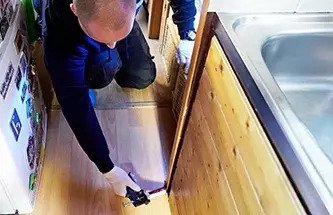 Roaches can quickly become a menace, as they are fast-breeding insects that can survive in the most adverse conditions. It's also fair to say that they have developed immunity against certain pesticides, which makes it hard to eliminate a severe cockroach infestation with a product bought over the counter. This is why it's wise to hire a reputable pest management company that can offer you guaranteed results and effective cockroach treatments. Cockroach exterminators are one of the best ways to protect your family from cockroaches and avoid:
Health hazards - cockroaches transmit diseases and trigger allergies;
Bad reputation or image - your restaurant takings can plummet overnight;
Damaged food supplies - a

ll contaminated food must be thrown out

;
Inadequate property hygiene - cockroach faeces and shed skins emit a foul musty smell;
Before and after your cockroach treatment

It is only applicable to spray treatments and not mandatory if gel bait is used.
Before the cockroach pest control treatment:
Relocate your pets to another property (fish included);
Hoover all cockroach-frequented areas;
After the cockroach pest control treatment:
Leave the premises for at least two hours to allow the insecticides to settle down;
Upon your return, air out all treated rooms for about 10 minutes;
Do not clean the treated areas within the next 4 days;

As a member of the Fantastic club, you can get £30 OFF for 10 different services within 1 year.
London and the rest of England cockroach control
Q: How to get rid of cockroaches?
A: If you want to kill roaches quickly, you should sanitise your home, eliminate hiding spots and stagnant water, store food in airtight containers, and use glue strips and baits.
Q: Do cockroaches bite?
A: Cockroaches rarely bite humans. A cockroach bite is not common and occurs when the population exceeds the usual food source, and the crawling insect seeks out other sources of nourishment.
Q: How do you find a cockroach nest?
A: A cockroach's nest is often found near plumbing fixtures in bathrooms and kitchens, in cupboard cracks or under drawers, inside appliances or underneath the refrigerator. In addition to cockroach droppings, your sense of smell will also help you find the nest - most have a strong, foul odour.
Q: How do I get rid of cockroaches in my home?
A: An effective way of resolving cockroach infestation is to use glue traps. The smell of the trap lures roaches, and once they step on the strip, the glue traps them. Store-bought glue strips work best when placed behind the refrigerator, under the sink, and anywhere you've noticed roach activity.
Q: How much does cockroach control cost?
A: The average cost of a cockroach exterminator is around £180 to £260, including materials and tools. Most infestations require only one treatment, but more severe cases of persistent pests may require multiple visits.
Q: How do pest control get rid of cockroaches?
A: Most pest control professionals use gel bait insecticides to eliminate cockroaches. Roaches feed on each other's bodies and faeces, which allows the poisoned and dead insects to spread the poison to living insects and kill several generations of cockroaches.