Emergency cockroach eradication service for clean and healthy premises!
Certified technicians offering the most effective solution!
Price for Fantastic Club members starts from £151 instead of £189
Flexible slots for emergency services
Treatment with effective and approved products
Experienced and certified technicians
Fast and discreet treatment
Restore the Healthy Environment of Your Property with Our Expert Cockroach Control Treatment
Roaches can quickly become a menace, as they are fast-breeding insects that can survive in the most adverse conditions. It's also fair to say that they have developed immunity against certain pesticides, which makes it hard to eliminate a severe infestation with a product bought over the counter. This is why it's wise to hire a reputable pest management company in London that can offer you guaranteed results and effective solutions.

This way, you'll avoid:

Health hazards - cockroaches transmit diseases and trigger allergies;
Bad reputation or image - your restaurant takings can plummet overnight;
Damaged food supplies - throw everything that cockroaches have touched;
Exacerbated property hygiene - their faeces and shedded skins emit a foul musty smell.
So, one of the most efficient ways to protect yourself and your family is to contact a professional cockroach exterminator. He knows the best solution to eliminate the unbeatable pests.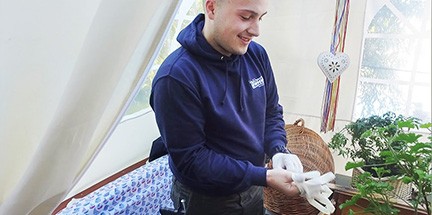 Your Fantastic cockroach pest control specialists will look around your property or workplace to determine how serious the infestation you're dealing with is.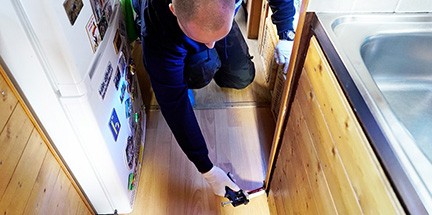 The technician will use a specialised bait gel that attracts the roaches. Once ingested the bait gel will poison and kill any cockroaches that have eaten from it. Since these insects are omnivorous, the live ones will feed on the dead, resulting in a domino effect over the cockroach population which is the actual purpose of the treatment.
If the infestation level is high, the cockroach exterminator will use a powerful insecticide to spray the affected areas. The insecticide has a residual effect which means it will remain active over time.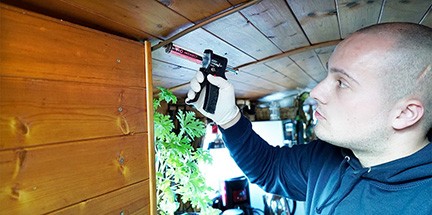 If you choose our full treatment option, you can request two extra visits from the pest technician for a period of 3 months after the initial treatment.
This way you will ensure the cockroach infestation is completely eliminated.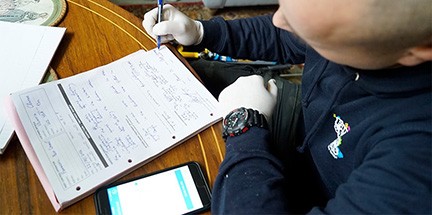 In the end, your expert pest controller will even offer you some useful advice on how to avoid cockroach infestations in the future.
Cockroaches Control Prices
The rates for our cockroach treatment depend on the number of bedrooms in your house, the guarantee period, and the type of pricing - standard or discounted with a Fantastic Club membership. In London, the cost of cockroach extermination is as follows:
Cockroach control prices for 1 bedroom property
Service Type
Price

Fantastic Club

| Standard
Inspection (without a treatment)
£35
Treatment with a 1 month guarantee**

£151

 | £189
Full treatment with a 3 month guarantee***

£212

 | £265
Cockroach control prices for 2 bedrooms property
Service Type
Price

Fantastic Club

| Standard
Inspection (without a treatment)
£35
Treatment with a 1 month guarantee**

£159

 | £199
Full treatment with a 3 month guarantee***

£220

 | £275
Cockroach control prices for 3 bedrooms property
Service Type
Price

Fantastic Club

| Standard
Inspection (without a treatment)
£35
Treatment with a 1 month guarantee**

£167

 | £209
Full treatment with a 3 month guarantee***

£228

 | £285
– Prices are applicable for residential properties only.
– All insects treatments include treatment of the affected areas only.
– No further charges go on top of the rates except parking and congestion, if applicable.
– £50 additional charge on all night jobs (night job is considered between 8pm and 5am appointment time)
- T&C and Minimum call out charges apply. When we calculate the price, we also take into consideration the area's dimensions and the time of the appointment. All prices and deals are valid for areas within M25. Note that prices may vary for areas outside of M25, call in for more details on your location.
- Currently, we don't provide membership rates for Birmingham
* Treatment with a 1-month guarantee consists of 1 major visit + 1 follow-up in a 1-month period. Please mind that a follow-up can be organised only upon your further request.
** Full treatment with a 3-month guarantee consists of 1 major visit + 2 follow-ups in a 3-month period. Please mind that follow-ups can be organised only upon your further request.
*** If your property has more than 4 bedrooms, contact us for a quote.
Get an instant quote and check our availability in your area
Frequently Asked Questions
Why is my home attacked by roaches?
Unsanitary environments attract cockroaches like magnets and it's common to see them skulking around overflowing bins or spilt food. Other culprits are usually decaying foods such as meat, cheese, starch, or sweets. Damp basements, leaky pipes, and other stagnant water sources are also popular with cockroaches as they need lots of moisture in order to survive.
My home is as clean as it gets. Why do I still have roaches?
Cockroaches are skilled hitchhikers, so they can easily sneak into your home by hiding inside bags, packages, briefcases, or even potted plants. If your neighbour is using pesticides to deal with a cockroach infestation, the insects may escape through the bathroom pipework and enter your home instead. Finally, they can simply crawl in through any door that you forgot to close.
Do you offer a deal on this service and how to get a discount?
The cost-effective way is to join the

Fantastic club. If you subscribe, you can enjoy the reduced prices on all services throughout the year. Not only that but, you will book with priority or access last-minute slots!
How do you calculate the cost of cockroach control?
We take into consideration the number of rooms that need to be treated as well as the number of visits you've booked. We do not charge per hour but per treatment.
Can cockroaches bite?
Only some species, such as the German cockroach, are known to bite humans. However, while bites are relatively rare, these insects often carry a lot of harmful bacteria on their bodies and legs that can easily contaminate your food or utensils and jeopardise your health.
How do I get rid of cockroaches?
A thorough clean of all floors, appliances, kitchen and bathroom surfaces to remove leftover food or debris will usually discourage cockroaches from leaving their hideouts. You can also deter the insects by fixing damaged pipes, filling in wall cracks, and keeping moisture levels in the bathroom low. A water and baking soda mixture will also work wonders against the bugs.
How long does it take to get rid of roaches?
Cockroaches are resilient creatures, so it would take about two weeks to deal with a small-scale infestation and up to eight weeks for more serious infestations. Please note that these estimates are approximate as the actual time needed to eliminate the pests will depend on the roaches' type, their size and numbers, and on whether you decide to use pesticides or not.
How to cancel or change my booking?
The simplest way is to log in or create a Fantastic account. Then, navigate to the dashboard section and make any changes by yourself. For example, you can reschedule for another day and time or cancel the appointment, as well.
How to minimise the cockroach infestation?
First of all, thoroughly clean the property. Pay attention to the isolated areas, where cockroaches hide. Block any hole at the base of walls and around utility cables and pipes. This will never be enough, so professional cockroach treatment should be executed for complete elimination.
Can you help me out with an emergency service?
Yes, of course. You can contact us and explain your situation to one of our friendly customer service agents. We will send an equipped exterminator to deal with it quickly and efficiently.