Guaranteed Rat Extermination Services in London
Using effective rat elimination methods with proven results!
Same-day, weekend and evening availability
24/7 emergency pest control services available
All-in-one solutions: inspection, treatment, pest prevention
Discreet approach with your reputation in mind
Entrust the rat removal job to a skilled exterminator near you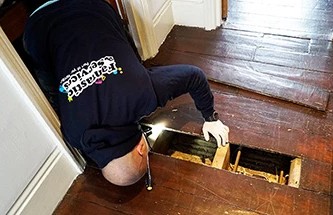 Having a sleepless night or two, due to gnawing or screeching noises coming from your attic? Then, you should get your property in London inspected by a rodent control professional straightaway. This way, you'll know for sure what type of vermin have settled in your home. You see, rodents, such as rats or mice, are some of the most common pests in both residential and commercial properties in UK cities, and their timely extermination is a must. Why?
For a start, rodents breed uncontrollably and can affect neighbouring properties in no time. In fact, the rat infestation in your home or place of business might be exactly caused by the lack of vigilance of your neighbours. They are nocturnal and excellent climbers, so they can sneak unnoticed inside your place. Rats are also difficult to trap, therefore, don't waste a minute on dealing with the vermin yourself, as this will prolong the problem and make the rat population grow, but call in a Fantastic exterminator, who's got the experience, equipment and skills to resolve the issue.
Just have a look below at how harmful rats can be to your health and property alike, once they move indoors to seek shelter and hide:
Cause damage to your electrical system, thus, there is a risk of fire hazards and loss of power;

Contaminate food that has not been stored correctly and this way transmit a dangerous disease they might carry;

Adversely affect the integrity of your property's structure

, as they chew and gnaw their way through wood fixtures to make their burrows;

Damage various of your possessions, like furniture and books, even items made of metal;

Create entry points for other types of pests, such as cockroaches, ants, carpet beetles and more;

Cause another secondary pest problem, such as a flea or, sometimes, a bed bug infestation.
We serve homeowners, tenants and business proprietors, so give us a call or contact us online to book a professional pest service for any day of the week! We'll use the most effective methods to get rid of rats that have infested your house or commercial property.
Your rat control service in 4 straightforward steps
Survey
Your service starts with a thorough survey. The local exterminator will first inspect your place to identify the level of infestation and the type of pests (ex: rats or mice) that have invaded your home or business. They'll also look for the rats' nest and any entry points that need to be sealed and blocked, as well as use an endoscope camera to check out behind walls and other hard-to-reach areas.
Treatment
The pest technician will then set up the live-catch traps with baits strategically around your home and out of children and pets' reach. Additionally, the service also includes the blocking and sealing of holes and cracks that rats have used to enter your place. They have the ability to squeeze through the tiniest of gaps. Note that it may take up to three weeks for the treatment to work, as rats are notoriously neophobic. They are simply wary of new objects and may avoid the bait for some time.
Observation
To get rid of rats, we strongly advise you to book our 3-months guaranteed rat removal service, which includes close monitoring, 2 more follow-up inspections and treatments (if needed and upon request) in a period of 3 months. This way, you'll ensure that your rat problem gets resolved once and for all. In addition, you can benefit from our dead animal removal service, designed to dispose of all dead rats in a safe and efficient manner, even if they have perished behind walls.
Prevention
Upon completion of the pest control service, you'll receive a detailed report that you can use for future reference, as well as expert proofing advice and tips, in order to control rats successfully. Just feel free to ask your service provider for more information on how to get rid of rats or about anything that can help you keep rodent colonies at bay and avoid future rat infestations.
The benefits of our rat control service
Manage easily your services via your Fantastic account
Real-time availability and same-day emergency services
RSPH- and COSHH-certified pest management professionals
£300 in credits and special perks with the Fantastic Club
Rat Control Prices
Rat control service costs depend on several factors, such as the size of your property, the severity of the infestation and the type of guarantee you choose. Furthermore, rodent extermination rates vary, based on whether you are a Fantastic Club member or not. Last but not least, you can bundle up services and book dead animal removal or our professional steam cleaning service, so this will be reflected in the end price. See below our rates:
Rat control prices for 1 bedroom property
Service Type
Price

Fantastic Club

| Standard
Inspection (without a treatment)

£15

| £45
Treatment with a 1-month guarantee**

from £165

| from £195
Full treatment with a 3-month guarantee***

from £240

| from £270
Full treatment with extended guarantee

Get the option to request up to 3 additional follow up visits within a period of 4 months from the initial treatment
Rat control prices for 2 bedrooms property
Service Type
Price

Fantastic Club

| Standard
Inspection (without a treatment)

£15

| £45
Treatment with a 1-month guarantee**

from £175

| from £205
Full treatment with a 3-month guarantee***

from £250

| from £280
Full treatment with extended guarantee

Get the option to request up to 3 additional follow up visits within a period of 4 months from the initial treatment
Rat control prices for 3 bedrooms property
Service Type
Price

Fantastic Club

| Standard
Inspection (without a treatment)

£15

| £45
Treatment with a 1-month guarantee**

from £185

| from £215
Full treatment with a 3-month guarantee***

from £260

| from £290
Full treatment with extended guarantee

Get the option to request up to 3 additional follow up visits within a period of 4 months from the initial treatment
*Read our terms
Join the

Fantastic Club and get:
- £300 in credits
- Preferential member rates
- Domestic cleaning from £16/h
- Real-time arrival tracker
- Priority booking & case handling
---
- Prices are applicable for residential properties only.
- No further charges go on top of the rates except parking and congestion, if applicable.
- £50 additional charge on all night jobs (night job is considered between 8 pm and 5 am appointment time).
- T&C and Minimum call out charges apply. When we calculate the price, we also take into consideration the area's dimensions and the time of the appointment. All prices and deals are valid for areas within M25. Note that prices may vary for areas outside of M25, call in for more details on your location.
** Treatment with a 1-month guarantee consists of 1 major visit + 1 follow-up in a 1-month period. Please mind that a follow-up can be organised only upon your further request.
*** Full treatment with a 3-month guarantee consists of 1 major visit + 2 follow-ups in a 3-month period. Please mind that follow-ups can be organised only upon your further request.
**** If your property has more than 4 bedrooms, contact us for a quote.
Get an instant quote and check our availability in your area
As a member of the Fantastic club, you can get £30 OFF for 10 different services within 1 year.
What you should do prior to and after your rat removal service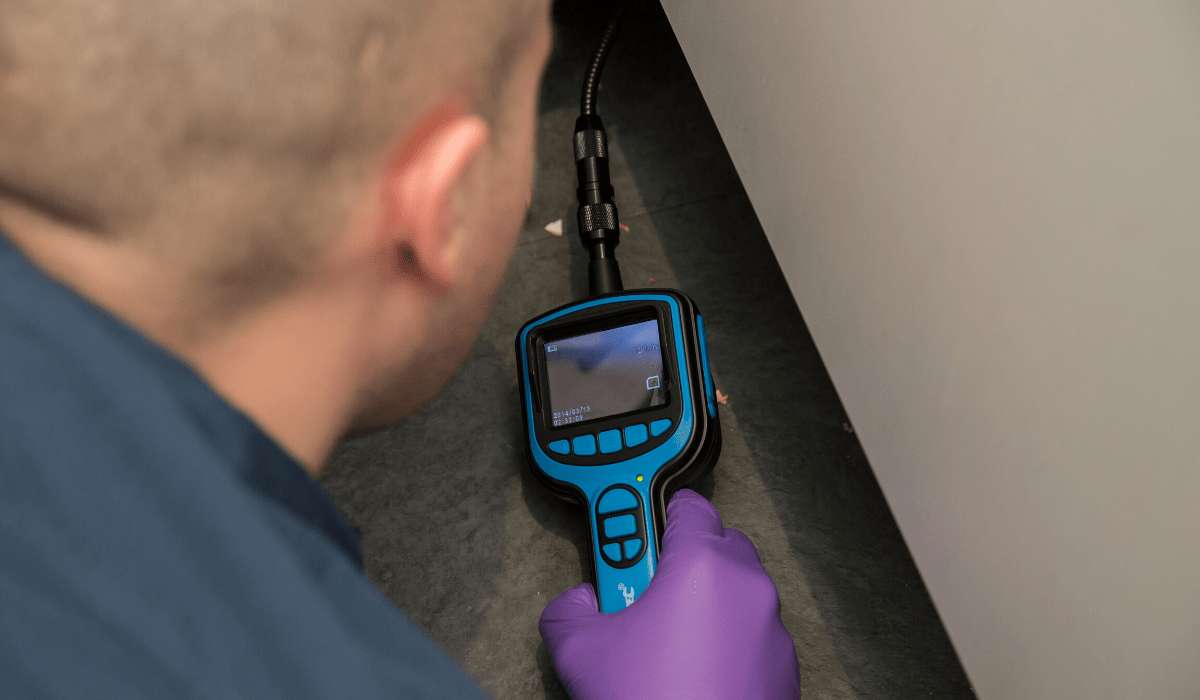 These are all effective ways to make sure that you never have rats in your home. For more information, you can always speak with the exterminator, while on-site.
Before your rat pest control treatment:
Remove any baits or traps you've placed yourself.
Declutter your home as much as you can, as this will provide fewer hiding places for the rats.
Remove any rubbish that can serve as a food source for the rats and make sure your bins are closed with tight-fitting lids.
Deny rats access to your food (grain products, bread, dry fruits, etc.) by ensuring that it's stored properly and give your property a good clean.
Tidy up your garden from unused items and cut down overgrown vegetation.
After the service:
Don't attempt to replace the baits in the traps yourself.
Stay vigilant for any signs and sure evidence of further rat activity (footprints on dusty surfaces, droppings in corners, etc.) and contact us for a follow-up visit to be on the safe side.
Keep an eye for new potential entry points that a rat could use and block them in a timely manner.
Keep pet foods stored properly, and remove pet food and water bowls after use.
Make sure to address leaks and plumbing issues, so rats don't get easy access to water.
Don't feed birds by throwing bread crumbs and seeds on the ground to prevent a new rat infestation.
Call us for help if you suspect that you've got dead rats in the traps, or behind walls and under the floorboards.
Frequently Asked Questions
Q: Can pest controllers work during the Coronavirus lockdown?
A: Yes, according to BPCA, pest controllers are still allowed to visit properties, in order to make assessments and implement pest control solutions. You can check our dedicated article that gives more explanation regarding pest control services during Coronavirus lockdown.
Q: How do I stop rats from entering my house?
A: There are many actions you can take against a potential rats infestation, in order to prevent diseases and ensure that you live in a pest-free environment. Some of the things you can do include the following: store your and your pet food properly in tightly closed containers; maintain a clutter-free and clean home at all times; repair leaks and seal possible entry points; keep your garden neat and tidy, etc.
Q: Does the rat control treatment pose a risk to my pets' health?
A: Not really, as the method should not adversely affect people and non-target animals. The exterminator will place the traps with poisonous bait out of children and pets' reach. Also, these are actually tamper-resistant bait stations. Still, you should monitor your kids and cats or dogs to minimise any risks.
Q: What are your service coverage and working hours?
A: We operate 7 days a week, including public holidays, and serve both residential and commercial properties throughout London, within the M25 zone. Emergency visits are also available for urgent pest situations, 24/7.
Q: Do you offer any special deals on this service?
A: Absolutely. Join our Fantastic Club and pay special pest control rates for a whole year! All members enjoy numerous other amazing perks with their membership, such as priority booking and case handling, credits towards over 100 property maintenance services, partners' discounts and special deals.
Q: How long does it take for the rat poison to work?
A: How quickly you get the desired results and eliminate your rat problem will depend on the size of the rats, as well as on how much of the pesticide they have ingested. Also, as we've mentioned above, these rodents are neophobic. So, even when a lethal dose of the rodenticide has been used, it may still take a while for the method to kill rats that are actually hesitant to check out the bait.
Q: Who should I contact to make changes to my booking?
A: You can always contact our customer service agents. Also, you can easily reschedule or cancel your rat inspection and treatment appointment through your Fantastic account. Create yours in just a few clicks and manage all your bookings with us at your convenience.
You have a very specific pest question?
Fill in the form, upload images and click send. One of the expert pest technicians at Fantastic Pest Control will provide you an answer ASAP.
Mice Control London Coverage
Learn more about rats
Check our tips, tricks and other useful information regarding rats.