Guaranteed rat extermination services
Rat infestations require expert treatment
Fri 8th
UP TO £60 OFF CALL US TO CLAIM THE DEAL
24/7 emergency rat control services
Professional rat removal with a 3-month guarantee!
Providing proofing and prevention services against rats
A same-day rat removal service is available
Rat pest control in four simple steps
Survey
Each rat removal service starts with a thorough pest inspection. The rat exterminator will first inspect your property to identify the level of infestation. They'll also look for possible entry points that need to be sealed.
Treatment
The pest technician will then set up live-catch traps with bait strategically around your home and out of children's and pets' reach. Our rat control service includes the blocking and sealing of small holes and cracks that rats have used to enter.
Observation
To get rid of rats, we strongly advise you to book our 3-month guaranteed rat removal service, which includes close monitoring and 2 follow-up inspections with further treatment if necessary.
Prevention
Upon completion of the pest control service, you'll receive a detailed report that you can use for future reference, as well as expert proofing advice and tips on how to avoid future rat infestations.
Hire a skilled exterminator near you for rat removal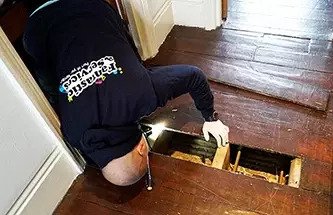 Rats, like mice, are incredibly intelligent creatures that thrive in both home and commercial environments. And while they can make adorable pets, they can also be abhorrent pests, as a rat infestation can be detrimental to both you and your property.
Just have a look below at how harmful rats can be to your health and property alike once they move indoors to seek shelter and hide:
Rats use many different materials to create their nests, meaning wood, cloth, books and insulation can be damaged.

They like to gnaw on electrical wires, which can cause short circuits and fire hazards.

Rats contaminate food which hasn't been correctly stored and can cause serious infections with their bites.

They can grant secondary access to other pests, like cockroaches and ants and are known carriers of parasites like fleas.
Before and after your rat treatment

Before your rat pest control treatment:
Remove any rat baits or traps you've placed yourself.
Give your home a thorough clean and declutter as much as you can, as this will provide fewer hiding places for the rats.
Remove any rubbish that can serve as a food source for rats and make sure your bins are closed with tight-fitting lids.
Deny rats access to your food (grain products, bread, dry fruits, etc.) by ensuring that it's stored properly.
Remove any unused items from your garden and cut down overgrown vegetation.
After the service:
Don't attempt to replace the bait in the rat traps yourself.
Stay vigilant for any signs and evidence of further rat activity (footprints on dusty surfaces, droppings in corners, etc.) and contact us for a follow-up visit to be on the safe side.
Keep an eye out for new potential entry points that a rat could use and block them in a timely manner.
Keep pet foods stored properly, and remove their food and water bowls after use.
Make sure to address leaks and plumbing issues, so rats don't get easy access to water.
Call us for help if you suspect that you've got dead rats in the traps, behind walls or under the floorboards.

As a member of the Fantastic club, you can get £30 OFF for 10 different services within 1 year.
Rat control in London and the rest of England