House flies no more - BOOK professional fly control help!
Stop the buzzing! Solve your fly infestation problems in minutes, by reserving your slot online.
Safe, discreet and effective treatment
Elimination of eggs, maggots and adult flies
Available 7 days a week
Professional and approved anti-pest solutions
Guaranteed results with our full treatment
Fly Control Services in London by Licensed Exterminators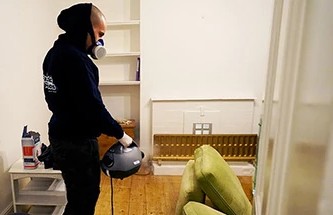 Flies are not just annoying. They carry diseases, as they are attracted by and touch decaying organic matter, rotting carcasses, faeces and waste matter in sewers. And even if you try to combat a fly problem with over-the-counter products and devices like sticky paper traps, often, these are not that effective against all the insect's life stages. Therefore, it's wise to consider a professional fly control treatment, in order to eliminate a potential health hazard at home or worse, in your restaurant kitchen, for instance.
Fantastic Services offers efficient, multi-visit pest control services against adult flying insects, including flies. The treatment eliminates the eggs and larvae, as well.
Follow our easy 4-step fly control process
Request our fly treatment online or over the phone, 7 days a week, including public holidays.
Over the phone;
User-friendly booking form;
Easy-to-use GoFantastic app.
Upon request, you can have a discreet professional pest inspection. After that you can choose:
Not to continue with a treatment;
Treatment with a 1 month guarantee;
Full 3-month treatment;
The exterminator will proceed with the most effective anti-fly treatment.
Standart fly treatment;
Heat treatment;
Fogging treatment against severe infestations
Enjoy a home of office without annoying flies around. To protect it from future infestations:
Install window and door nets;
Keeping food areas sanitised and free of spills;
Disposing of waste in a timely manner.
How Our Fly Control Works
Survey
The fly pest control specialist will carefully inspect your property to determine what is the cause of the unusual infestation.
Treatment
The fly exterminator will apply an insecticide on various surfaces around your property. It has an instant knock-down effect meaning all flies around will perish in no time.
Observation
In case you booked a guaranteed service, you get up to two additional house fly control sessions for free within a period of 3 months after the initial treatment.
Prevention
The exterminator will offer you some useful advice on how you can avoid future problems with flies and other flying insects. The technician will also prepare a full report for the completed treatment.
Why Choose Us to Solve Your Fly Problem
Affordable prices
We offer flexible pricing with no hidden charges;
Choose the treatment
Wide range of treatment options;
Care for you
we provide eco-friendly and effective solutions to any pest problem;
Quality control
we regularly supervise the work of our teams.
Flies Control Prices
The cost of our fly extermination service depends on the number of bedrooms in your property, the type of pricing that you choose - standard or discounted with a Fantastic Club membership, as well as the length of the guarantee. For Londoners, the costs of a fly treatment are listed below:
Fly control prices for 1 bedroom property
Service Type
Price

Fantastic Club

| Standard
Inspection (without a treatment)
£45
Treatment with a 1 month guarantee**

£166

| £195
Full treatment with a 3 month guarantee***

£230

 | £270
Fly control prices for 2 bedrooms property
Service Type
Price

Fantastic Club

| Standard
Inspection (without a treatment)
£45
Treatment with a 1 month guarantee**

£175 | £205

Full treatment with a 3 month guarantee***

£238

 | £280
Fly control prices for 3 bedrooms property
Service Type
Price

Fantastic Club

| Standard
Inspection (without a treatment)
£45
Treatment with a 1 month guarantee**

£183

 | £215
Full treatment with a 3 month guarantee***

£247

 | £290
*Read our terms
– Prices are applicable for residential properties only.
– All insects treatments include treatment of the affected areas only.
– No further charges go on top of the rates except parking and congestion, if applicable.
– £50 additional charge on all night jobs (night job is considered between 8pm and 5am appointment time)
- T&C and Minimum call out charges apply. When we calculate the price, we also take into consideration the area's dimensions and the time of the appointment. All prices and deals are valid for areas within M25. Note that prices may vary for areas outside of M25, call in for more details on your location.
* Treatment with a 1-month guarantee consists of 1 major visit + 1 follow-up in a 1-month period. Please mind that a follow-up can be organised only upon your further request.
** Full treatment with a 3-month guarantee consists of 1 major visit + 2 follow-ups in a 3-month period. Please mind that follow-ups can be organised only upon your further request.
*** If your property has more than 4 bedrooms, contact us for a quote.
Get an instant quote and check our availability in your area
What to do to avoid recurrent fly infestations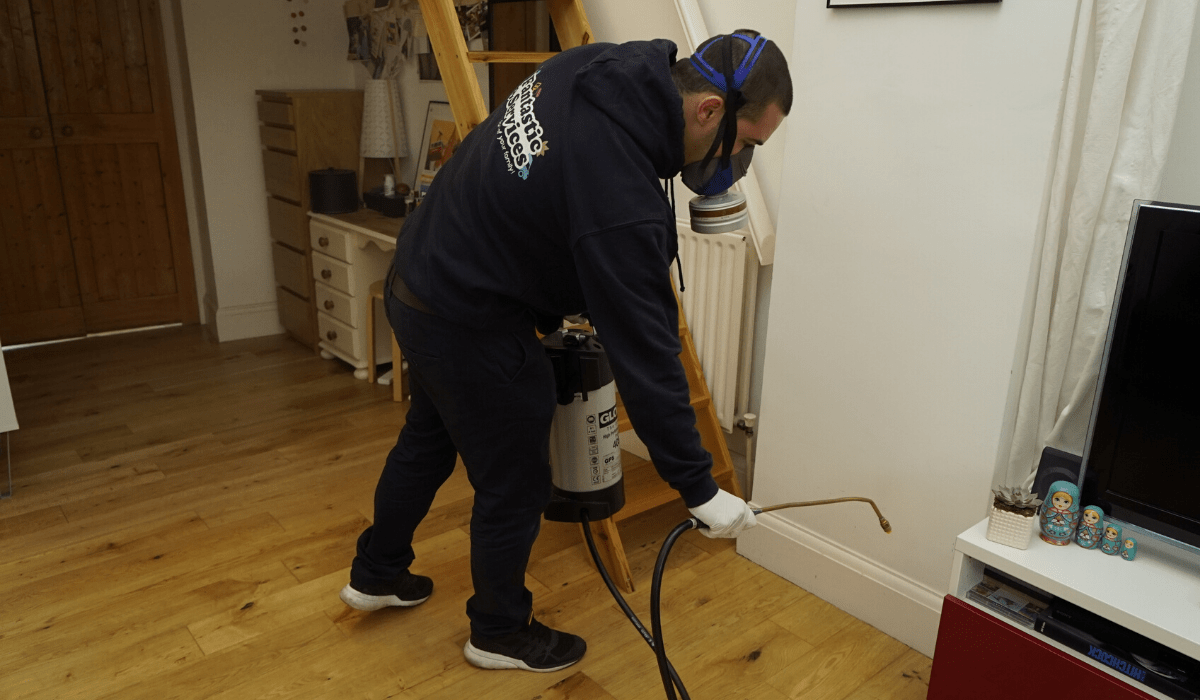 Before the flies treatment:
Remove all pets from the affected areas;
Cannot be present during the treatment;
After the service:
Make sure you don't turn back for at least 2 hours;
Open windows for at least 5-10 minutes;
Don't hoover the treated room/s for at least several days;
Frequently Asked Questions
Q: Can pest controllers work during the Coronavirus lockdown?
A: Yes, according to BPCA, pest controllers are still allowed to visit properties, in order to make assessments and implement pest control solutions. You can check our dedicated article that gives more explanation regarding pest control services during Coronavirus lockdown.
Q: How can i reschedule my fly treatment appointment?
A: Log in to your Fantastic Account, it easy to do all kinds of changes to your bookings through there. If you still don't have one, sign up, it is free.
Q: Can I get discounts?
A: Yes, you can join our Fantastic Club, which brings you benefits such as discounts, premium booking slots and other perks.
Q: Do flies spread diseases?
A: They are believed to transmit over 65 diseases to humans, including typhoid fever, dysentery, cholera, yaws, anthrax, tularemia, leprosy, and tuberculosis.
Q: What happens when a fly lands on your food?
A: Flies do not have the means to chew food on their own, so they will release special digestive enzymes to soften up the food before consuming it. This, of course, will transmit lots of harmful bacteria onto your food.
Q: Where do flies go in winter?
A: When the cold season hits, most adults will hide inside cracks and crannies and patiently await for spring to arrive.
Q: How do I get rid of flies in my house?
A: Flies can be easily caught with homemade flypaper strips. All you need is some paper, a ½ cup of corn syrup, and ¼ cup of sugar. Lavender oil is also a good fly repellent, and so are cloves combined with lemon.
You have a very specific pest question?
Fill in the form, upload images and click send. One of the expert pest technicians at Fantastic Pest Control will provide you an answer ASAP.)
Learn more about flies
Check our tips, tricks and other useful information regarding flies.