Same-day slots available
Performed by certified technicians
Complies with COSHH regulations
Reliable, fast, safe and discreet service
Inspection, treatment & prevention included
Hire Us for Effective & Safe Fumigation Services
There are many methods of ensuring that pests are fully eradicated, but when all else fails, you can rely on Fantastic fumigation experts to do the job to perfection. Enlist our help – even on a tight budget – and your property will be free from any type of flying or crawling insects with maximum effect. We've been operating within the M25 zone in Greater London for a number of years and understand the importance of delivering a first class
pest control services
. The fumigation services we provide are suitable if your property is severely infested by carpet beetles, flies, fleas,
moths
, silverfish,
spiders
or other insects. The services of Fantastic Pest Control have an average score of / 10 as rated by
361
precious customers.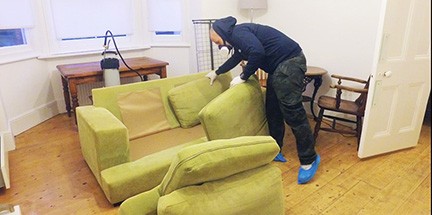 A technician will thoroughly examine your property and assess the problem discreetly, in accordance with your personal requirements.
Once inspected, your property will undergo rigorous fumigation by the exterminator, using the most modern appliances and solutions. We use insecticides provided by the best UK pest supplier in order to protect your home to the maximum and eliminate all crawling or flying insects bothering you.
The insect fumigation services fully operate under the regulations of COSHH (Control of Substance Hazardous to Health).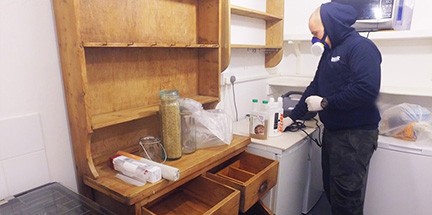 You will be advised to hoover the infested premises thoroughly and then leave the property for two hours. On return after the treatment, open all windows to allow fresh air to circulate and don't clean the treated areas for at least 4 days.
Our fumigation is usually performed in a single visit. But in case your troubles with crawling or flying insects continue, simply give us a call and we will return to help you out.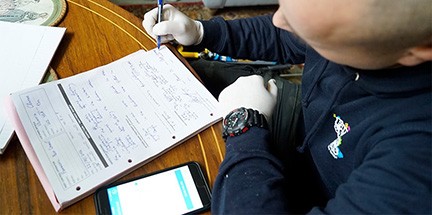 The pest controller will prepare a detailed report for your service. You will also be offered free advice on how to prevent future infestations.
The technician will gladly explain you the best ways you can avoid future insect problems
We Offer The Following Types of Fumigation
General fumigation for heavy infestations
We have a fixed price of £151 for Fantastic Club members and £189 for other customers for our insect fumigation treatment. To schedule a service simply call us or fill in your details in our online booking form.
– Prices are applicable for residential properties only.
– All insects treatments include treatment of the affected areas only.
– No further charges go on top of the rates except parking and congestion, if applicable.
– £30 additional charge on all night jobs (night job is considered between 8pm and 5am appointment time)
- T&C and Minimum call out charges apply. When we calculate the price, we also take into consideration the area's dimensions and the time of the appointment. All prices and deals are valid for areas within M25. Note that prices may vary for areas outside of M25, call in for more details on your location.
- Currently, we don't provide membership rates for Birmingham
Frequently Asked Questions
What is fumigation?
Fumigation is a process where pest controllers use a highly efficient powder to exterminate a variety of insects within enclosed quarters. Depending on the situation, the professionals can either bring plastic, tape, or other sealing materials to seal off the pest entry spots or use a machine to spread biocide powder that will adhere to all affected surfaces and destroy the pests. The procedure is suitable in the following situations:
- As part of a tenancy agreement when at the end of a contract the tenant is obligated to conduct such procedure if a pet was present;
- To protect or exterminate pests from a variety of businesses such as cargo facilities, storages, manufacturers and more;
- As a preventative measure against pests in domestic households.
What is a fumigant?
The fumigant is a volatile substance that is used to poison and eliminate insects. Depending on the area that needs to be treated, there are several types of fumigants. For instance, some are designed to treat tightly sealed spaces, such as storage areas or materials that are enclosed in gas-proof sheets. Others are suitable for treating more open storage areas.
What is the most convenient time to book a fumigation service?
This type of service is recommended and used as a preventive measure and cannot be used to treat current infestations. The fumigation is done with insecticidal sprays that have a long-lasting effect.
What to do before and after the fumigation service?
We recommend for you to hoover all infested areas and leave the property for two hours. Once the treatment is over, open all windows and don't clean the treated spots for at least 4 days.
How do you fumigate the house?
The specialist will examine your property to assess the level of infestation and use modern equipment and methods to perform the fumigation. If necessary, the professional can come again two weeks after the initial treatment to ensure that all pests have been thoroughly dealt with. You will also receive free advice on how to prevent pest infestations in the future.
Do you fumigate for mice?
Unfortunately, this method cannot deal with larger pests, such as mice or rats. It is, however, extremely efficient against flies, fleas, moths, spiders, and other crawling or flying insects.
Is fumigation safe?
Yes, but they are toxic on a small scale while airborne. So, the pest exterminator will recommend you to leave the property during the treatment. All insect fumigation services are performed with insecticides from trusted UK pest suppliers and comply with all COSHH (Control of Substances Hazardous to Health) regulations.
I can see only two price sets on your page. What are the benefits of getting a Fantastic Club discount?
If you join our

Fantastic Club, the discounted price will be valid year-round. Also, you can book with priority and access last-minute slots!
Can you change my appointment if something happens suddenly?
Yes, of course. But remember that you can do this by yourself, instead of prolonging the procedure on the phone with us or exchanging emails. What you have to do is to log in or create a Fantastic account and manage all your bookings
How long will the fumigation last?
It depends on the circumstances, such as the size of your property and layout. However, the pro will provide your with an estimate after performing the survey.
When is the most appropriate time to book a fumigation service?
he highest peak of pest activity, in the UK, is at the end of the summer. This is when the pests prepare for the winter and search for a cosy shelter.