Express pest control services with your safety in mind
Insured, licensed and experienced pest exterminators near you
Emergency call outs and out-of-business hours appointments
Professional, discreet and customer-orientated approach
Fantastic Pest Control in Wigan with a Local Exterminator Near You
If your home or commercial venue in Wigan suffers from a pest problem, get it checked out by a local exterminator. Our pest franchisee partners are greatly experienced in fighting successfully against various types of rodent and insect infestations such as mice, rats, bed bugs, cockroaches and more. They work in compliance with COSHH safety regulations and the company's best practices, which correspond to our Fantastic name.
Our pest control in Wigan is completed by inspecting your premises first. Upon request, the local pest technician will arrive in an unmarked van so that your family reputation or business image remains unharmed. Have a look at our 4-step pest management process below: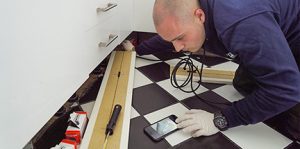 During this initial stage of assessing the level of the problem, the local pest controller in Wigan will identify the type of vermin, based on the visible signs of pest activity. These could be excrements, marks and stains, as well as damages to your property or belongings, such as holes in skirting boards (woodworm, rats), chewed-on food (rats and mice), holes in clothes, linen, carpet (moths, beetles), etc. These tell-tale signs often give us an idea of how advanced the infestation is and help us resolve the problem more effectively.
If you've booked a heat treatment for bed bugs or other insects, the exterminator will check that your property is ready for the treatment and everything is set properly before proceeding.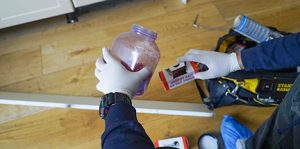 We proceed with a pest control treatment right after we inspect the property.
Based on his findings, the expert will suggest the most suitable pest treatment in your circumstances and will proceed with its application. This may involve the use of repellents or pesticides, as well as proofing procedures, such as sealing cracks and holes to prevent mice and rats from reentering your property.
No matter the type of pest and severity of the problem, your pest officer will find a way to solve the case quickly and effectively.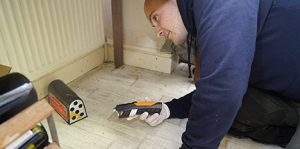 We offer different monitoring options with all of our pest control services in Wigan, which can be booked any time. For instance, if you purchase our 3-month guaranteed service, you can benefit, if needs be, from two extra free visits within the above mentioned period of time. These additional visits ensure that the pest population is controlled to the last vermin and that your property will not be re-infested.
For insect treatments and heat treatments, on the last visit the pro will spray the surfaces with a residual insecticide which will protect the area in the future.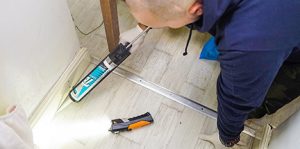 Don't hesitate to request prevention tips and proofing advice from your local pest exterminator while on site. He will readily inform you of the most effective pest prevention methods and on the do's and don'ts you need to observe, so your property remains protected against the vermin.
Additionally, you can request from us to install rodent prevention tools in your home that will protect the areas from pesky mice and rats.
Count on the Local Pest Controller in Wigan
Fantastic Pest Control has strived to cover as many cities and towns in the UK by partnering with fully vetted, licensed and COSHH-certified pest technicians. Wayne Morrow is our trusted and dedicated franchisee in Wigan. He has years of experience in pest control and boasts an excellent performance score, according to our internal quality monitoring system.
The local pest exterminator is fully insured against damages and qualified to apply the most advanced and industry-approved pesticidal and pest-repellent methods, suitable for various types of vermin infestations. Subject to availability, he can respond to your service request outside business hours.
Wayne is also responsible for our pest control services in Warrington, Bolton, Salford and Oldham.
Our Pest Removal in Wigan at a Glance
Rodent control

For an expert rat or mice control in Wigan, schedule our full service for optimum results. It includes up to two additional visits, free of charge, performed over a period of three months. During the initial treatment, the pest technician will ensure that all likely entry points are effectively sealed to prevent other rodents from entering and he will proceed with the application of a powerful but safe pesticide.

Bed bug control

We specialise in effective bed bug treatment methods, which render immediate results. The local pest exterminator in your area will arrive to inspect your home carefully before proceeding with the treatment. He will be using industry-leading products to get rid of the bugs and their eggs.

Bed bug control usually requires several treatments with different insecticides. This is due to the life cycle of bed bugs. So if you've booked our guaranteed procedures, the exterminator will ensure that all bed bugs are gone once and for all.

Wasps control

The pest technician in Wigan will arrive well-equipped and prepared to your address. He will locate the wasp colony and will neutralise the angry insects with a powerful insecticidal spray. Our wasp nest control service is done in just a single visit by a local pest exterminator.

Heat treatment

When all else fails in the fight against insects, Fantastic Pest Control in Wigan has one last weapon - the heat treatment. This is a new way of ridding properties of already advanced insect infestations such as bed bugs, fleas, moths, flies, carpet beetles and more. The bed bug heat treatment is done by raising and maintaining a room's temperature to degrees that are unbearable for the insects but safe for your belongings.
What Makes Us Better Than Your Local Council
| | |
| --- | --- |
| Wigan Local Council | |
| Appointments only. No emergency service. | Flexible slots for emergency services. We can arrive within 2 hours. |
| The Pest Control Officer can arrive at any time between 8am and 4pm, Monday to Friday. | You can count on us 24 hours a day, 7 days a week, including Bank Holidays. |
| The council can't provide you with a heat treatment. | We do heat treatment for bed bugs and a variety of other insects. |
Express Pest Control in Wigan
Fantastic Pest Control in Wigan will ensure that your emergency vermin situation is addressed straight away by assigning an expert pest exterminator near you. Just phone us or request a callback via the booking form on this website. We will also respond as fast as possible to your pest control needs if you are located in:
- West Lancashire;
- Chorley;
- Bolton;
- Salford;
- Warrington;
- St. Helens.

Working with local pest controllers means that we're able to respond to your querries quickly and rid you of the pest problem fast.