Pest Control in Salford
Bed bug heat treatment is available
Free tips on how to avoid future infestations
Staying at the property for as long as needed
Exterminator carrying public liability insurance
Effective Pest Control in Salford and Beyond
Pests are never out of season, so you should always be prepared for an attack. The Salford exterminator is at your disposal 24/7 and even for emergency treatments. Just give us a call or book an online session, describe the animals or the signs of their presence in as much detail as possible, and let the pro handle the rest! Our treatments are suitable for home and business properties and are tailored to each specific case.
We will dispatch a local exterminator to perform thorough pest control in your Salford home or business establishment. All treatments are performed by certified experts from the area and they follow our proven 4-step method of pest eradication: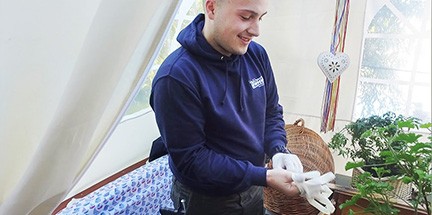 Knowing the exact pest species that has decided to set up shop in your premises is absolutely necessary to defeat it. Your pest control session in Salford will thus start with an exhaustive inspection in order to identify the creatures, assess their population, and locate their entry points. Once all the puzzle pieces are assembled, the specialist will tell you what's the type of pest treatment that your property requires.
Property pest inspections come for free as part of each pest treatment, however, you can book it separately if you're not sure you have a vermin problem and want a professional opinion.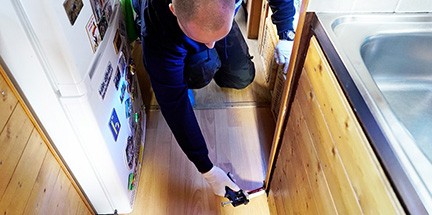 Most pest treatments are carried out differently in order to specifically target the animals that have broken into your building. This means that mouse control is fundamentally different from, say, bed bug treatments, since it includes traps with poisonous bait and filling of all entry points (up to ½ inches big) with sealants. Bed bugs, on the other hand, will be eliminated over the course of at least two visits, which will be two weeks apart, and with two spray-based insecticides for maximum effect. This way, their entire population will be eradicated and the insect will not bother you anymore.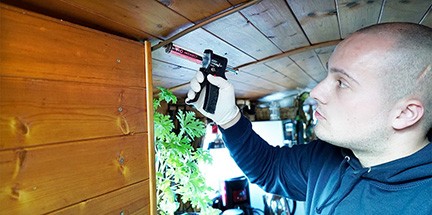 Before leaving your property, the exterminator will advise you to keep an eye out for any further pest activity. If you book a guaranteed insect control or another service, you can receive up to two follow-up visits free of charge. So, make sure to get in touch if you notice small droppings, hear strange sounds, or stumble upon any other evidence that there are still some pests left standing. We will return to obliterate them from your home and ensure a safe environment for you and your family.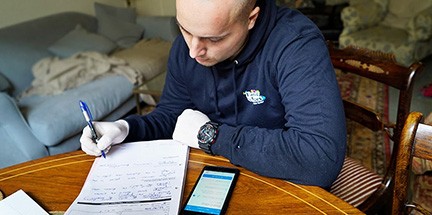 If you run a business in Salford, the professional will issue you a detailed document that describes the techniques and methods used during your treatment. Of course, he will also give you free advice on how to protect your home, office, hotel, café, or whatever other properties you may own. Following his advice will give you extra points in the fight against pests.

Choose This Salford Pest Exterminator Because...
Meet Wayne Morrow. A trusted partner of Fantastic Pest Control in Salford, he is thoroughly trained, experienced, carries a public liability insurance, and uses products by a reliable brand – First Environmental Solutions. The exterminator can also provide you with discreet treatments and can arrive for any day of the week, weekends and bank holidays included.
His credentials and flexible schedule aside, the professional is also a multi-skilled one. This means that he can carry out mice control, wasp removal, bed bug control and whatever else you need as quickly and quietly as possible, and he will stay on site until he's absolutely sure that the property has been proofed and the pesticides have been applied in all infested areas.
Wayne is also responsible for our pest control services in Warrington, Wigan, Bolton and Oldham.
The Local Exterminator Has What It Takes to Go Up Against...
Interesting Facts and Stats about Pests in Salford
1. Did you know that mice can enter your house through gaps that are less than 1cm wide? This means it's crucial that you do not have holes, cracks or open windows and doors.
2. Did you know that you can have bed bugs biting you at night but never touch the person sleeping next to you? It's very possible and is often the case with many families. They seem to prefer one blood over the other and this usually makes identifying an infestation difficult. So, you better have a proper inspection even if only one person in the house wakes up with bite marks.
3. Did you know that there's a species of wasps that lays their eggs inside of figs? That's the reason why there's usually one dead wasp inside of pretty much every fig you want to eat. Often when the female wasp dies inside of the fig but when the eggs hatch, the newborn wasp fly away.
4. A fun and interesting fact is that rats take care of their injured ones. They also groom each other, play and sleep together because they are a very social species.
Research other pests from our library
What Makes Us Better Than Your Local Council
| | |
| --- | --- |
| | Salford Local Council |
| Same day appointments available, including emergency appointments. | Next day appointments available. |
| We offer our property fogging even for vacated properties. | Fogging of empty properties is not available. |
| We offer heat treatment in Salford | No heat treatment offered in the area |
Get Bed Bug Treatments and Other Pest Control in the Salford Area
With pests, every delay can potentially be a costly one. Your certified pest exterminator, partner of Fantastic Pest Control, is fully aware of this and can arrive for an emergency treatment within two hours after you've made a booking. But what if you run a large corporation with branches stationed in neighbouring areas? Take a look at the list below to find out which areas he covers:
- Bolton pest control;
- Bury pest control;
- Manchester pest control;
- Trafford pest control;
- Halton pest control;
- Warrington pest control.
Take advantage of booking a local Bolton exterminator who will get to work immediately and will rid you of pesky vermin.
Certified by