Pest Control in Salford
Certified inspection, treatment, and proofing
Free tips on how to avoid future infestations
Staying at the property for as long as needed
Exterminator carrying public liability insurance
Effective Pest Control in Salford and Beyond
Pests are never out of season, so you should always be prepared for an attack. The local exterminator is at your disposal 24/7. Just give us a call or book an online session, describe the animals or the signs of their presence in as much detail as possible, and let the pro handle the rest!
We will dispatch a local exterminator to perform a thorough pest control in your Salford home or business establishment. All treatments are performed by certified experts from the area and they follow our proven 4-step method of pest eradication: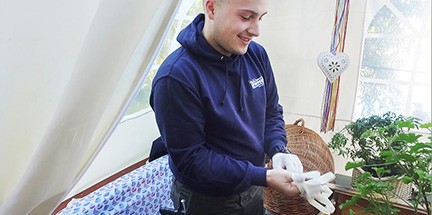 Knowing the exact pest species that has decided to set up shop in your premises is absolutely necessary to defeat it. Your pest control session in Salford will thus include an exhaustive inspection in order to identify the creatures, assess their population, and locate their entry points. Once all the puzzle pieces are assembled, the specialist will tell you what's the type of pest treatment that your property requires.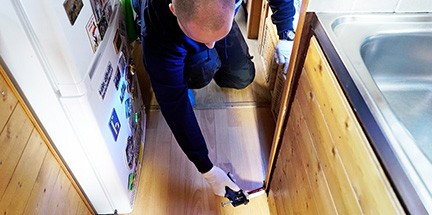 Most pest treatments are carried out differently in order to specifically target the animals that have broken into your building. This means that mouse control is fundamentally different from, say, bed bug treatments, since it includes traps with poisonous bait and filling of all entry points (up to ½ inches big) with sealants. Bed bugs, on the other hand, will be eliminated over the course of two visits, which will be two weeks apart, and with two spray-based insecticides for maximum effect.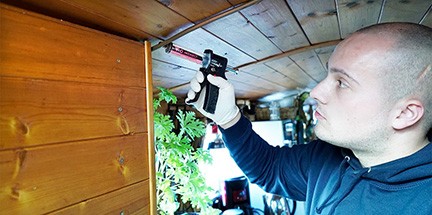 Before leaving your property, the exterminator will advise you to keep an eye out for any further pest activity. If you book a guaranteed insect control or another service, you can receive up to two follow-up visits free of charge. So, make sure to get in touch if you notice small droppings, hear strange sounds, or stumble upon any other evidence that there are still some pests left standing. We will return to obliterate them from your home and ensure a safe environment for you and your family.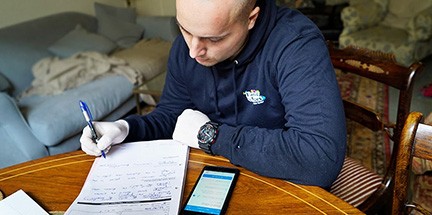 If you run a business in Salford, the professional will issue you a detailed document that describes the techniques and methods used during your treatment. Of course, he will also give you free advice on how to protect your home, office, hotel, café, or whatever other properties you may own. Following his advice will give you extra points in the fight against pests.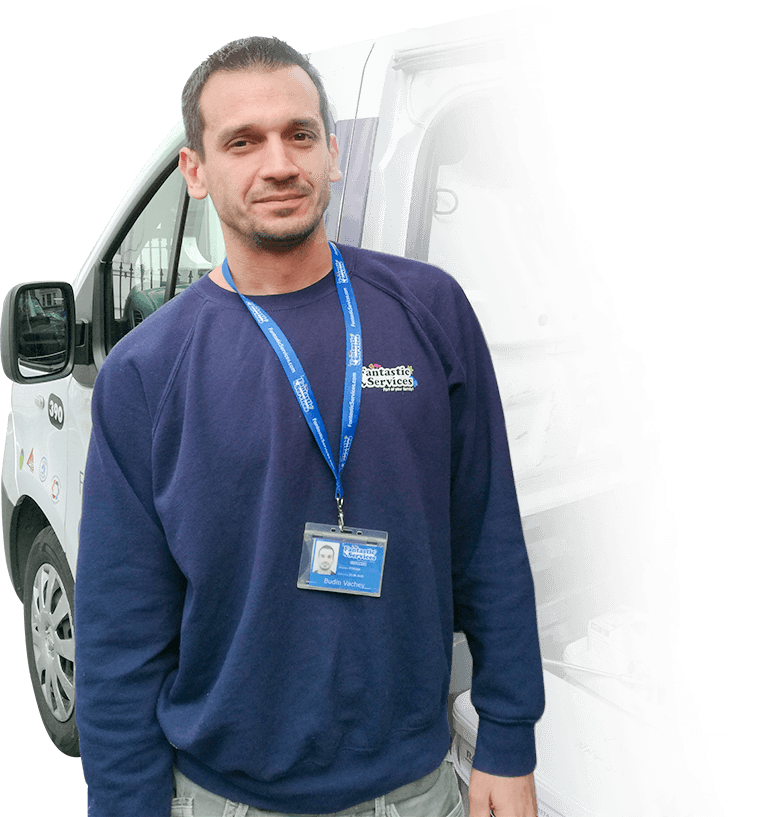 Choose This Salford Pest Exterminator Because...
Meet Wayne Morrow. A trusted partner of Fantastic Pest Control in Salford, he is thoroughly trained, experienced, carries a public liability insurance, and uses products by a reliable brand – First Environmental Solutions. The exterminator can also provide you with discreet treatments with an unbranded van and can arrive for any day of the week, weekends and bank holidays included.
His credentials and flexible schedule aside, the professional is also a multi-skilled one. This means that he can carry out mice control, wasp removal, bed bug control and whatever else you need as quickly and quietly as possible, and he will stay on site until he's absolutely sure that the property has been proofed and the pesticides have been applied in all infested areas.
Wayne is also responsible for our pest control services in Warrington, Wigan, Bolton and Oldham.
The Local Exterminator Has What It Takes to Go Up Against...
Rodents

Cute from afar, these small mammals can become quite dangerous in enclosed quarters, since they can transmit diseases like Hantavirus Pulmonary Syndrome, Leptospirosis, or Salmonellosis. The mouse control expert will make your property safe again by sealing all pest entrances (up to ½ inches in diameter) in your property using wire wool, sealants and expanding foam. He will also lay down traps with poisonous bait to deal with infestations on a larger scale. Our rat control procedures are done in a similar manner.

Insects

Insects of all shapes and sizes, including spiders, cockroaches, ants, woodworms, and more will be tackled with effective Killgerm products. The Salford exterminator will, however, perform most treatments differently depending on the pest. A bed bug control session will require two powerful insecticides over the course of two visits; wasp nest removal involves injecting a paralysing powder into the hive; dust mite treatment is done with a device that emits ultraviolet light, and so on.

Squirrels

Squirrels are very fond of eating through wiring and telephone cables. They can also be quite loud, causing distress to the property's inhabitants. To prevent this, the pest technician will investigate the infested area (usually the attic) and lay sturdy traps with bait at key locations. Once all animals are trapped, call the professional and he will revisit you to relocate the acorn-lovers.

Others

Silverfish, ants, and cockroaches are just a few of the other species that your professional can treat your home against. And, if you run a business, you can also benefit from services, such as:

Pest disinfection: an ultra-low volume machine disinfects your property with biocides;

Fumigation: exterior & interior surfaces are sprayed to reduce the risk of an infestation;

Bird control: spikes, nets, and fire gels will make pigeons keep a respectable distance.
Prices for Pest Control Treatments Around Salford
Prices for mice, rats, ants, cockroaches, flies, fleas, moths, carpet beetles, spiders and silverfish
Property Size
Treatment with a 1 month guarantee**
Full treatment with a 3 month guarantee***

Fantastic Club Price

| Standard Price

1 bedroom

£115

| £135

£157

| £185

2 bedrooms

£123

| £145

£166

| £195

3 bedrooms

£132

| £155

£174

| £205
Pest control for Bed Bugs in Salford
Property Size
Treatment with a 1 month guarantee**
Full treatment with a 3 month guarantee***

Fantastic Club Price

| Standard Price

1 bedroom

£144

| £169

£204

| £240

2 bedrooms

£152

| £179

£212

| £250

3 bedrooms

£161

| £189

£221

| £260
Other pest control services in Salford
Pest

Fantastic Club Price

| Standard Price
Property fumigation

£145

| £169
- Prices are applicable for residential properties only.
- No further charges go on top of the rates except parking and congestion, if applicable.
- £30 additional charge on all night jobs (night job is considered between 8pm and 5am appointment time)
** Treatment with a 1-month guarantee consists of 1 major visit + 1 follow-up in a 1-month period. Please mind that a follow-up can be organised only upon your further request.
*** Full treatment with a 3-month guarantee consists of 1 major visit + 2 follow-ups in a 3-month period. Please mind that follow-ups can be organised only upon your further request.
**** If your property has more than 4 bedrooms, contact us for a quote.

Join the Fantastic Club and get:
- 10% OFF 25+ Fantastic services, including pest control
- Access to member-only deals
- Last-minute emergency slots
What Makes Us Better Than Your Local Council
| | |
| --- | --- |
| Salford Local Council | |
| Next day appointments available. | Same day appointments available, including emergency appointments. |
| Payment in advance. | Pay when the service is complete. |
Get Bed Bug Treatments and Other Pest Control in the Salford Area
With pests, every delay can potentially be a costly one. Your certified pest exterminator, partner of Fantastic Pest Control, is fully aware of this and can arrive for an emergency treatment within two hours after you've made a booking. But what if you run a large corporation with branches stationed in neighbouring areas? Take a look at the list below to find out which areas he covers:
- Bolton;
- Bury;
- Manchester;
- Trafford;
- Wigan;
- Warrington.
I have used a couple of pest control services in Salford but Fantastic Pest definitely was the best. The price was not the lowest, but they did a fantastic job getting the house rid of ants. I would use them again, if I ever have vermin in the house.