Guaranteed treatments with up to 2 free visits available
Modern equipment sourced by a reliable UK provider
Discreet treatments
New: Heat treatment for bed bugs and other insects
Guaranteed Pest Control in Oldham for Quality Vermin Removal
Nobody should be subjected to the horror that is living alongside rodents, bed bugs or other pests. Don't postpone the eviction of these insolent "tenants" and hand the case over to the local pest controller in Oldham. He will arrive right on time to assess the pest population, send them back where they came from, and ensure that no other pests will be sniffing around your property for the months to come.
All pest control treatments in Oldham follow a proven procedure that contains four steps: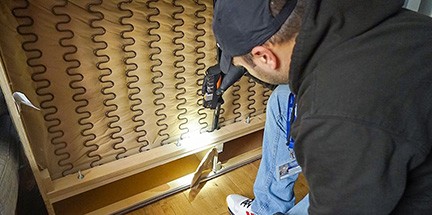 Before performing wasp control, bed bug treatment, or any other form of pest control, the local exterminator will have a look around your Oldham property to trace the pests back to their nests. Once he gets a general idea about the scale of the infestation, the expert will walk you through the next step of the process – the treatment.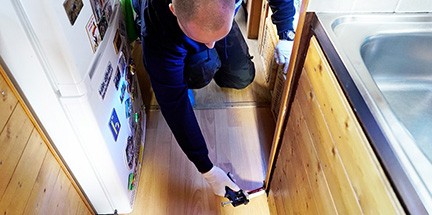 We use a different product or equipment for every type of critter. The pest exterminator is prepared to handle every occasion, his vehicle contains all he needs to deal with ants, bed bugs, spiders, mice, rats, squirrels, birds, dust mites and much more.
For example, for the bed bug control he will spray all infested areas with two insecticides over the course of two visits - this will guarantee that the population will be destroyed. For rat and mouse control, the pro will utilise traps that contain fast-working poison. Wasp nest treatment is done by spraying the nest with a special paralyzing powder that knocks down the insects in no time.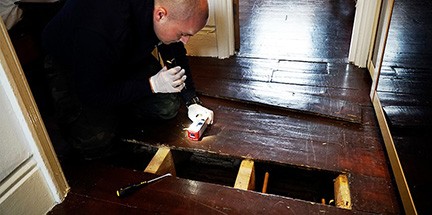 The monitoring stage is quite important since it shows if all pests have been eliminated during the initial pest treatment. In case you spot some movement or just want to double-check that the critters have really left the building, give us a call. If you opted for a guaranteed pest treatment in the Oldham area, you can even order up to two follow-up visits for absolutely free over the next three months after your service! Additional visits ensure that the pest is gone completely and it won't re-infest the property.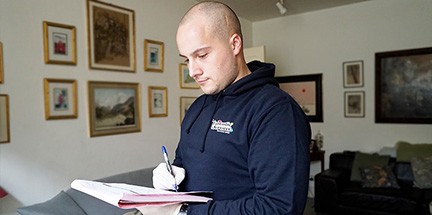 It's not enough to simply end the infestation – you also need to know how to prevent one in the first place. The pest controller will give you some property maintenance tips and will suggest slight adjustments in your daily routine, if needed (for instance if you have the habit of leaving rubbish bins open and exposed) to avoid giving other pests incentives to invite themselves over. He will also ensure that the latter will have no means of entering your property by sealing all points of entry.
What You Need to Know About Your Oldham Pest Controller
The specialist near you closely partners with Fantastic Pest Control and is your one-stop shop for all pest control services. Whether the mischievous critters have infiltrated a school, a renown restaurant, an office complex, a hotel, or have disturbed the comfort your home, Wayne Morrow will come to the rescue wielding all necessary tools and equipment.
For your ease of mind, the pest technician carries a comprehensive public liability insurance. He has also completed thorough training courses by an esteemed pest control institution in the UK, wears an ID badge, can arrive for the weekend, bank holiday, and after-hour appointments and will work long and hard to ensure that your pest problem is no more.
Wayne is also responsible for our pest control services in Warrington, Wigan, Bolton and Salford.
The Most Sought After Pest Treatments in Oldham
Bed Bug Extermination

The products provided by First Environmental Solutions are all equally effective against crawling or flying insects of all sizes. For our bed bug treatment in Oldham, the local pro will use a couple of products in the span of a few weeks. On his first visit, the pro will inspect the rooms and will treat with a powerful product that will kill off the majority of the crawlies. On his second visit, the exterminator will apply a residual insecticide which will protect your home for the following months.

Heat Treatment

There's a new service that is designed to handle large insect infestations such as bed bugs, moths, flies, fleas and more on a scale. The heat treatment works around the insect's resistance to pesticides by targeting them with high temperatures that they can't handle. It is 100% effective against spread out bed bug infestations because it kills even their eggs. Request it from your local exterminator today!

Mouse & Rat Control

For these critters, getting into a human dwelling is often child's play since even adult mice can fit through holes the size of a dime. The mouse control expert will thus pest-proof every such entrance (but no smaller than ½ inches in diameter) with quality materials, such as wire mesh and expanding foam. Traps with bait may also be used as an additional measure against the intruders.

Our rat control procedures follow a similar approach.

Business-tier Treatments

There are millions of ways in which a pest invasion can disrupt a business on the market. At Fantastic Pest Control, being a business ourselves, we strive to offer commercial venues optimal anti-pest solutions at affordable rates and ones that do not interrupt the workflow in any way. General fumigation includes a spray insecticide that discourages the pests from invading your commercial premises and it is one of the methods we use to ward off pests.
The Many Great Things About The Pest Control Services in Oldham
| | |
| --- | --- |
| Oldham Council | |
| May not treat for some pests. | Adequate treatment for various pests is guaranteed. |
| Limited schedule and a waiting list. | No waiting lists, flexible and convenient appointments. |
| Limited options for commercial clients. | Individual treatments and quotes for businesses. |
| Doesn't offer heat treatment to local residents. | We offer heat treatment of bed bugs, moths, fleas and more. |
You Can Find Your Exterminator in Oldham and Other Areas
The local representative of Fantastic Pest Control offers same-day, emergency, and bank holiday appointments for each of our services, including rat control, bed bug treatment, wasp nest treatment and more. So, feel free to give us a call or make a booking online whenever you feel like you have an unwelcome visitor hiding in the shadows. In addition to Oldham, the exterminator can arrive in several other areas near you, all of which you can find below:
- pest control in Tameside;
- pest control in Rochdale;
- pest control in Manchester.
Working with local pest controllers means that we will be able to send out a pro as soon as you notify us of a pest problem. So don't let the infestation spread, call Fantastic Pest Control.