Same-day, 3-visits guaranteed bed bug treatment now!
We will put an end to your itchy nightmares once and for all.
Same-day and weekend booking options
The 3-visit service guarantees best results
Heat treatment available upon request
Disinfection services upon request
Completely discreet service
Eliminate a Bed Bug Infestation with Our Effective Bed Bug Control Service in London

Bed bug infestations are on the increase in recent years, due to easy travelling and also their developed resistance against pesticides. The minute blood-sucking critters can easily get a ride on your clothing or luggage and infest your home. The insects are notorious for their survival and hiding skills, which makes them difficult to deal with.
Hence, a timely expert bed bug treatment is a must to avoid serious health problems and put a stop on an infestation, going out of hand in no time. We at Fantastic Pest Control will deal with the problem. 
Bed Bug Treatment in 4 Simple Steps
Get in touch online or call us and we'll ring you back to discuss your pest control needs.
Use our GoFantastic app;
Book through our online booking form;
Call us anytime.
In most cases, we'll organise a preliminary survey. Then you can choose between:
Only inspection without the treatment;
One-month guarantee treatment;
Three-month full treatment;
The fully insured and equipped pest technician will effectively resolve your bed bug problem.
Regular bed bugs treatment;
Heat treatment;
Steam treatment.
Enjoy a bed bug free home without bites. Make sure to:
Avoid buying second-hand furniture;
Thoroughly check and clean your luggage after travelling;
Learn more what to do if you find bed bugs on your mattress.
How the Bed Bugs Control Service Work
Survey
Your bed bug control specialist will carefully inspect your property to determine how advanced is the bed bug infestation and which rooms are affected. Then they will determine the type of treatment.
Treatment
 On the first visit, your bed bugs controller will use a specialised insecticide with a powerful knockdown effect and any bed bugs and their eggs will die. The second visit is to finish off the colony.
Observation
If you choose our full treatment (which is highly recommended), the technician will return 2 weeks after the initial bed bug control procedure to observe the results.
Prevenetion
The pest exterminator will provide you with a detailed report about the completed service. They will also offer you advice on prevention of future bed bug infestations.
Check the Reasons Why You Should Book Our Bed Bug Control
Vetted and RSPH-certified bed bugs exterminators
we work only with a professional partners who passed all necessary trainings;
No charge for estimate
Free quotation and consultation;
We can meet your demand
Flexible slots to meet your needs;
We can react fast
Short-notice appointment availability;
Prices for Bed Bug Treatment
Our bed bug extermination cost depends on the number of bedrooms in your property, the type of guarantee that you choose, and the type of price - standard or reduced with a Fantastic Club membership. Make sure to contact us to learn the price of a bed bug treatment in your specific UK area.
For London residents, the cost of bed bug control on average is as follows:
Bed bug control prices for 1 bedroom property
Service Type
Price

Fantastic Club

| Standard
Inspection (without a treatment)
£45
Treatment with a 1 month guarantee*

£183

 | £215
Full treatment with a 3 month guarantee**

£243

 | £285
Bed bug control prices for 2 bedrooms property
Service Type
Price

Fantastic Club

| Standard
Inspection (without a treatment)
£45
Treatment with a 1 month guarantee*

£192

 | £225
Full treatment with a 3 month guarantee**

£251

 | £295
Bed bug control prices for 3 bedrooms property
Service Type
Price

Fantastic Club

| Standard
Inspection (without a treatment)
£45
Treatment with a 1 month guarantee*

£200

 | £235
Full treatment with a 3 month guarantee**

£260

 | £305
*Read our terms
- Prices are applicable for residential properties only.
- All insects treatments include treatment of the affected areas only.
- No further charges go on top of the rates except parking and congestion, if applicable.
- £50 additional charge on all night jobs (night job is considered between 8pm and 5am appointment time)
- T&C and Minimum call out charges apply. When we calculate the price, we also take into consideration the area's dimensions and the time of the appointment. All prices and deals are valid for areas within M25. Note that prices may vary for areas outside of M25, call in for more details on your location.
* Treatment with a 1-month guarantee consists of 1 major visit + 1 follow-up in a 1-month period. A member of staff will contact you to organise the second visit approximately 2 weeks after the first one.
** Full treatment with a 3-month guarantee consists of 1 major visit + 2 follow-ups in a 3-month period. A member of staff will contact you to organise the second visit approximately 2 weeks after the first one; the third visit can be organised only upon your further request.
*** If your property has more than 4 bedrooms, contact us for a quote.
---
Join the

Fantastic Club and get:
- 15% OFF your first booking
- Earn credits toward future bookings
- Access to exclusive member-only deals
- Premium, last-minute slots
Get an instant quote and check our availability in your area
Other important details about your bed bug control service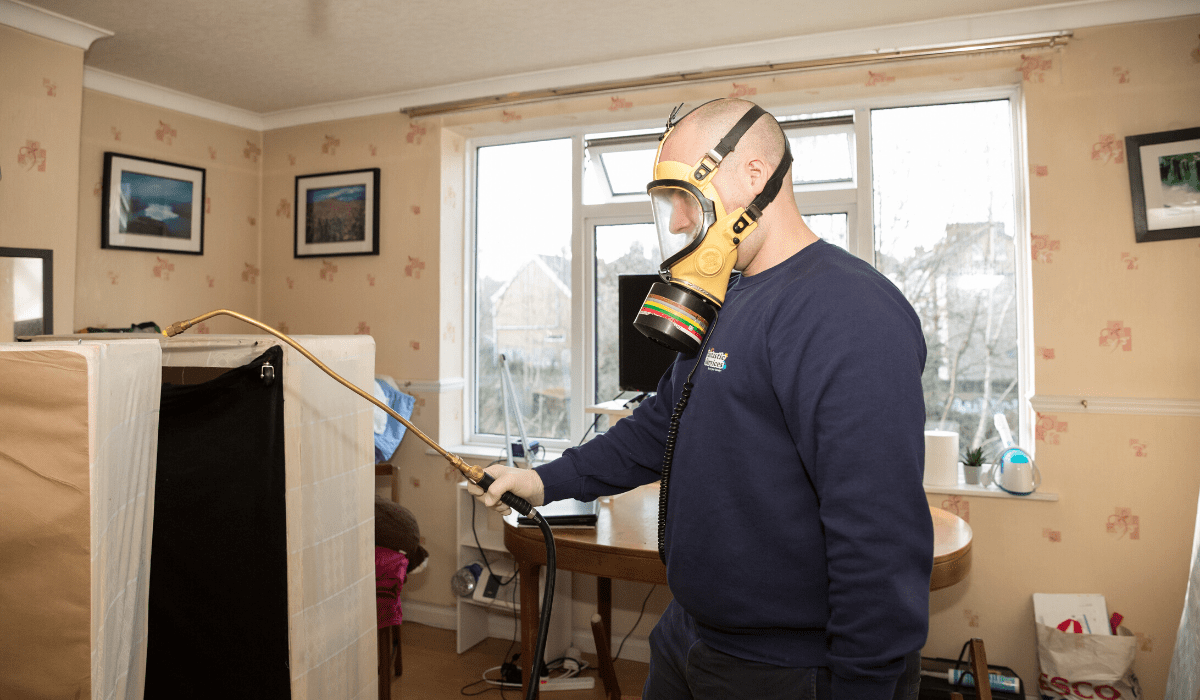 Prior to the service, it's important to do the following:
Remove pets, including fish
Vacuum all potentially affected areas
Put all bedding in the washer
Clear out under-bed spaces of any items
Move furniture, if needed to provide access to hiding places
Leave the property for a couple of hours
After-service dos and don'ts:
Do not vacuum or mop for at least 5 days
Ventilate the rooms for a few hours
You can safely sleep in the treated room
Frequently Asked Questions
Q: Can pest controllers work during the Coronavirus lockdown?
A: Yes, according to BPCA, pest controllers are still allowed to visit properties, in order to make assessments and implement pest control solutions. You can check our dedicated article that gives more explanation regarding pest control services during Coronavirus lockdown.
Q: Can you, please, reschedule my appointment for another day?
A: Yes, we could do this, but more quickly way is to create your own Fantastic account and manage all your bookings through the dashboard section It's really easy and you can do it at any time.
Q: What causes a bed bug infestation?
A: Bed bugs are very likely to develop in unsanitary conditions. However, they may also be carried over from one property into another through luggage, clothing, furniture, or used mattresses.
Q: What discount do you offer if I book bed bugs treatment service?
A: You can benefit from a reduced prices if you join the Fantastic Club. Also, you will book with a priority and will access last-minute slots.
Q: When should I book a professional bed bugs extermination?
A: You can call us as soon as you spot any signs of a bed bugs infestation.
Q: What to do in case of a heavy infestation?
A: If the natural methods don't achieve the desired result, you can schedule our heat treatment service and erase 100% of all eggs, larvae, and adult bed bugs in just a couple of hours.
Q: How long will it take for bed bugs to die after the treatment?
A: This really depends on the type of method used. Bed bug eggs will usually hatch about two weeks apart, so it's always best to perform a follow-up treatment just to make sure that you haven't missed any.
You have a very specific pest question?
Fill in the form, upload images and click send. One of the expert pest technicians at Fantastic Pest Control will provide you an answer ASAP.)
Learn more about bed bugs
Check our tips, tricks and other useful information regarding bed bugs.