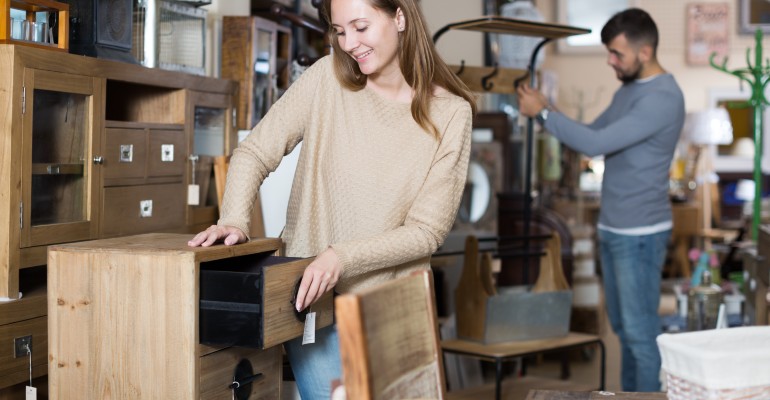 So, you scored a real bargain at the charity shop and now you've got a brand new sofa for your living room. Brilliant, but as you're already here, you suspect that you should know how to tell if used furniture has bed bugs.
Well, you're right. Although tiny, bed bugs can be a real nuisance to exterminate. DIY methods rarely work. That's why inspecting the furniture before you purchase is the best way to (not) deal with a bed bug infestation.
Keep reading if you:
Are planning on introducing some vintage to your interior;
Have fallen in love with a designer couch on Facebook Marketplace;
Simply need an extra closet and aren't splashing on a new one.
In this article, we'll go over how to inspect second-hand furniture for bed bugs, how to try and get rid of them (if you brought them inside your home), and what not to do during the inspection process.
How to inspect second-hand furniture for bed bugs on the spot
The most common places for bed bugs to hide are the wood joins and internal sections of the furniture. On some occasions, you can see signs of an infestation in the furniture legs too.
Noticing an ongoing infestation is no easy task. Tiny nooks and crannies and cracks in the furniture are perfect bed bug hiding spots too.
Signs of a furniture bed bug infestation
It's easy for bed bugs to burrow into upholstered items since they conceal themselves in seams and pleats.
You should consider the possibility that the furniture was cleaned and vacuumed. In such cases, any evidence of bed bug activity may be absent.
You can still perform your own inspection, there's just a chance that you won't be able to detect anything.
Bed bugs are tiny, oval, brown insects. Since they're so small and they hide in cracks it can be a bit hard to notice them.
That's why it's much better to look for other signs, such as:
Bed bug excrement: Appear as dark or reddish-brown stains on fabrics.
Eggshells: Tiny, white in colour.
Smell: Bed bug smell glands give off a musty smell.
Skin shed: Bed bugs shed before reaching adulthood.
Remember to prepare proper gear, such as latex gloves and a flashlight.
It would be best if you inspect second-hand upholstered furniture for any signs of bed bugs. Check the seams, zippers, tags, and cracks on the wooden elements. Bed bugs are more likely to hang out near a bed or couch used for sleeping or leisure than they are to occupy an upholstered dining chair or bar stool. Alternatively, you can look for items not in immediate use by people and aren't used in the bedroom area or close to the bed.
Are you dealing with a pest infestation?
You don't have to be alone in the battle against pests. Hire a professional pest expert!
Call us
Find out where the used furniture has been stored
Inquire about the furniture's storage location. It's not uncommon for sellers to store their furniture in storage units, leading to bed bug infestations since the units aren't always sealed and airtight.
In the case of an upholstered piece or an item that's been left in a storage facility, ask the seller if you can inspect the furniture for pests yourself.
In addition, since many customers move between different storage units, bed bugs can quickly spread from one place to another – much like a hotel room. Furthermore, many people store mattresses and upholstered items in these units, making these perfect environments for bed bugs.
Check also: Bed Bugs on Mattress – What To Do Now?
It's important to remember that bed bugs can survive for over a year without feeding, so just because some used furniture has been placed in a storage unit for a long time does not mean that they're dead.
You may want to consider buying used furniture that is kept inside or furniture directly from the seller's home.
How to get rid of bed bugs in upholstered furniture
If you're not sure whether a piece of furniture has bed bugs or you wish to purchase a great piece with signs of pests, then you'll need to clean it thoroughly.
Bed bugs exposed to high temperatures over 50°C for more than two minutes, studies found a 100% mortality rate. To do this, you can remove the cushion covers and all other removable parts of the chair, sofa, couch etc., and place them in the dryer. Run them on high heat for at least 30 minutes to effectively kill all life stages of bed bugs. The quickest and most effective way to get rid of those nasty pests is the bed bugs heat treatment.
Another non-chemical control method involves vacuuming the furniture. Always use a disposable vacuum bag to prevent re-infestation. Ensure to vacuum all sides and corners of the furniture, especially the nooks and crannies, and dispose of the vacuum bag after finishing.
Sprinkle diatomaceous earth in cracks. It seems to work well on penetrating the exoskeleton of the bed bugs and ultimately killing them.
As soon as you identify bed bug eggs, move the furniture into another room. Keep all infested items there. In this way, only one room has to be heat-treated, if necessary. It is still a good idea to inspect the remaining rooms as well.

Dry cleaning kills bed bugs at all stages, which is best for delicate fabrics and temperature-sensitive materials.
Does steam cleaning kill bed bugs in furniture?
Yes, steam cleaning does kill bed bugs when done correctly. A commercial steamer with a larger capacity and adjustable steam allows for better penetration between the fibres. These machines also reach a higher temperature (around 82°C), which can kill even bed bug eggs. That's why it's recommended to book a professional bed bug steam treatment. 
Streamers are far more suitable for injecting a high temperature on flat surfaces. So, if you have to treat tiny cracks and crevices, these aren't very reliable. In addition, avoid using carpet cleaning machines. They cannot reach temperatures high enough to kill bed bugs nor their eggs.
You should seek professional advice if you don't know how to use a steamer or don't have one. Alternatively, you can schedule an appointment with a local pest control company.
Things to avoid when you have bed bugs on your property
Being aware of what not to do is equally important. Fighting a bed bug infestation is hard, mainly because the bugs can develop resistance to a lot of chemicals, which renders all-natural ingredients useless.
Keep in mind to:
Never use pesticides for agricultural or garden purposes to kill bed bugs. Insecticides used outdoors to control bed bugs can be harmful to your health. Many over-the-counter pesticides claim to eliminate bed bugs, but they might not be powerful enough to destroy insects deep within the upholstery.

Avoid using rubbing alcohol or petroleum products.

Avoid using bed bug bombs. The only effect they have is to spread pests all over the place, but they cannot rid you of them.

Don't throw your furniture away. It is not a good idea to throw away furniture since you may spread the bugs. There are ways to treat bed bugs in beds and other furniture.
Professional bed bug treatment
Getting rid of bed bugs is a complicated process, frequently requiring more than the tools accessible over the counter. Even a few bed bugs can wreak havoc on your property and the cost of recovering from a bed bug infestation can be quite steep.
Your best option is to call a professional bed bug pest control company and ask them to inspect your property. That way you'll know the full extent of the infestation and exactly how much it will cost you to get rid of this pest. 
Are you dealing with a pest infestation?
You don't have to be alone in the battle against pests. Hire a professional pest expert!
Call us