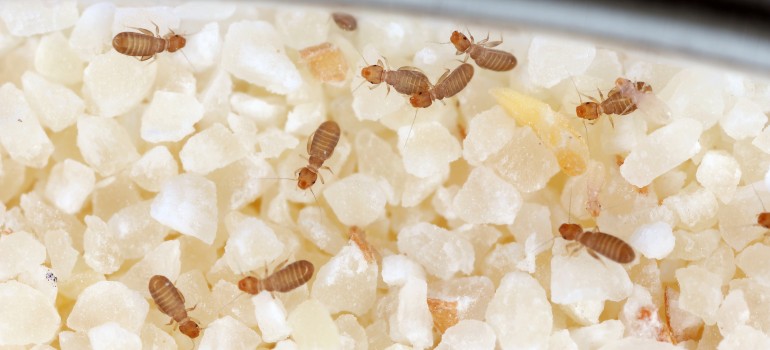 Booklice thrive in moist environments. Despite their tiny size, these insects can quickly multiply, causing an infestation that can be very difficult to control.
Although their name makes it seem like they can only be found in old books, booklice are happy to settle in any dark, warm, and humid place.
The more you know about booklice, including how they look, their characteristics and what attracts them, the better prepared you will be to prevent them from invading your home.
This article will help you learn about all of the above-mentioned and more!
What are booklice and how they look
Psocids, also known as booklice, are a type of common household pests. Despite the name, booklice aren't found only in books. Booklice are small insects that feed primarily on mould and fungi. These tiny creatures are usually sized between 1mm and 2mm and resemble brown sugar grains. Insects of this type move quickly and are cream-coloured or light brown.
In the UK, there are two main species: Trogium pulsatorium, commonly present in older, slightly damp houses and Liposcelis bostrychophila, thought to be the most prevalent pest found in domestic kitchens.
What attracts booklice
There is always a connection between damp environments and insects. The most common reasons for excess moisture in a property are leaking water pipes, dry plaster, or condensed moisture from not enough ventilation in the kitchen or bathroom.
Dark, moist areas are preferred living places by booklice since they dislike disturbances or light. Besides flour and crumbs, they feed on a mould that typically grows in humid environments.
This type of insect is a nuisance, especially when it decides to infest a property in large numbers. Booklice don't spread disease, bite, or inflict damage to property. Their presence alone, however, can be enough to cause distress.
Signs of a booklice infestation
In most cases, they do not leave much evidence of their presence, so you may not realize you have an infestation. However, they are a few things you can be cautious about:
Eggs – Eggs laid by booklice are sticky. Individually or in groups, they can be generally found laid on damp, moist surfaces. In some instances, eggs may be laid next to food sources, such as flour.
Spoiled food – If you notice that some food products spoil too quickly, you may be a victim of booklice. Usually, the insect will target flour, cereals, and dried cured meat, so look for white powder left behind near these – it's a sure sign that you have booklice.
Actual booklice activity – Occasionally, you'll see booklice in the open. They can be found on damp wood surfaces, furniture, books, magazines, or walls. They move swiftly and can be unpredictable, typically in groups.
Are you dealing with a pest infestation?
You don't have to be alone in the battle against pests. Hire a professional pest expert!
Call us
How to prevent and control booklice
The best way to prevent booklice is to control humidity levels in your house.
Keep your bathrooms and kitchens well-ventilated by opening windows regularly. It is important to keep food storage areas aerated and cool. In case that storage in cool ventilated cabinets is not available, make sure to keep your cupboards dry. In addition, patch up any leaks you find at your home.
Don't leave opened food products for long periods of time or store them in airtight containers/ bags.
Cleaning cupboards regularly is a good idea since cracks and crevices can gather food crumbs.
Additionally, you should check your home for leaks. No matter how minor, a leak creates the perfect living environment for booklice.
Commercial products that combat mould and fungi will also help keep the area clean and maintain control of mould-feeding pests.
How to get rid of booklice
Remove all infested products from your cupboards and dispose of them outside. Make sure that you vacuum the crevices in the cupboards as well. Booklice can be found in other parts of your house so vacuum those areas too. Throw away the contents of the vacuum cleaner in a waste bin outside of your property.
In some cases, containers and products can be treated by freezing them for 24 hours inside plastic bags. All insects and eggs inside will die as a result. Objects such as books can also be frozen. Place them in plastic bags if you suspect that they contain eggs or booklice.
Avoid using insecticide products because of possible food contamination. As a last resort, crawling insect powder can be used – be sure to read and follow the instructions carefully.
Get rid of mould and mildew in the house. Mould is one of the things booklice love to eat, so removing their primary source of nutrition is a good idea As mould can also affect your health, it's best to get rid of it as quickly as possible. It grows in bathrooms and kitchens, laundry rooms – any areas where there is moisture. You can remove it from your house by scrubbing the area with bleach, vinegar, borax, or special products that you can get from the store.
Use a dehumidifier. As booklice need moisture to live, reducing the humidity in your house will eliminate them. Set up dehumidifiers in damp areas like basements and bathrooms. You need to reduce the humidity to below 50%. Make sure to empty the dehumidifier's reservoir when it gets full.
Takeaways
Controlling humidity levels in your home is one of the best ways to prevent booklice;
Booklice do not pose a threat to your health and home;
The booklice population is increasing rapidly;
The use of insecticide products could lead to food contamination, so you need to be extra careful when using such;
Professionals have access to a range of products and equipment not available to the general public;
Are you dealing with a pest infestation?
You don't have to be alone in the battle against pests. Hire a professional pest expert!
Call us