24/7 Moth Treatments London
Emergency carpet and clothes moth treatments
Fri 1st
UP TO £60 OFF CALL US TO CLAIM THE DEAL
Elimination of eggs, larvae and adult moths
3-visit moth control for guaranteed eradication
A variety of moth treatment types
Moth exterminators certified by RSPH
How we control house moths
Survey
Depending on the severity of the infestation, a moth exterminator near you will inspect the property and suggest the most appropriate treatment.
Treatment
The pest technician treats affected areas with insecticides that effectively knock down carpet and clothes moths. Heat treatment is required to treat severe moth infestations.
Observation
When you book our guaranteed moth control services, the exterminator will come back to treat your property free of charge if there is still moth activity.
Prevention
The exterminator will even offer advice on how to prevent future infestations of moths. A written report on the moth treatment will also be provided to you.
Effective clothes and carpet moths treatment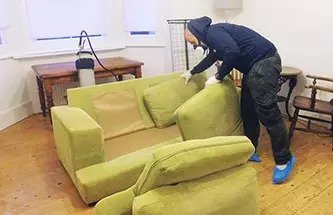 During their adult stages, clothes moths are mostly harmless, feeding on flower nectar and not generally bothering humans. During their larval stage, however, moths can cause a lot of damage, such as:
Destroy upholstered furniture, clothes, curtains;

Damage fur rugs, natural carpeting and linen;

Pantry moths, on the other hand, are attracted to dry food stored improperly, and they feed exclusively on starchy and sugary foods. Make an appointment for moth pest control immediately if you notice signs of infestation.
Preparing your home for moth treatment

Exterminating moths: what to do before and after
Before moth treatment service:
Remove all pets from the premises, including fish;
Vacuum the affected areas;
Leave the property while the service is performed;
What to do after moth treatment:
Wait at least 3 hours before returning home;
Open the windows for around 5-10 minutes;
Do not vacuum for at least 4 days after;

As a member of the Fantastic club, you can get £30 OFF for 10 different services within 1 year.
Carpet moth treatment services around you
Q: Why do I have so many moths in my house?
A: Whenever you find a moth in your home, it is most likely that it has come in through a window. However, if you see moths everywhere in your property, it's quite likely that the larvae have been brought inside through clothing.
Q: What is considered a moth infestation?
A: A moth infestation is sure when you see holes in your dry food or powdery material at the bottom. Dry foods, such as nuts, grains, flour and cereal, are the highest risk. It is common for moths to hunt for food, so they are often called 'food moths' or 'pantry moths'.
Q: Does pest control work for moths?
A: A professional moth control service includes surveying, monitoring, and hygiene advice. Chemical control, such as residual insecticides, can be used if necessary. Fumigation may be required in case of severe moth infestation.
Q: Do moths have a nest?
A: You are likely to see moths nesting in areas that you leave untouched. Clothing moths can be found in corners and folds of fabrics. Dark spaces like attics, closets, and wardrobes are ideal for them to feed on natural fibres, including silk, linen, wool, and fur.
Q: How does moth fumigation work?
A: Fumigating has been a popular method for removing several different species of insects. A chemical or gas is released and is allowed to spread throughout the house. Fumigation for moths is beneficial because the chemicals can reach places where moths might be hiding.
Q: What is the best treatment for moths?
A: Heat treatment is generally the most effective way to get rid of moths. The high temperature will kill moths at every stage of their development instantly, in both your clothes and your carpets. Eco-friendly with up to 100% guarantee, heat treatment will help you against the infestation.