Moth control and fogging services
Carpet and clothes moth
treatment guaranteed.

Thu 19th
Same day callouts available today
Elimination of eggs, larvae and adult moths
Guaranteed results with our 3-visit package
Disinfection services, upon request
Safe and approved pest control methods
Effective and affordable moth control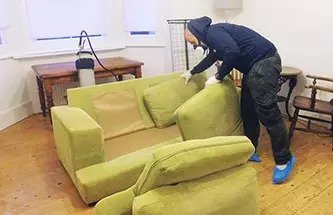 During their adult stage of life, clothes moths are mostly harmless, as they feed on flower nectar and do not bother humans to a big extent. In their larval stage, however, they are omnivorous creatures that can do a lot of damage, such as:
Destroy upholstered furniture, clothes, curtains.

Damage fur rugs, natural carpeting and linen.

Pantry moths, on the other hand, will be attracted to your dry food, if stored improperly. They feed exclusively on starchy and sugary foods. Don't waste time when you notice signs of an infestation and book your moth pest control appointment today with Fantastic Pest Control!
How we conduct the moth control service
Survey
Your Fantastic moth controller will carefully examine your property to assess the situation. They will then determine how to best handle the situation.
Treatment
The specialist will treat affected areas with an insecticide with a powerful knock-down effect on all carpet and clothes moths. The technician might have to proceed with fogging or heat treatment.
Observation
If your home still shows signs of moth activity after the initial treatment, your pest control technician can come again, inspect the property and proceed with a second treatment, upon request.
Prevention
The exterminator will even offer to share useful tips for preventing future moth infestation. And will also give you a copy of the written report about the completed treatment.
Fantastic moth control service benefits
Special discounts for club members
A detailed written report for the service
RSPH-certified professionals

As a member of the Fantastic club, you can get £30 OFF for 10 different services within 1 year.
Things to do prior to and after your moth extermination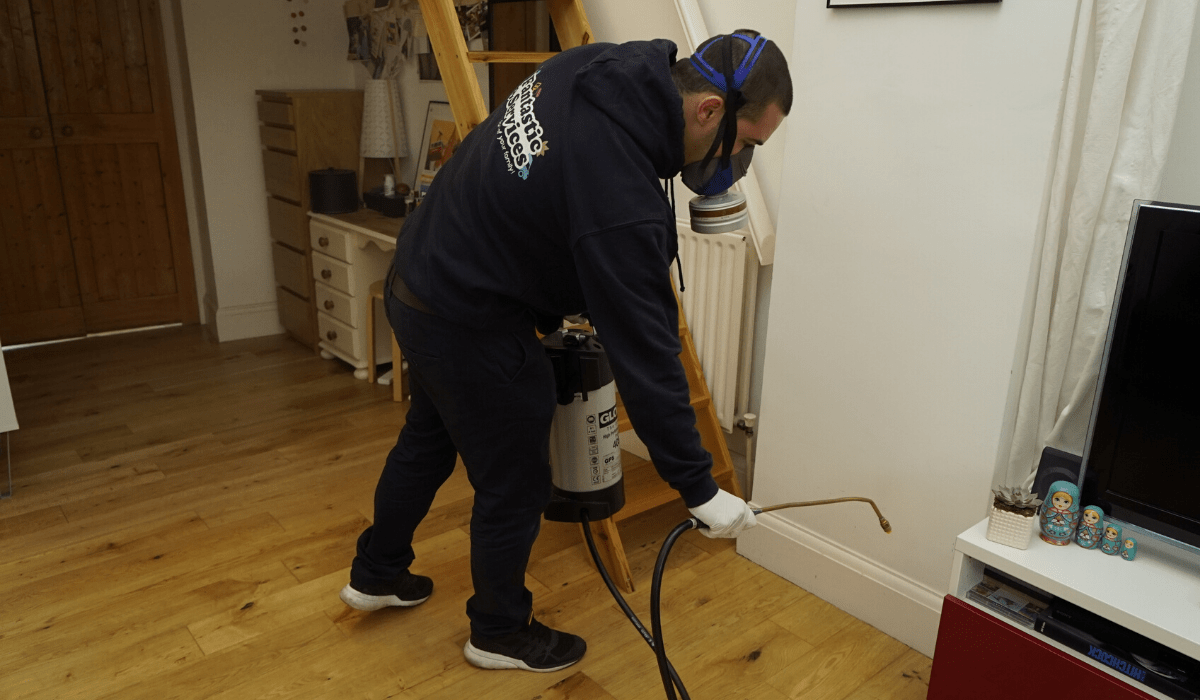 If you want to get maximum results from the treatment and to make sure that this is the last time you will have one, this is what you need to do.
Before the moth removal:
Remove all pets from the premises, including fish.
Vacuum the affected areas.
Leave the property while the service is performed.
After the moth control treatment:
Wait at least 3 hours before returning home.
Open the windows for around 5-10 minutes.
Do not vacuum for at least 4 days after.
Frequently asked questions
Q: What are the telltale signs of a moth infestation?
A: The most visible signs of an active infestation are irregularly-shaped holes in clothing and furnishing. Other signs include tubes or cases teeming with maggot-like larvae, silk cocoons in the corners of your room or furniture, and adult moths that spend more time crawling than flying.
Q: My carpets are infested with moth larvae. Now what?
A: If the moth larvae have decided to nest in your carpet, make sure to vacuum it as often as possible and change your vacuum bags frequently. Learn the difference between moths and butterflies so you know whether you have a serious problem.
Q: Why have moths invaded my home?
A: Many households store a respectable amount of pantry items (flour, grain, etc.) which some moth spices eat. Cloth moths feed on natural materials such as clothing made of wool, silk, fur, and others.
Q: Can you change the time of the moth treatment appointment?
A: Yes, we can but more conveniently you can do it on your own by creating a Fantastic account. From the dashboard you can easily manage all your bookings.
Q: Do you offer any discounts?
A: Yes, by joining the Fantastic club you will get benefits like discounted prices and other exclusive deals for a year long.
Q: How do you charge for moth fogging?
A: Per job, not per hour. The price depends on the number of rooms that need to be treated and the number of visits by an exterminator.
You have a very specific pest question?
Fill in the form, upload images and click send. One of the expert pest technicians at Fantastic Pest Control will provide you an answer ASAP.
Moth control in London and the rest of England
Learn more about moths
Check our tips, tricks and other useful information regarding moths.