Book our 24/7 effective silverfish treatment!
Get rid of those creatures with destructive feeding habits.
Fast, efficient and discreet service
Same-day service possibility
Risk-free pest control methods
Certified and experienced technicians
Fast and Discreet Silverfish Treatment in London
Unlike most crawling pests, silverfish are not considered dangerous to a person's health, as they do not bite or transmit diseases. However, they are still a pest, and if you are a victim of a silverfish infestation, immediate action must be taken. They might not bite you or your family but silverfish can still cause some problems, such as:
Damage to your property;
Contaminating your food;
Damage to your belongings while they feast on various adhesive substances.

Don't waste any time and leave the professionals of Fantastic Pest Control to take care of your silverfish problem!
4 Steps to Organising Your Silverfish Treatment:
Schedule your service for a day suitable for you. You can do so by:
Using our chat or online booking form
Calling us on our toll-free nationwide number
Download and use our GoFantastic app
After a preliminary survey, you can choose from:
Having the inspection only
Treatment with one-month guarantee
Full treatment with a three-month guarantee
According to your specific situation, one of the following treatment methods is used:
Heat treatment
Spraying with a regular insecticide
After the full silverfish eradication, your home will be pest-free. What you can do to keep it that way is:
Spread cedar shavings around room corners
Apply essential oils - lavender or citrus will work
Sprinkle diatomaceous earth
See How Our Silverfish Treatment Works
Survey
First, a Fantastic exterminator inspects your property. The goal is to determine the type and level of infestation, and to suggest an effective treatment method.
Treatment
For small and mild infestations, spraying with commercial-grade insecticide is enough. For severe infestation, heat treatment is needed. Same-day treatments are possible.
Observation
If you've booked a full treatment, you can request two free follow-up visits. The exterminator can come back to inspect and treat the property again if there's a need.
Prevention
When the silverfish are fully eradicated, the technician will give you a written report about the treatment. You will also receive some useful tips for protecting your home.
Silverfish Treatment Perks
Full week availability, including weekends
User-friendly booking form and mobile application
Competitive rates and discounts
Silverfish Treatment Prices
The rates of our silverfish pest control depend on the number of bedrooms in your property, the type of pricing you'll choose - standard or discounted with a Fantastic Club membership, as well as the length of the guarantee that you pick. In London, you can book silverfish removal at the following costs:
Silverfish treatment prices for 1 bedroom property
Service Type
Price

Fantastic Club

| Standard
Inspection (without a treatment)
£45
Treatment with a 1 month guarantee*

£166

| £195
Full treatment with a 3 month guarantee**

£230

 | £270
Service Type
Price

Fantastic Club

| Standard
Inspection (without a treatment)
£45
Treatment with a 1 month guarantee*

£175

 | £205
Full treatment with a 3 month guarantee**

£238

 | £280
Silverfish treatment prices for 3 bedrooms property
Service Type
Price

Fantastic Club

| Standard
Inspection (without a treatment)
£45
Treatment with a 1 month guarantee*

£183

 | £215
Full treatment with a 3 month guarantee**

£247

 | £290
*Read our terms
– Prices are applicable for residential properties only.
– All insects treatments include treatment of the affected areas only.
– No further charges go on top of the rates except parking and congestion, if applicable.
– £50 additional charge on all night jobs (night job is considered between 8pm and 5am appointment time)
- T&C and Minimum call out charges apply. When we calculate the price, we also take into consideration the area's dimensions and the time of the appointment. All prices and deals are valid for areas within M25. Note that prices may vary for areas outside of M25, call in for more details on your location.
* Treatment with a 1-month guarantee consists of 1 major visit + 1 follow-up in a 1-month period. Please mind that a follow-up can be organised only upon your further request.
** Full treatment with a 3-month guarantee consists of 1 major visit + 2 follow-ups in a 3-month period. Please mind that follow-ups can be organised only upon your further request.
*** If your property has more than 4 bedrooms, contact us for a quote.
Get an instant quote and check our availability in your area
How to prepare for a silverfish removal and what to do after the service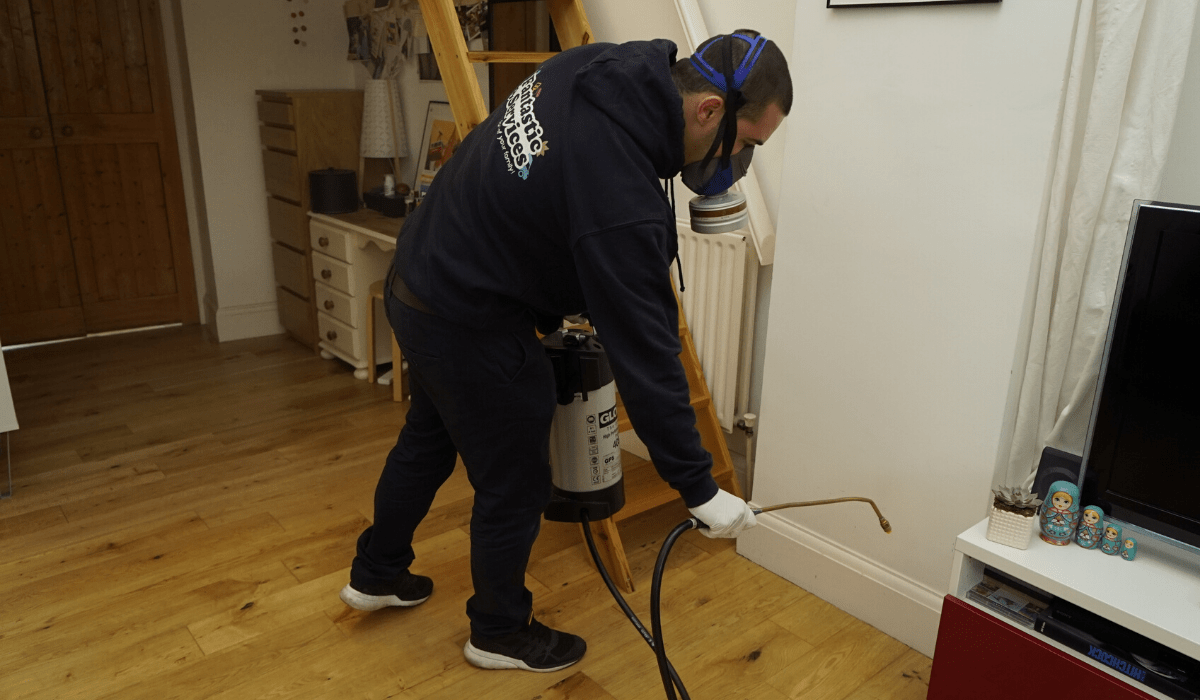 Here is a short list of all the things you need to do prior to and after your silverfish extermination service.
Before:
Remove all pets from the property, including fish.
Vacuum all the infested areas.
Vacate the property while the service is taking place.
After:
Wait for at least 2 hours before returning home.
Do not vacuum for the next 4 days.
Open the windows and doors for around 10-15 minutes when you go back.
Frequently Asked Questions
Q: Can pest controllers work during the Coronavirus lockdown?
A: Yes, according to BPCA, pest controllers are still allowed to visit properties, in order to make assessments and implement pest control solutions. You can check our dedicated article that gives more explanation regarding pest control services during Coronavirus lockdown.
Q: What are silverfish doing in my home?
A: Silverfish are small and nimble creatures that are attracted to damp environments, such as bathrooms, kitchens, garages, basements, and old boxes.
Q: Are your services discreet?
A: Yes, they are We can send a pest technician with an unbranded van for your peace of mind.
Q: Can you perform treatments on weekends as well?
A: Yes, we provide our services 7 days a week, as well as on weekends or official holidays.
Q: Are silverfish harmful?
A: The short answer is no. These creatures may have a menacing appearance, but their mandibles are far too small to penetrate human skin, and they wouldn't do so even if they had the chance.
Q: What about diseases?
A: Silverfish do not carry any known diseases and do not pose any danger to humans.
Q: How to get rid of silverfish?
A: A natural way of keeping silverfish at bay involves the use of spices, such as bay leaves and sage. Other home remedies that can deal with silverfish are diatomaceous earth, cucumber slices, and citrus essential oils.
You have a very specific pest question?
Fill in the form, upload images and click send. One of the expert pest technicians at Fantastic Pest Control will provide you an answer ASAP.)
Learn more about silverfish
Check our tips, tricks and other useful information regarding silverfish
COVID-19 UPDATE: We remain fully operational in high and very high alert areas.