Get an immediate woodworm treatment from certified exterminators!
No more massive damages to your furniture and floors!
Protection for your wooden furniture and structures
Elimination of all woodboring larvae
Certified and experienced technicians
Guaranteed results with our full treatment
Discreet service of high quality
Professional Woodworm Treatment in London Done by Licensed Experts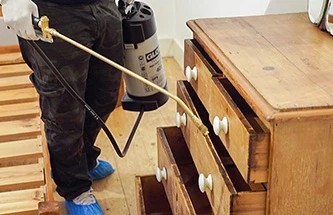 Like their name suggests, woodworms like to munch on, well - wood. This means that this type of pest is capable of inflicting some serious (and expensive) damage to the structure of your home. If you've heard some interesting sounds around your house, coming from basically nowhere, and at the same time, have noticed holes in beams and wooden furniture - congratulations! You are most likely a victim of a woodworm attack.
In such cases it's best to count on the help of a professional, that's if you don't want to invest in a serious home renovation.
How Our Woodworm Treatment Works
Survey
An expert technician arrives on your property to inspect the area where you've noticed signs of infestation. After that, the surveyor may also need to take a look at nearby wood products to make sure the infestation hasn't spread.
Treatment
Whether you've decided to use the spray method or the heat treatment, your property will be treated with the utmost care. The insecticide has a long residual effect. The heat treatment eliminates the wood-boring beetles in all life stages.
Observation
When you book a guaranteed service, you can get up to two free additional visits from the pest technician to check up on the results. These follow-up treatments are done upon request and are scheduled ahead of time.
Prevention
At the end of the service, the exterminator will give you a written report and advice on how you can protect your woodwork from infestations in the future.
Why Pick Us for Pest Treatments
We have special discounts you can take advantage of
Our schedule is flexible so we can fit your timetable
After the pest treatment, we can arrange for a disinfection
Woodworm Treatment Prices
Check the cost of our woodworm treatment service and make sure to read our terms below the table.
Service Type
Price

Fantastic Club

| Standard
Inspection (without a treatment)

£15

| £45
1-month treatment

from £185

| from £215
Full treatment with a 3-month guarantee*

from £225

| from £285

Full treatment with extended guarantee

Get the option to request up to 3 additional follow up visits within a period of 4 months from the initial treatment
*Read our terms
Join the

Fantastic Club and get:
- £300 in credits
- Preferential member rates
- Domestic cleaning from £16/h
- Real-time arrival tracker
- Priority booking & case handling
---
– Prices are applicable for residential properties only.
– All insects treatments include treatment of the affected areas only.
– No further charges go on top of the rates except parking and congestion, if applicable.
– £50 additional charge on all night jobs (night job is considered between 8 pm and 5 am appointment time)
* Full treatment with a 3-month guarantee consists of 1 major visit + 2 follow-ups in a 3-month period. Please mind that follow-ups can be organised only upon your further request.
** If your property has more than 4 bedrooms, contact us for a quote.
- T&C and Minimum call out charges apply. When we calculate the price, we also take into consideration the area's dimensions and the time of the appointment. All prices and deals are valid for areas within M25. Note that prices may vary for areas outside of M25, call in for more details on your location.
Get an instant quote and check our availability in your area
As a member of the Fantastic club, you can get £30 OFF for 10 different services within 1 year.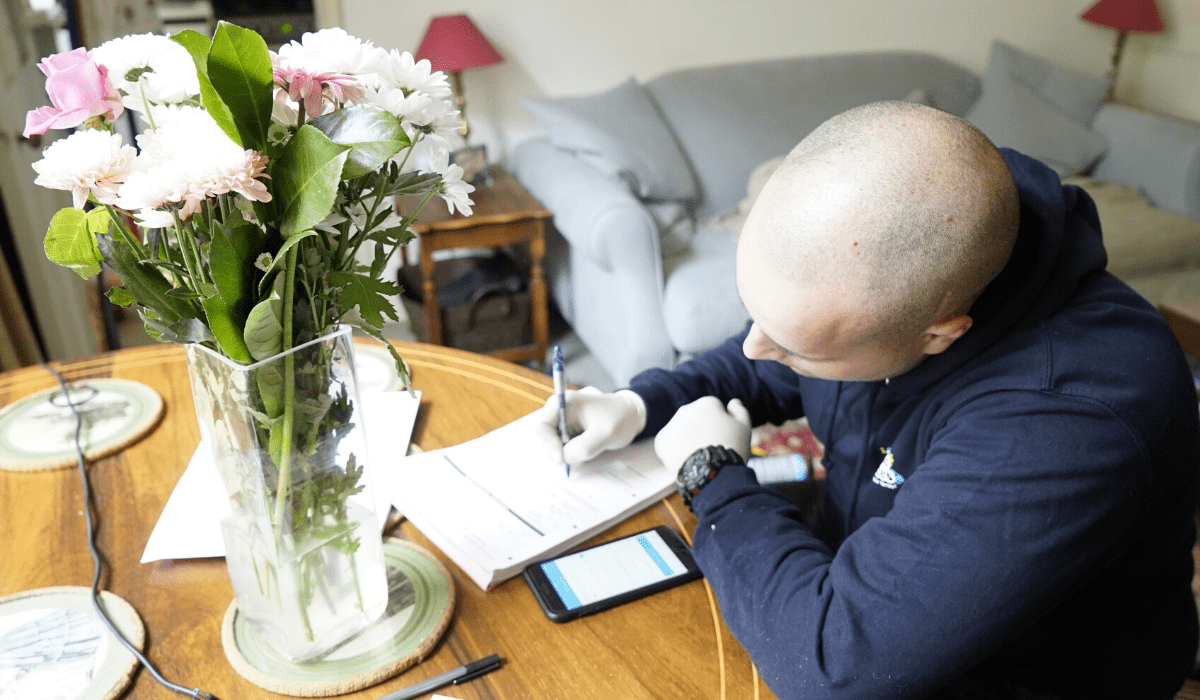 If you have woodworm infested furniture, dispose of the items as soon as possible, so the infestation doesn't spread further.
Keep your home well ventilated - woodworms prefer to munch on timber places where the humidity is high.
Install insect traps to prevent a potential attack by woodboring beetles during the warmer months. This way you will eliminate the woodworms' future parents and avoid the onset of a rapid infestation.
Frequently Asked Questions
Q: Can pest controllers work during the Coronavirus lockdown?
A: Yes, according to BPCA, pest controllers are still allowed to visit properties, in order to make assessments and implement pest control solutions. You can check our dedicated article that gives more explanation regarding pest control services during Coronavirus lockdown.
Q: How can I pay for the pest controller's work?
A: Your card may be charged for the full price of the service immediately upon booking or at any time before the service begins.
Q: What areas do you cover?
A: Visit our Coverage page to see all the areas we currently cover.
Q: How do I know if my home is infested?
A: If the surface of your furniture, floorboards, or roof joists is perforated by several tiny holes, this doesn't necessary mean that the bugs are still active.
Q: How do I deal with woodworms?
A: Тhe common furniture beetle is relatively harmless and can be treated with coats of water-based boron that can be either brushed or sprayed on.
Q: How do I keep woodworms from returning?
A: Maintaining low humidity levels and ensuring decent air ventilation is a good start. You can also purchase a timber moisture metre, whose probe you can use to determine the humidity levels within the timber.
Q: What should I do if I want to change the time of my woodworm treatment appointment?
A: You can easily make any changes through the dashboard section, once you log into your Fantastic account. If you haven't got one yet, it's really easy to create it at your convenience.
You have a very specific pest question?
Fill in the form, upload images and click send. One of the expert pest technicians at Fantastic Pest Control will provide you an answer ASAP.
Woodworm Control London Coverage
Learn more about woodworms
Check our tips, tricks and other useful information regarding woodworms.