Woodworm Treatment London
Certified exterminators provide prevention and removal of woodworms
We offer free on-site inspections of woodworms
24/7 woodworm control & treatment
Eradication of wood-boring insects guaranteed
Heat treatment for woodworms
Preventing woodworm infestations in homes and businesses
Survey
To determine the extent of the woodworm infestation, the type of wood-boring insects involved, and the degree of damage, the pest control technician will conduct a thorough inspection.
Treatment
To eliminate woodworm infestations, the pest exterminator will develop a customised treatment plan. An insecticide's residual effect lasts for a long time. Heat treatment kills wood-boring beetles at all stages of their life cycle.
Observation
Free re-treatment will be provided if wood-boring insects are detected after the initial treatment. For larger woodworm infestations in enclosed spaces, fumigation may be necessary.
Prevention
A guaranteed woodworm treatment includes up to two free follow-up visits. As part of the woodworm pest control service, you will also receive recommendations for prevention in order to avoid woodworm infestations in the future.
Professional woodworm treatment near you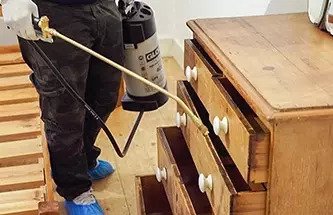 Woodworm pest control involves the use of specialised techniques and treatments to eliminate wood-boring insects. The larvae of woodworms tunnel through wood and feed on it, causing damage to wooden structures, furniture, and other wooden items.

It may be necessary to apply insecticides as sprays or inject them directly into the wood, depending on the severity of the infestation. By injecting into the wood, larvae can be reached deeper into the wood.
It may be necessary to fumigate enclosed spaces to treat larger infestations. During fumigation, gaseous insecticides are introduced into space to eliminate woodboring beetles.
Tips for preventing woodworm infestation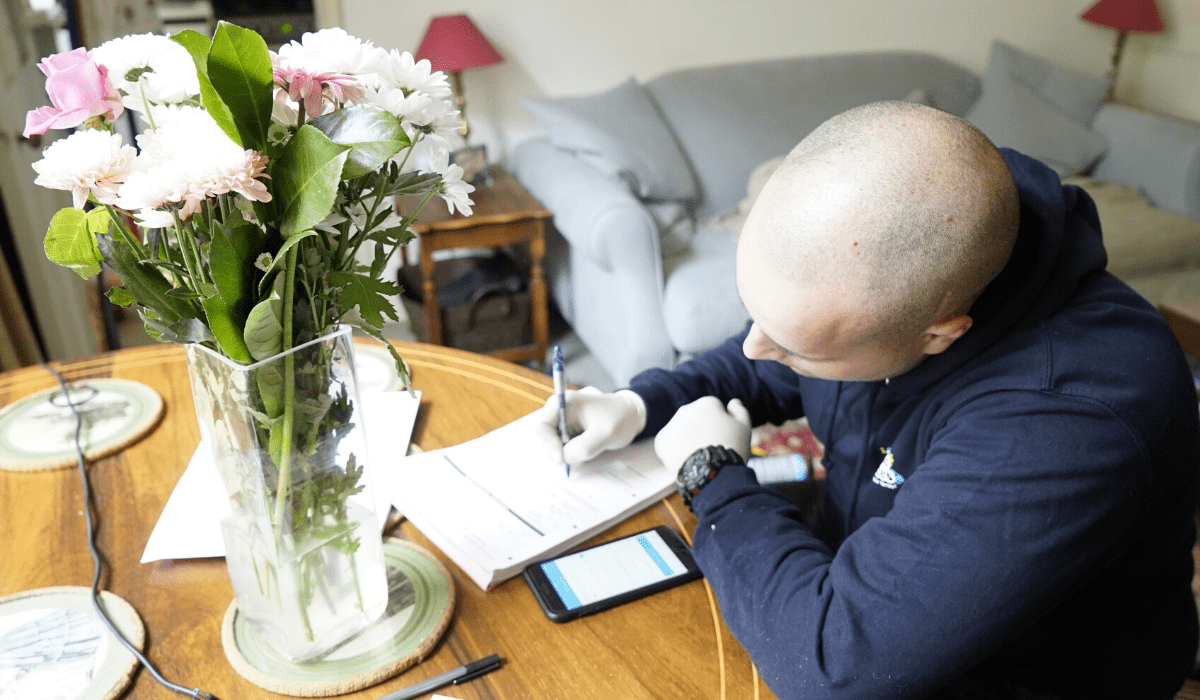 If you have woodworm infested furniture, dispose of the items as soon as possible, so the infestation doesn't spread further;
Keep your home well ventilated - woodworms prefer to munch on timber places where the humidity is high;
Install insect traps to prevent a potential attack from woodboring beetles during the warmer months. This way you will eliminate the woodworms' future parents and avoid the onset of a rapid infestation;
Before you bring wooden furniture or items into your home, inspect them thoroughly for signs of infestation of woodworms. Check for small holes, fine sawdust (frass), and weak or damaged wood;

As a member of the Fantastic club, you can get £30 OFF for 10 different services within 1 year.
Woodworm control in London and the UK
Q: Do woodworms bite humans?
A: Woodworms do not directly harm humans, but some parasites that have been associated with them are dangerous. Leaving these parasites untreated for a long time can cause unpleasant bites and rashes in humans.
Q: Where do woodworms come from?
A: Woodworm is typically caused by high moisture content in timber, which adult female beetles seek in the summer months to lay eggs. Afterwards, the larvae burrow, and when they emerge, they leave behind the exit holes you see commonly.
Q: How do you get rid of woodworm?
A: Woodworm is most commonly treated by spraying affected timbers. Certain woodworm beetles, such as the Deathwatch beetle, require more intensive treatments involving penetrating insecticidal gel to eliminate the infestation.
Q: How much does woodworm treatment cost?
A: The price is based on the extent and size of the infestation on your property. You'll need a professional survey to know the extent of the damage. You can expect to pay between £200 and £500 for professional woodworm removal.
Q: How do professionals treat woodworm?
A: An experienced and fully trained surveyor will inspect your property. You need a thorough woodworm survey to determine whether treatment is required. The sprayed solution into the timber is highly effective and will prevent any further infestations from occurring.
Q: Can I treat woodworm myself?
A: Common furniture beetles can be easily treated by brushing, dipping, or spraying with a Permethrin-based woodworm treatment on all timbers infested with woodworm. In addition, you should treat any nearby timbers to prevent future outbreaks.