Skip the line, request and book a service online
CHAT
Get an immediate woodworm treatment from certified exterminators!
No more massive damages to your furniture and floors!
Protection for your wooden furniture and structures
Elimination of all woodboring larvae
Certified and experienced technicians
Guaranteed results with our full treatment
Discreet service of high quality
Professional woodworm treatment in done by licensed experts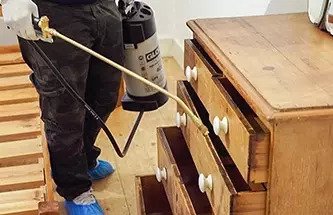 Like their name suggests, woodworms like to munch on, well - wood. This means that this type of pest is capable of inflicting some serious (and expensive) damage to the structure of your home. If you've heard some interesting sounds around your house, coming from basically nowhere, and you've started to notice holes in beams and wooden furniture - congratulations! You are most likely a victim of a woodworm attack.
In such cases it's best to count on the help of a professional, that's if you don't want to invest in a serious home renovation.
How our woodworm treatment works
Survey
An expert technician arrives on your property to inspect the area where you've noticed signs of infestation. After that, the surveyor may also need to take a look at nearby wood products to make sure the infestation hasn't spread.
Treatment
Whether you've decided to use the spray method or the heat treatment, your property will be treated with the utmost care. The insecticide has a long residual effect. The heat treatment eliminates the wood-boring beetles in all stages of life.
Observation
When you book a guaranteed service, you can get up to two free additional visits from the pest technician to check up on the results. These follow-up treatments are done upon request and are scheduled ahead of time.
Prevention
At the end of the service, the exterminator will give you a written report and advice on how you can protect your woodwork from infestations in the future.
Why pick us for pest treatments
We have special discounts you can take advantage of
Our schedule is flexible so we're here whenever you need
After the pest treatment, we can arrange for a disinfection

As a member of the Fantastic club, you can get £30 OFF for 10 different services within 1 year.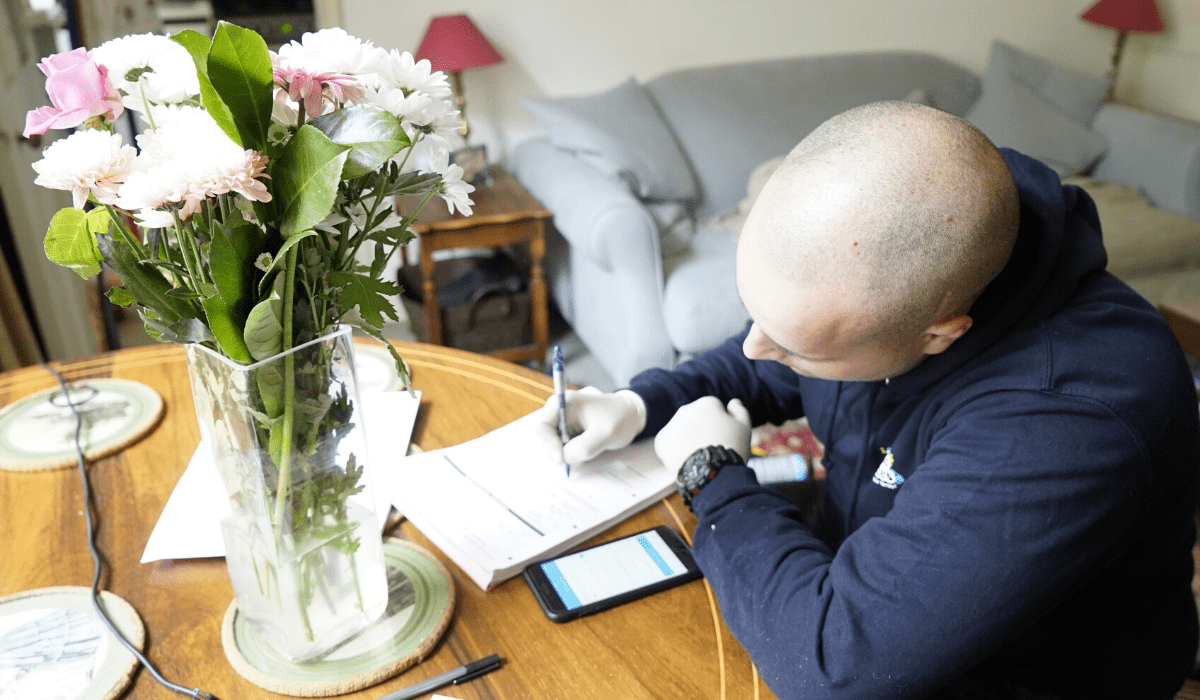 If you have woodworm infested furniture, dispose of the items as soon as possible, so the infestation doesn't spread further.
Keep your home well ventilated - woodworms prefer to munch on timber places where the humidity is high.
Install insect traps to prevent a potential attack from woodboring beetles during the warmer months. This way you will eliminate the woodworms' future parents and avoid the onset of a rapid infestation.
Q: Do woodworms bite humans?
A: Woodworms do not directly harm humans, but some parasites that have been associated with them are dangerous. Leaving these parasites untreated for a long time can cause unpleasant bites and rashes in humans.
Q: Where do woodworms come from?
A: Woodworm is typically caused by high moisture content in timber, which adult female beetles seek in the summer months to lay eggs. Afterwards, the larvae burrow, and when they emerge, they leave behind the exit holes you see commonly.
Q: How do you get rid of woodworm?
A: Woodworm is most commonly treated by spraying affected timbers. Certain woodworm beetles, such as the Deathwatch beetle, require more intensive treatments involving penetrating insecticidal gel to eliminate the infestation.
Q: How much does woodworm treatment cost?
A: The price is based on the extent and size of the infestation on your property. You'll need a professional survey to know the extent of the damage, which usually costs £45. You can expect to pay between £200 and £500 for professional woodworm removal.
Q: How do professionals treat woodworm?
A: An experienced and fully trained surveyor will inspect your property. You need a thorough woodworm survey to determine whether treatment is required. The sprayed solution into the timber is highly effective and will prevent any further infestations from occurring.
Q: Can I treat woodworm myself?
A: Common furniture beetles can be easily treated by brushing, dipping, or spraying with a Permethrin-based woodworm treatment on all timbers infested with woodworm. In addition, you should treat any nearby timbers to prevent future outbreaks.
Woodworm control in London and the rest of England