Skip the line, request and book a service online
CHAT
Book effective steam treatment service against bed bugs
Choose an eco-friendly alternative to eliminate bed bugs
Skilled, trained and equipped technicians
A quick and powerful solution against bed bugs
Non-toxic treatment, completely safe for your home
Discreet arrival with non-branded vehicles
Why our pest control steam treatment is your best choice
Bed bugs are among the most hated pests that you can find in a British home. They multiply very quickly and in a brief period, making their eradication challenging. They are mainly active at night, while during the day, they hide. Bed bugs feed on blood by biting, which can lead to health risks and other inconveniences.
The main benefit of the steam treatment is that it is non-toxic. The heat produced by the steam vapour reaches temperatures of up to 180°C. This will terminate all life stages of the bed bugs only a few seconds after exposure to the steam. During the delivery phase, the steam is mixed with а detergent to eliminate the typical smell of bed bugs & detach the eggs from surfaces. The dry, superheated steam can be used on any surface or fabric and directed into the most hidden corners, hardest to treat and nesting areas.
Perks that the steam treatment brings:
No need to vacate the property for hours after the service;

You won't need to sleep in the treated room to lure the bed bugs out and get bitten;

Pet-safe as no chemicals are used;

You can clean after the treatment if necessary;
How the steam treatment service works
Survey
We send a professional exterminator onsite to check the level of infestation and the affected areas. Then they will decide how to proceed next.
Treatment
A special machine that heats up steam to 180° C (356° F) is used which is able to eliminate bed bugs on all stages. The service is totally insecticide-free, completely safe for your family.
Observation
The service is done with only one visit, though we highly recommend you regularly observe the situation. If the bed bugs reappear shortly after the treatment, contact us immediately.
Prevention
The expert will share with you advice on how to prevent bed bugs in the future. At the end of the service, they will give you a copy of a report regarding the service process.
More perks if you choose us
Special perks
By becoming a member of our Fantastic Club you can enjoy preferential rates, exclusive seasonal deals, and more for a whole year!
GoFantastic App
Easily manage your appointments, reschedule all your services yourself and chat with us if you need any help.
Transparent policy
Our pricing model is totally transparent, so you won't experience paying for hidden costs or extra charges!
24/7 customer support
Contact us at any time that suits you best. We provide live customer support 7 days a week, including weekends and Bank holidays.

As a member of the Fantastic club, you can get £30 OFF for 10 different services within 1 year.
How to prepare for the bed bug steam treatment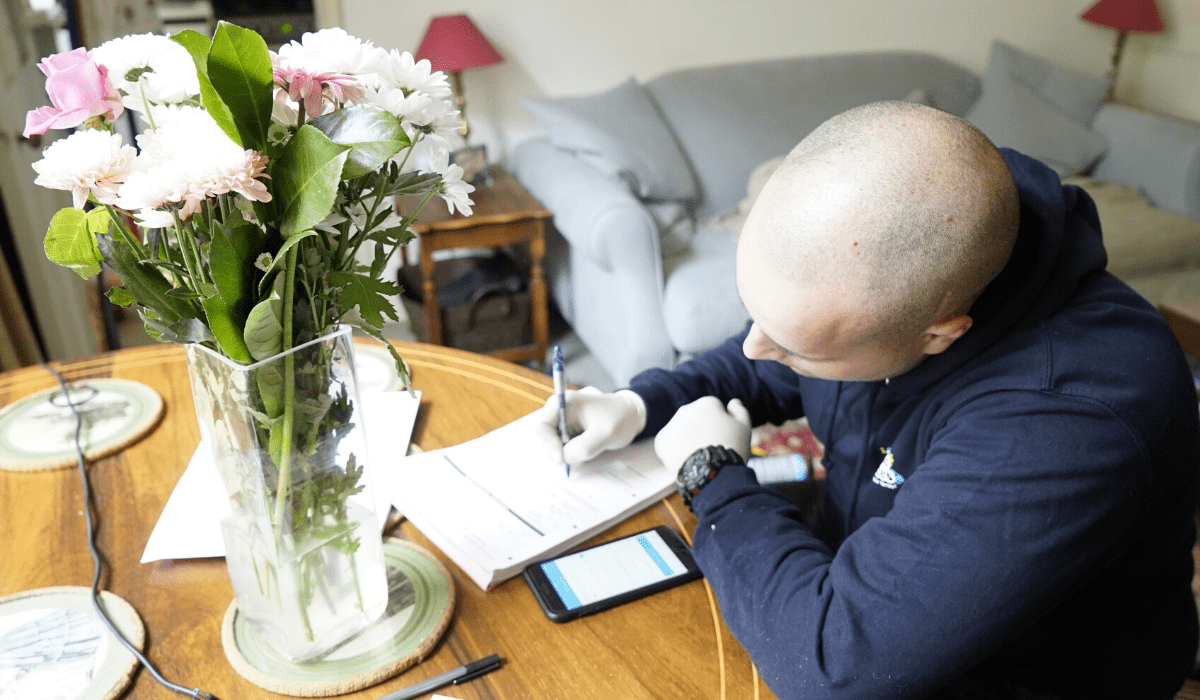 Remove all bedding including sheets, pillowcases, and duvet covers;
Empty the wardrobes and suitcases under the bed (if any);
Hot wash bed linen and clothes on 60/90'C (temperature varies depending on the type of fabric), and then bag them up in order to protect them from being reinfested;
Do not leave any belongings, clothes, shoes, toys, etc. on the floor as the entire area needs to be treated;
The pest technician needs access to the entire room, i.e. any furniture such as drawers that are against walls need to be pulled away to allow the pro to treat around the skirting boards.
Q: Can steam kill bed bugs?
A: A temperature of 50 °C will kill adult bed bugs as well as their eggs in just a few minutes. As soon as the water reaches the temperature of 100°C, it turns into steam and is already hot enough to kill bed bugs immediately.
Q: What is steam treatment bed bugs?
A: Steam treatment is a non-toxic spot-on treatment that eliminates bed bugs and their eggs by heating steam up to 180° C without insecticides. The steam kills bed bugs by causing a heat shock, resulting in a permanent disinfestation.
Q: Can you get rid of bed bugs with a steam cleaner?
A: Yes! A commercial steamer with a larger capacity and adjustable steam allows better penetration between fibres. The machines also reach a higher temperature (around 82°C), killing even bed bug eggs. Streamers are far more suitable for injecting high temperatures on flat surfaces, so they aren't very effective when treating tiny cracks and crevices.
Q: How do you get rid of bed bugs with a steam cleaner?
A: A triangular tool with a microfiber cloth is best for bedbug removal. Attach the tool to the hose or extension tube. Work slowly, so the steam has time to penetrate the surface. Steam top to bottom, starting with curtains and drapes and working down to the other furniture. While steaming your mattress, pass steam on all six sides. Consider repeating the steam treatment a few hours later or the next day.
Q: How often should I steam for bed bugs?
A: Steaming requires 2 or 3 sessions to kill all bed bugs since the bugs may move to escape the steam, or you might miss an area. Repetition of the treatment shouldn't take longer than a few days because bed bugs multiply quickly!
Q: How much is a bed bugs steam treatment?
A: For those on a budget, steam is an ideal choice as it is less expensive than some of the other methods used by bed bug exterminators. The cost of steam cleaning a two-bedroom property is around £320 on average.
Steam treatment in London and the rest of England