Book Effective Steam Treatment Service against Bed Bugs
Choose an eco-friendly alternative to eliminate bed bugs
Skilled, trained and equipped technicians
A quick and powerful solution against bed bugs
Non-toxic treatment, completely safe for your home
Discreet arrival with non-branded vehicles
Why our Pest Control Steam Treatment in London is your Best Choice
Bed bugs are among the most hated pests that you can find in a British property. They multiply pretty fast and do so in a very short period of time, which makes their eradication challenging. They are cruel biters that feed on human blood in the night, which can lead to health risks and other inconveniences such as:
Allergic reactions: sometimes bed bug bites can lead to skin irritation, tightness in the chest, swollen lips etc. If you have any similar symptoms, we advise you to immediately seek medical care.
Stress: waking up with bite marks, without knowing what the cause is, can and is very stressful. Bed bugs are excellent hiders. On top of that, they can spread extremely quickly, making the whole idea of an army of insects waiting for you to go to bed even more terrifying.
Insomnia: scratching those itchy bites all night long can lead to some serious under eye circles.
How the Steam Treatment Service Works
Survey
We send a professional exterminator onsite to check the level of infestation and the affected areas. Then he will decide how to proceed next.
Treatment
A special machine that heats up steam to 180° C (356° F) is used which is able to eliminate bed bugs on all stages. The service is totally insecticide-free, completely safe for your family.
Observation
The service is done with only one visit. Anyway, we highly recommend you to regularly observe the situation. If the bed bugs appear shortly after the treatment, contact us again.
Prevention
The expert will share with you advice on how to prevent from bed bugs in he future. In the end of the service, he will give you a copy of a report regarding the service process.
More Perks in You Choose Us
Special perks
By becoming a member of our Fantastic Club you can enjoy preferential rates, exclusive seasonal deals, and more for a whole year!
GoFantastic App
Easily manage your appointments, reschedule all your services yourself and chat with us if you need any help.
Transparent policy
Our pricing model is totally transparent, so you won't experience paying for hidden costs or extra charges!
24/7 customer support
Contact us at anytime that suits you best. We provide live customer support 7 days a week, including weekends and Bank holidays.
Bed Bugs Steam Treatment Cost
The cost of our steam treatment service for bed bugs is calculated based on the number of bedrooms at your property and whether you pick a standard or a discounted price with a Fantastic Club membership. The rates for our service in London are as follows:
Bed bugs steam treatment prices for 1 bedroom property
Service Type
Price

Fantastic Club

| Standard
Inspection (without a treatment)

£15

| £45
Treatment

from £240

| from £270
Bed bugs steam treatment prices for 2 bedroom property
Service Type
Price

Fantastic Club

| Standard
Inspection (without a treatment)

£15

| £45
Treatment

from £340

| from £370
Bed bugs steam treatment prices for 3 bedroom property
Service Type
Price

Fantastic Club

| Standard
Inspection (without a treatment)

£15

| £45
Treatment

from £440

| from £470
Bed bugs steam treatment prices for 4 bedroom property
Service Type
Price

Fantastic Club

| Standard
Inspection (without a treatment)

£15

| £45
Treatment

from £540

| from £570
Bed bugs steam treatment prices for 5 bedroom property
Service Type
Price

Fantastic Club

| Standard
Inspection (without a treatment)

£15

| £45
Treatment

from £640

| from £670
*Read our terms
Join the

Fantastic Club and get:
- £300 in credits
- Preferential member rates
- Domestic cleaning from £16/h
- Real-time arrival tracker
- Priority booking & case handling
---
- Prices are applicable for residential properties only.
- No further charges go on top of the rates except parking and congestion, if applicable.
- £50 additional charge on all night jobs (night job is considered between 8 pm and 5 am appointment time).
-If your property has more than 4 bedrooms, contact us for a quote.
- T&C and Minimum call out charges apply. When we calculate the price, we also take into consideration the area's dimensions and the time of the appointment. All prices and deals are valid for areas within M25. Note that prices may vary for areas outside of M25, call in for more details on your location.
Get an instant quote and check our availability in your area
As a member of the Fantastic club, you can get £30 OFF for 10 different services within 1 year.
What to Do Before and After the Steam Treatment Pest Control Service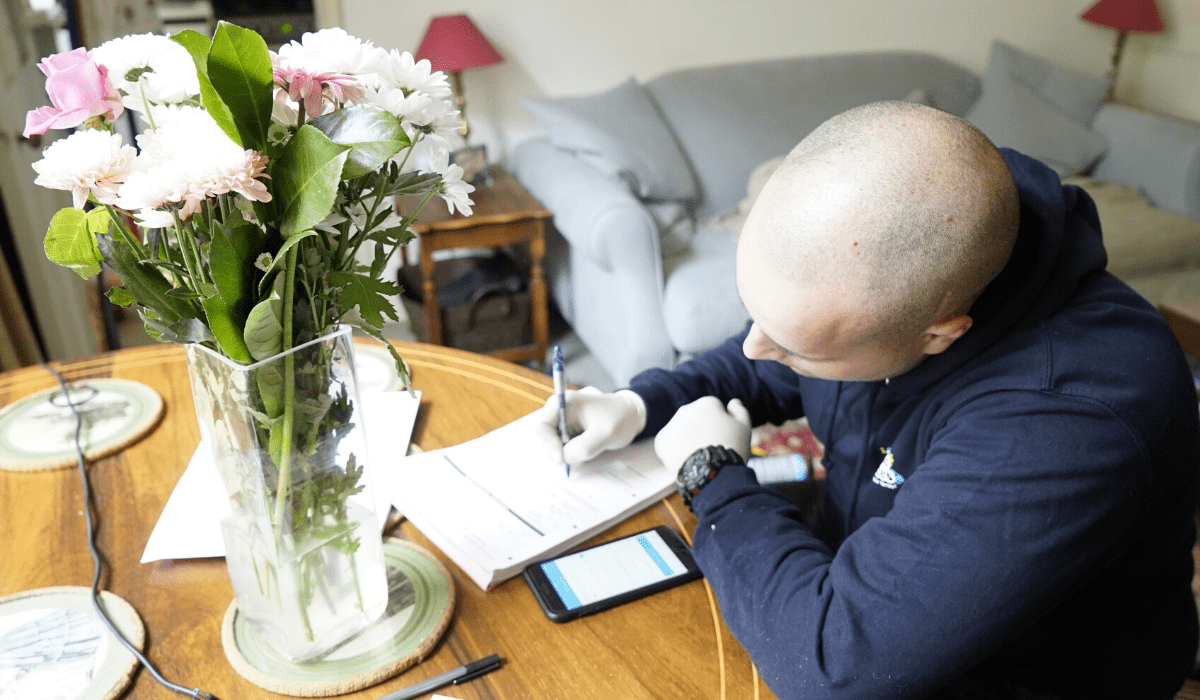 Before the service:
Remove all bedding including sheets, pillowcases, and duvet covers;
Empty the wardrobes and suitcases under the bed (if any);
Hot wash bed linen and clothes on 60/90'C (temperature varies depending on the type of fabric), and then bag up in order to protect them from being reinfested;
Do not leave any belongings, clothes, shoes, toys, etc. on the floor as the perimeter needs to be treated;
The pest technician needs access to the entire perimeter of the room, i.e. any furniture such as drawers pushed against the wall in the bedroom needs to be pulled away to allow the pro to treat around the skirting boards.
After the service is completed:
No need to stay out of the property for hours after the service;
No need to keep pets away;
No need to sleep in the treated room to lure out the bed bugs;
You can clean after the treatment if necessary.
Commonly Asked Questions by Our Customers
Q: Can Pest Controllers Work During the Coronavirus Lockdown?
A: Yes, according to BPCA, pest controllers are still allowed to visit properties, in order to make assessments and implement pest control solutions. You can check our dedicated article that gives more explanation regarding pest control services during Coronavirus lockdown.
Q: How much does the stream treatment cost?
A: In order to calculate the price of the steam treatment service, we will first need to perform a survey, which will help us determine the size and seriousness of the infestation.
Q: Is the steam treatment safe?
A: Yes, the method is completely safe, as it doesn't involve the use of harmful chemicals to get rid of the insects.
Q: How can I make changes to my bed bugs steam treatment booking?
A: All you have to do is create a Fantastic account. There you'll have the opportunity to manage all of your appointments fast and easy.
Q: What perks do I get if I become a member of the Fantastic Club?
A: As a member, you will benefit from priority booking options, on-time arrival guarantee, discounted rates, deals by partnering brands on all our services for the entire year.
Q: When should I book a professional bed bugs steam treatment service?
A: It's best to contact us as soon as you see the first signs of a bed bug infestation.
Q: Why is the steam treatment service so effective against bed bugs?
A: Bed bugs, like many other types of insects, can develop an insecticide resistance, which creates the need for other pest control alternatives. The steam treatment service has two phases. The first one includes the use of special detergent, mixed with the steam, that will get rid of the nasty bed bug smell and detach their eggs from the treated area. The second phase is called "dry steaming". In this part of the service, the pest controller will apply a very powerful, superheated steam to all hard-to-reach spots, infested areas, and nests, which will kill every living bug, egg and larvae in a matter of seconds. One of them is the popular heat treatment and the new, powerful steam treatment, both highly-effective against bed bugs on each stage.
You have a very specific pest question?
Fill in the form, upload images and click send. One of the expert pest technicians at Fantastic Pest Control will provide you an answer ASAP.)
Steam Treatment London Coverage
Learn more about bed bugs insects
Check our tips, tricks and other useful information about bed bugs