Emergency mice control and proofing services 24/7
Guaranteed mice control as your cat's clearly not up for it.
Price for Fantastic Club members starts from £151 instead of £189
Emergency, same-day treatments
Guaranteed results with our 3-visit package
Inspection with endoscope cameras
Mice proofing is included in the service
Discreet service
Proven and Efficient Mice Control in London
Mice are sneaky little creatures that can invade any property, whether it's your home, an office or a restaurant. And even if they might look very cute to some people, mice actually pose a great danger to one's health and property. The second you spot a mouse or notice signs of an infestation, take immediate action, in order to avoid all the problems that these rodents can cause.

Structural damage to your property - Mice are known to chew on furniture and electrical wiring.
Diseases - You can get infected by being in contact with mice droppings, if you are bitten or if you touch the pest.
Food poisoning - Mice often rummage for food and if you leave any outside, it might get infected, as well.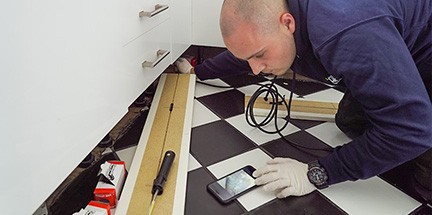 Pick a day and time that will suit you best for a visit by a Fantastic mouse exterminator.
He will inspect your property carefully to determine the level of infestation using state of the art endoscope camera.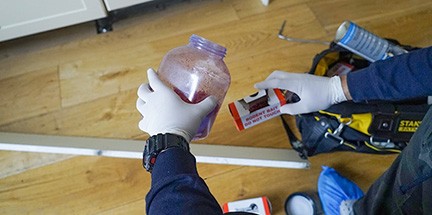 Your Fantastic Pest Exterminator will seal all small holes inside your property that the mice use as entry points (with sealants, wire wool and expanding foam). In case of a serious infestation the specialist will safely lay down a pesticide in hard-to-reach places to ensure mouse extermination.
NOTE: Choose a guaranteed mice control service to request up to two free visits from a Fantastic Exterminator in case there is still mice activity within a period of 3 months from the initial treatment.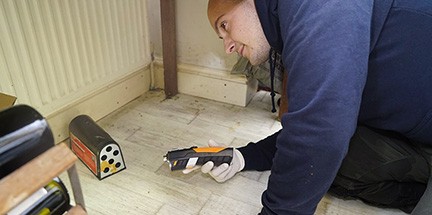 When full service is booked, you can schedule additional appointment with the pest technician. He will return to your property to see the results of the conducted work. He will also collect and dispose of mouse carcasses if there are any at all. If there is still mice activity in the property, the expert will proceed further with the treatment.
NOTE: Non applicable for one-off treatments.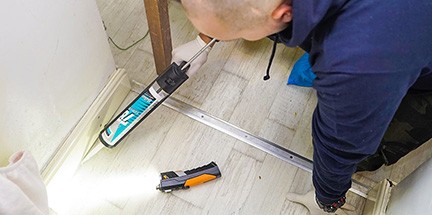 Your pest controller will seal all tiny holes which mice use to enter the premises - this is included in the price for mice control. The exterminator will even offer you some useful advice on how to prevent future mice infestation. Upon request and for a small additional charge the technician can install the following items for rodent proofing the property:
Door Brush Seals: prevent mice and rats from entering through the small gap between the door and the floor.
Vent Mesh: It's made of stainless steel and is installed over vents to prevent rodents from entering through the holes of the vent.
Mice Control Prices
The cost of our mouse control service depends on the number of bedrooms at your property, the type of guarantee you choose, and whether you pick a standard or a discounted price with a Fantastic Club membership. The rates for our service in London are as follows:
Mice control prices for 1 bedroom property
Service Type
Price

Fantastic Club

| Standard
Inspection (without a treatment)
£35
Treatment with a 1 month guarantee**

£151

 | £189
Full treatment with a 3 month guarantee***

£212

 | £265
Mice control prices for 2 bedrooms property
Service Type
Price

Fantastic Club

| Standard
Inspection (without a treatment)
£35
Treatment with a 1 month guarantee**

£159

 | £199
Full treatment with a 3 month guarantee***

£220

 | £275
Mice control prices for 3 bedrooms property
Service Type
Price

Fantastic Club

| Standard
Inspection (without a treatment)
£35
Treatment with a 1 month guarantee**

£167

 | £209
Full treatment with a 3 month guarantee***

£228

 | £285
Mice control deals
Deals

Fantastic Club
Standard

Mice treatment for up to 3 bedrooms
+ 1 hour Handyman

£230 + £55

£270 + £61
- Prices are applicable for residential properties only.
- No further charges go on top of the rates except parking and congestion, if applicable.
- £50 additional charge on all night jobs (night job is considered between 8 pm and 5 am appointment time)
- T&C and Minimum call out charges apply. When we calculate the price, we also take into consideration the area's dimensions and the time of the appointment. All prices and deals are valid for areas within M25. Note that prices may vary for areas outside of M25, call in for more details on your location.
* One-off treatment is not recommended for mice and rats. It is an option for minor infestations only.
** Treatment with a 1-month guarantee consists of 1 major visit + 1 follow-up in a 1-month period. Please mind that a follow-up can be organised only upon your further request.
*** Full treatment with a 3-month guarantee consists of 1 major visit + 2 follow-ups in a 3-month period. Please mind that follow-ups can be organised only upon your further request.
**** If your property has more than 4 bedrooms, contact us for a quote.
---
Join the

Fantastic Club and get:
- Up to 20% OFF all 25+ services
- Access to exclusive member-only deals
- Premium, last-minute slots
* Currently, we don't provide membership rates for Birmingham.
Get an instant quote and check our availability in your area
Frequently Asked Questions
What do mice eat?
Herbivores in nature, mice have an infamous appetite for wheat, rye, oat, and rice. However, each species also has different food tastes. For instance, field and house mice favour fruits and cereal, while yellow-necked field mice often gnaw on cables, wood, books, and clothing. Mice's diet is mostly dry and they consume less than 3mg of water per day.
What are the signs of a mice infestation?
A mice infestation is usually accompanied by cylindrical-shaped droppings, gnaw marks on furniture, small tracks in dusty areas, and a permeating, musky odour. If the rodent population is too great, some of them can also be spotted roaming about the house in broad daylight.
How did mice enter my house?
Their body shape allows mice to squeeze through holes the size of a small coin. Common entry points include cracks and holes in walls, floors and foundations, gaps in windows and ceilings, sewer pipes, sink and bathtub drains, and even via openings in plumbing or gas pipe fittings.
Are mice threatening?
Yes, mice can be actually dangerous. Firstly, they cause structural damages to your property, as they can eat electricity wires, for example. They, also transmit diseases through their droppings and bites. So, you should avoid direct contact with the pest at all.
Where do mice prefer to hide?
Mice love dark and warm spaces, so expect to find them in just about any nook and cranny in your home that is out of sight. Common rodent hiding spots include attics, eaves, basements, cellars, areas behind kitchen appliances and furniture, and inside cavity walls.
How do you get rid of mice in walls?
If you suspect that there are mice hiding behind the walls, the exterminator will use modern equipment, such as an endoscope or a thermographic camera, to pinpoint their exact location.If there is no direct entry points for mice to get inside the property and the mice exterminator can treat and seal, we don't recommend pest control service
How do you keep mice away?
The specialist will give you free expert advice on how to keep mice from re-entering your property. You can also take extra measures, such as inspecting your home's exterior for openings every season, keeping your garden tidy, and avoiding leaving food out in the open. Do not leave any exposed food anywhere around the property, keep household rubbish in the bin and make sure the lid is shut. The rubbish can attract not only mice but also rats, squirrels and other vermin.
How to make changes to my mice control booking?
Our advice is to create a Fantastic account, where your have the opportunity to manage all your booked services and make changes anytime you want to.
What perks I get if I become a member of the Fantastic club?
As a member your will benefit from priority booking options, last-minute slots, discounted rates on all our services for the entire year.