Same-day mouse control and proofing services
Guaranteed mice treatment.
Thu 19th
Same day callouts available today
Inspection with endoscope cameras
Mice proofing your home is included in the service
Guaranteed results with our 3-visit package
Discreet service and same-day availability
Proven and Efficient Mice Pest Control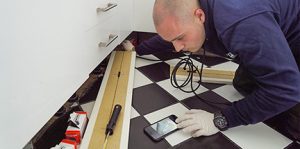 Mice are sneaky little creatures that can invade any property, whether it's your home, an office or a restaurant. And even if they might look very cute to some people, mice pose a great danger to one's health and property. The second you spot a mouse or notice signs of an infestation, take immediate action, in order to avoid all the problems that these rodents can cause.
Structural damage to your property

- Mice are known to chew on furniture and electrical wiring.
Diseases

- You can get infected by being in contact with mice droppings, if you are bitten or if you touch the pest.
Food poisoning

- Mice often rummage for food and if you leave any outside, it might get infected, as well.

So, if you want to protect your family from the menace, you can easily and effectively do it with the help of a professional mice pest control service by Fantastic Pest Control.
How Our Mice Control Service Works
Survey
The mice exterminator will examine your property carefully to determine the level of the infestation using state of an art endoscope camera.
Treatment
The technician will check all small holes that the mice use as entry points. The specialist will safely lay down a pesticide in hard-to-reach places to ensure mouse extermination.
Observation
When full service is booked, you can schedule an additional appointment with the pest technician. They will check the results of the conducted work.
Prevention
The exterminator will even offer you some useful advice on how to prevent future mice infestation. Upon, request they will install vent mesh or door brush seals.
What are the Benefits of Booking with us?
Emergency visits
Same-day pest control appointments available
Modern equipment
Products and equipment approved by an official UK supplier;
Professionalism
RSPH-certified and trained exterminators;
Quality control
Regularly supervise the work of the teams.

As a member of the Fantastic club, you can get £30 OFF for 10 different services within 1 year.
Things to do prior to and after the mice treatment

Here is how to prepare for your mice removal service:
Prior to the mice extermination:
Please vacuum your property carefully.
Get rid of all the food leftovers.
Remove any traps or poison you've put yourself.
After the treatment:
Check for any new entry points.
Regularly empty your waste bins.
Don't leave food out in the open.
Frequently Asked Questions
Q: Can you send a pest control technician at short notice?
A: Absolutely. We offer emergency, same-day mice control services should you require our assistance urgently.
Q: What are the signs of a mice infestation?
A: A mice infestation is usually accompanied by cylindrical-shaped droppings, gnaw marks on furniture, small tracks in dusty areas, and a permeating, musky odour.
Q: How did mice enter my house?
A: Their body shape allows mice to squeeze through holes the size of a small coin. Common entry points include cracks and holes in walls, floors and foundations, gaps in windows and ceilings, sewer pipes, sink and bathtub drains, and even via openings in plumbing or gas pipe fittings.
Q: Do mice pose a threat?
A: Yes, mice can be actually dangerous. Firstly, they cause structural damages to your property, as they can eat electricity wires, for example. They, also transmit diseases through their droppings and bites.
Q: How do you get rid of mice in the walls?
A: If you suspect that there are mice hiding behind the walls, the exterminator will use modern equipment, such as an endoscope or a thermographic camera, to pinpoint their exact location. Learn more on how to get rid of mice in your house.
Q: How to make changes to my mice control booking?
A: Our advice is to create a Fantastic account, where you have the opportunity to manage all your booked services and make changes anytime you want to.
Q: What perks do I get if I become a member of the Fantastic club?
A: As a member, you will benefit from priority booking options, last-minute slots, discounted rates on all our services for the entire year.
Do you have a very specific pest question?
Fill in the form, upload images and click send. One of the expert pest technicians at Fantastic Pest Control will provide you an answer ASAP.
Mice control in London and the rest of England
Learn more about mice
Check our tips, tricks, and other useful information regarding mice.