Pest Control in Cambridge
Services available all week long
Emergency & short-notice visits
Highly effective anti-pest method
Handled by experienced technicians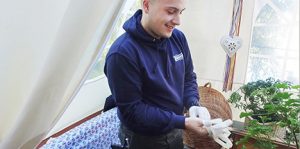 So, when the time for your pest control services comes, a local extermination will be dispatched to your address. Before any treatment takes place, the expert will carefully inspect the place for the signs of infestation and risk factors. This way he will be able determine the severity of the infestation and what would be the best course of action against the specific pest species that is present.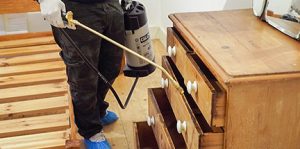 The technician will implement time-proven techniques and methods to eliminate the pests at your property and provide lasting protection. However, keep in mind that the type of treatment depends on the specific pest that is present. Some treatments are handled in a single visit but there are resilient pests (such as bed bugs) that require a follow-up treatment.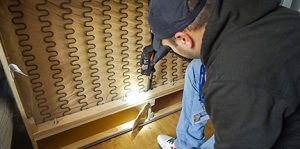 You have the option to purchase a service that comes with free follow-up visits from your local pest controller. In other words, it is a guaranteed solution to your pest-related problems. We highly recommend this options for businesses and other properties that are under higher risk of infestation. To learn more about this options, just talk to one of our helpful representatives or visit our "prices" page,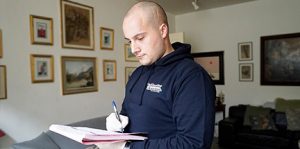 And while your pest controller is there, he will be happy to answer all your questions regarding our services. He will even share with you some useful advice on what you can do to keep your property-pest free. And if you are running a business in Peterborough, he can tell you how often you should have the place professionally inspected and treated.

Meet your local pest control pro in Cambridge
Wayne Morrow is the pest control specialist who is responsible for the Cambridge area. He manages the team of local pest technicians and is quite dedicated to solving any case of property infestation. So in case you have booked a service, Wayne might very well be the one to show up on your doorstep when the time for your treatment comes. He uses the latest high-end professional equipment and effective anti-pest products to bring outstanding results in short amounts of time. Also, you can fully rely on his professional opinion around Central Bedfordshire and Peterborough.
Take a closer look at some of our services in Cambridge
Rodent Control

The most essential part of putting an end to any rodent-related problems is figuring out how the vermin are entering the property. That is why your local pest controller will carefully inspect the infested property in order to pinpoint all entry points and seal them carefully. Keep in mind that larger holes need to be fixed by an actual handyman. Other than this, the technician will place various traps and baits to capture the rodents that are trapped indoors.

Crawling Insects

Basically, the technician will identify the specific pest you are dealing with and decide what product to use against it. On the other hand, you can opt for our chemical-free heat treatment. Basically, the affected room is sealed and the temperature inside is increased with special equipment. This eradicates 100% of the bugs as well as their eggs.

Flying Insects

There are various species that can affect your property. Wasps for example. They can build entire nests if they find suitable cavities in the walls of the house. If stumble upon a nest, then don't approach it on your own. The wasps will turn on you as soon as they sense the danger. Leave the job to your fully equipped and skilled local technician.

Commercial Services

Keep in mind that our highly-effective pest control procedures are fully applicable for your place of business as well. We can send a technician during the off hours to conduct a treatment. And if you wish, he can keep things on a discreet note. After the service, we can issue a report about the anti-pest measures that were taken in case you need to present it to the authorities.
Fantastic Pest Control treatment compared to the council's service
| | |
| --- | --- |
| Cambridge | |
| Does not treat many pests such as: ants, bees, beetles, foxes, fleas, rabbits, squirrels or wasps. | We treat all of them until complete extermination is achieved. |
| No information about disinfection services. | We can arrange professional pest disinfection service to be done after the treatment. |
| Provides no information about payment methods.. | We offer a wide range of payment methods. |
Coverage outside Cambridge
Fantastic Pest Control is expanding every day. We strive to bring our helpful services to more and more places in the UK. So in case your property is not technically in Cambridge but still somewhere nearby, you should give us a call anyway as we also cover:
- South Cambridgeshire
- Huntingdonshire
- East Cambridgeshire
- Fenland