Skip the line, request and book a service online
CHAT
Get efficient spider control solutions at affordable rates now!
Even if they breed quickly,
we'll get rid of them.

Wed 6th
UP TO £110 OFF CALL US TO CLAIM THE DEAL
Treatment against all spiders in the UK including the false widow
Same-day bookings available
Perfectly safe anti-pest measures
Full extermination of spiders and their eggs
3-visit package for guaranteed results
Expert spider control done by professionals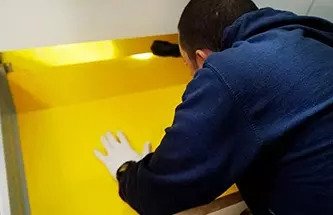 One may not think about spiders as your typical pest. Still, there are many people who don't like the idea of the creepy-crawlies strolling around their home uninvited. Generally, most spiders that you can find hanging from your ceiling aren't venomous but there are types, like the false widow, for example, that you don't want living in your property.

There are approximately 650 species of spiders found in the UK. The presence of insects and other prey in homes is a common reason for spiders to come inside. In such cases, it's best to put the vacuum cleaner down and call in a professional to handle the arachnid situation for your own good.
This is how our spider control service works
Survey
First, a professional inspects your property in detail to determine the affected areas and degree of infestation. If you wish to proceed with a treatment then...
Treatment
The exterminator will choose the most effective procedure for the situation, whether it is fogging, spraying, or heat treatment. All spiders and their eggs will be eradicated.
Observation
If you book with a three-month guarantee, you are entitled to two follow-up visits. The technician returns and examines the property again. If needed, another treatment is done for maximum effect.
Prevention
Your Fantastic pest controller will provide you with a written report for the completed treatment. Also, you will receive advice on how to avoid future troubles with spiders and other crawling home invaders.
The Perks from using the Fantastic spider control service
Free quote, fair prices, discounts
Post-service warranty-related information
We use only industry-grade products for immediate results
You get a full service report

As a member of the Fantastic club, you can get £30 OFF for 10 different services within 1 year.
How to prepare your property for the service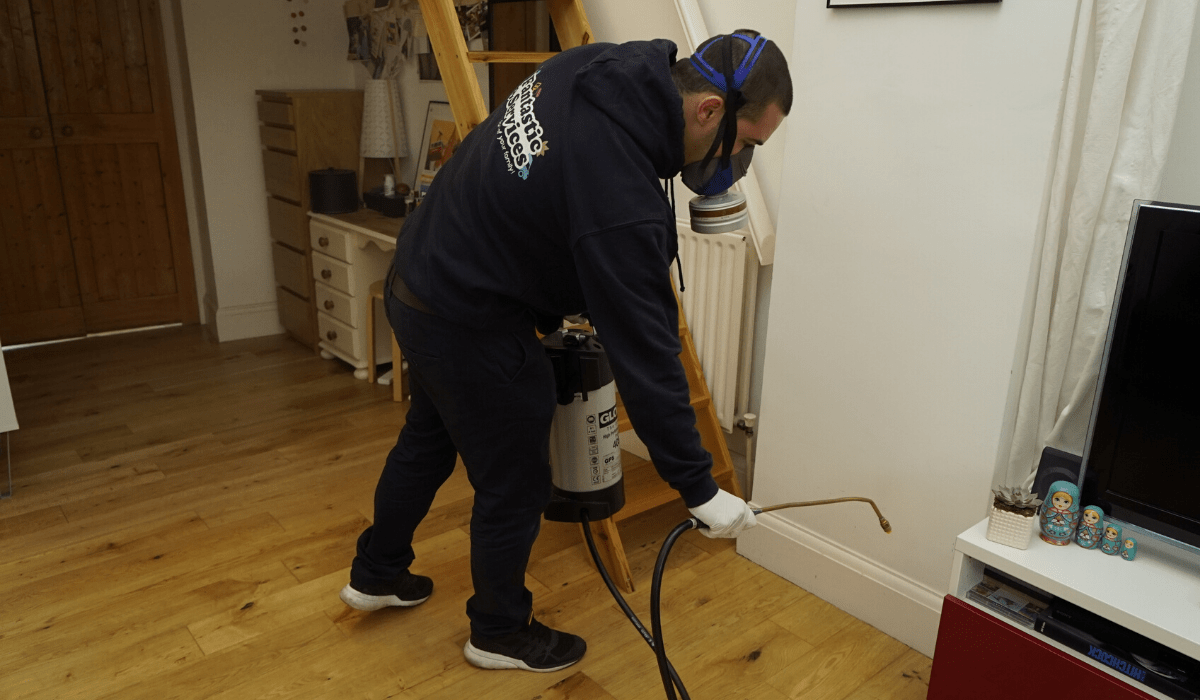 Before the pest controller comes to take care of your spider problem, you'll need to do a bit of prep work around the house. Also, there are some post-service steps that you should take.
Before:
Evacuate your pets from the property prior to the service.
Carefully vacuum all areas that are to be treated.
After:
Don't enter the property for at least 2 hours.
Once you enter the house, open all windows for 10-15 minutes.
Avoid vacuuming the treated area for at least 4 days.
Q: What is the best spider repellent?
A: Using common household ingredients, you can deter spiders. Add 10-15 drops of essential oil to warm water in a spray bottle, and shake well. Spray it around the house. Strong aromatic smells repel most bugs and insects.
Q: How do you get rid of the spiders?
A: You can get rid of spiders without killing them by spraying a mixture of 10-15 drops of peppermint essential oil with water into cracks and corners in your house. Vaccum the webs and make sure your home is clean and clutter-free.
Q: How do you find a spider nest?
A: Take a look in the corners of your door openings and windows outside your home and around trees, bushes, and other shrubberies. Sheds and garages are common places for spiders to nest. Each nest contains one or more egg sacs, which are small, white balls made from spider silk.
Q: Why am I seeing so many spiders?
A: Their main reason for moving into our houses is to look for female spiders. They often head indoors at this time of year as winter begins. Additionally, spiders may feed on other pests that have gotten inside your house.
Q: How much does spraying for spiders cost?
A: Costs of spider removal depend on the size and extent of an infestation in your home or business. The average pest control professional will need a few hours to spray or treat your premises. If, however, the infestation is extensive, they will, on average, charge you £150 to £200.
Q: What are the signs of a spider infestation?
A: The presence of egg sacs around the house may indicate a spider infestation. Rather than laying one egg at a time, they lay hundreds at a time. It is normal to see one or two now and then since all kinds of bugs can gain entry into your home. The signs of concern may arise if you start seeing too many.
Spider control in London and the rest of England