Heat treatment of bed bugs in your area
Proofing and prevention advice from local experts
COSHH-compliance and safety guaranteed
Fast response time rate in emergencies every time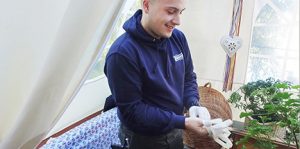 The first thing the Warrington exterminator needs to do is to carefully inspect the premises. This way, he will be able to confirm for sure the exact type of vermin and the extent of the pest problem. Oftentimes, clients erroneously believe that they have been "invaded" by rats or mice, for instance, only to discover later that a cheeky family of squirrels has moved into their attic space.
During our first visit, we evaluate the situation and choose the best course of action to start with.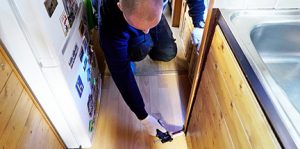 Based on his findings during the thorough survey, the pest technician will proceed with a matching treatment, which will effectively remove, deter or exterminate the pests in your Warrington home. He is licensed and certified to use strong but safe insecticides, anti-rodent products and methods, as well as repellent techniques, applicable in bird control situations. Additionally, you can take advantage of the heat treatment for bed bugs and other insect species. It is designed to eradicate entire insect populations in just one go.
All pest control treatments in Warrington are COSHH-compliant.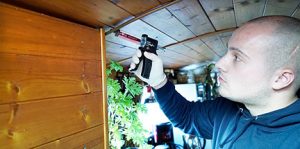 We offer emergency treatments and multiple visits but we always recommend that you get one of our insured options.
By purchasing a full service, you get a 3-month guarantee. It includes up to two additional free visits during this period of time. With these visits, the pest pro will ensure that the pest colony is fully eliminated and reinfestation is unlikely to happen.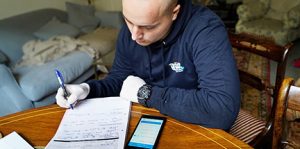 A pesticidal treatment calls for comprehensive post-service safety information, which will be provided to you by the local exterminator. This is particularly important for bed bug control because of the insect's life cycle. During the follow-up visits, we can also apply a protecting insecticide that is designed to keep all crawlies at bay.
The pro will also present you with a service report and offer some specialist proofing tips and advice against future pest recurrences. Following his post-treatment instructions will ensure that pests will not reappear.
The Local Pest Exterminator in Warrington
Wayne Morrow is the local pest control franchisee who serves commercial and residential customers in Warrington. He is COSHH-certified, experienced and fully insured to provide you with expedient, reliable and safe anti-pest solutions. So, whether you require assistance with an insect control issue, a problem with nuisance pigeons or your home suffers a serious rodent infestation, you can trust his vermin removal expertise.
Upon request, the technician will arrive at your premises in an unmarked vehicle to ensure that the task is completed in a discreet fashion and your reputation remains intact.
Wayne is also responsible for our pest control services in Wigan, Bolton, Salford and Oldham.
Take a Peek at Our Most Popular Pest Control Services
Rat and Mice Control

There's nothing more disheartening and stressful than having rats or mice rummaging through your pantry supplies. Worry not because the local mouse control exterminator in Warrington can handle the issue with excellent results. He will employ safe but effective extermination methods, whether your home or business has been sieged by mice or rats. As part of the rat control, we seal openings which are used by the rodents as entryways. This will prevent others from coming in and re-infest your home.

Wasp control

The local branch of exterminators specialise in fighting successfully against angry wasps and their nests that have taken fancy to your property. The local pest technician will apply an industry-powered insecticide to neutralise the insects for good. The professional wasp treatment ensures a safe removal of the nest if it is within reach, so that no buzzing insects will sting you in the future.

Bed bug treatment

Our bed bug control service tackles infestations no matter the size. For the best success rate, we recommend that you book one of our guaranteed service options which come with additional visits by the exterminator. This is required because of the bed bug's life cycle. On those visits, your bed bug exterminator will spray with potent insecticides that will finish off the rest of the insect colony that survived the first spray and provide your property with long-lasting protection against further problems.

Insect Heat Treatment

There's a new approach to larger bed bug infestations - the bed bug heat treatment. This new method targets every living creature's weakness - it's thermal death point - which allows us to get rid of an insect colony in just a single treatment cycle. After inspecting the area, the pest professional will raise and maintain the room temperature to high degrees which bed bugs will not manage to withstand. The service destroys a colony of bed bugs in all of their life stages and with a guarantee.
What Makes Fantastic Pest Control Better Than Your Local Council
| | |
| --- | --- |
| Warrington Local Council | |
| There should be a person at the property during the service | We only need access to the property |
| For commercial premises, first visit is a maximum of 1h. any further visits are charged at £60/30min | The price for commercial treatments is calculated primarily based on the building's size in square meters (㎡). |
| The council doesn't offer heat treatment | We can treat bed bugs with heat treatment |
Speedy Pest Control Services in Warrington
If need be, all our customers in Warrington can enjoy a fast response time with their pest control service. The local exterminator can handle pressing vermin situations, which should be addressed without delay. The same applies if you are located in or in close proximity to the following areas:
- pest removal in Cheshire East;
- pest removal in Cheshire West and Chester;
- pest removal in Halton;
- pest removal in St. Helens;
- pest removal in Trafford.
Partnering with local exterminators in and around the area results in quicker response from our end. This in turn, ensures that a pest controller will be dispatched as quickly as possible in order to address your pest problem straight away.