Humane squirrel trapping by experienced technicians.
We know a clever way to keep the squirrels away from your outdoor spaces!
Emergency treatments available
Full treatment guarantees best results
The service is discreet and not hourly-based
We use traps and safe dispatch
Effective Squirrel Control in London Performed by Experts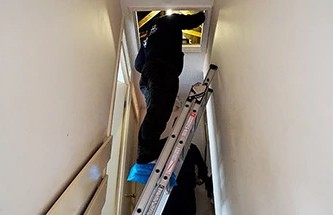 When you think of squirrels, the image of a nasty pest infestation won't pop into your mind. These fluffy creatures aren't scary like rats or other types of rodents but can still pose a threat to your property. One single squirrel can be the cause for your power line problems or the reason behind those teeth marks on your house insulation. Needless to say, having this rodent running around in your back garden, no matter of its cuteness, is a bad idea.
Take care of your squirrel problem in a few simple steps:
Contact us
Make your squirrel pest control appointment fast and easy with our GoFantastic app.
7-day availability
Emergency visits
Convenient booking management
Squirrel Inspection
A pest control expert will come to your property to inspect it and create a personalised pest management plan.
Certified and experienced professionals
Emergency visits, subject to availability
Expert inspection to determine the extent of the problem
Treatment
Squirrel traps with bait will be placed in strategic places by the pest controller which is an effective squirrel capturing method.
3-month guarantee with 2 additional visits, upon request
Humane squirrel control approach
Safe relocation of the rodents
Aftercare
Once the service has been completed, the pest technician will provide you with the following:
Professional garden proofing tips
A detailed, written service report
Advice on how to prevent future squirrel problems
Squirrel Control Rates
Check the cost of our squirrel control service and make sure to read our terms below the table.
Service
Full treatment with a 3-month guarantee*
Price type

Fantastic Club

| Standard
Squirrels control

£199

| £249
*Read our terms
– Prices are applicable for residential properties only.
- No further charges go on top of the rates except parking and congestion, if applicable.
- T&C and Minimum call out charges apply. When we calculate the price, we also take into consideration the area's dimensions and the time of the appointment. All prices and deals are valid for areas within M25. Note that prices may vary for areas outside of M25, call in for more details on your location.
- £50 additional charge on all night jobs (night job is considered between 8pm and 5am appointment time)
* Full treatment with a 3-month guarantee consists of 1 major visit + 2 follow-ups in a 3-month period.
Get an instant quote and check our availability in your area
What you need to know about the service and prevention tips
Once the professional has set the traps, you'll need to check them every 10 to 12 hours. After the rodent has been caught, call the pest controller to remove it and re-set the trap, if necessary.
Prevention advice:
Remove all food sources.
Prune tree branches, located near the roof, in order to eliminate access.
Block all possible entry points.
Frequently Asked Questions
Q: How can I pay for the pest controller's work?
A: We request payment only upon job completion.
Q: What payment methods do you accept?
A: We accept bank transfers and card payments with Visa or Mastercard.
Q: Why did the squirrel came into our home?
A: Squirrels enter human dwellings in search of food and shelter. No matter the case, your local squirrel exterminator will find out why the pesky creatures enter your house.
Q: Are there any natural squirrel deterrents?
A: Planting daffodils or marigolds is a great way of keeping squirrels off your property. If you want them to leave your veggies alone, sprinkle the area around your plants with cayenne pepper or a mixture of water and vinegar.
Q: Do you work on weekends and bank holidays?
A: Yes, we work 7 days per week from 8am to 6pm and during the night.
Q: Can I kill grey squirrels in the UK?
A: While it is legal to dispose of squirrels by either trapping or shooting them, this must be done without any unnecessary suffering (drowning, asphyxiation, or bludgeoning). Any violations of these regulations will result in a hefty fine.
Learn more about squirrels
Check our tips, tricks and other useful information regarding squirrels.

Scary Germs? Book effective Antiviral Sanitisation for your home or workplace!
       CORONAVIRUS (COVID-19) UPDATE: WE ARE OPERATING!
Check prices & availability