Carpet beetle pest control London
Do not let nuisance beetles ruin your carpet and rugs!
Fri 1st
UP TO £60 OFF CALL US TO CLAIM THE DEAL
Carpet beetles exterminator near you
A 3-month guarantee on carpet beetle pest control
100% carpet beetles and larvae removal
Child- and pet-friendly carpet beetles treatments
How do pest control professionals deal with carpet beetles
Survey
A carpet beetle control technician will first inspect your home thoroughly to determine the extent of the infestation. The exterminator will identify areas where carpet beetles are active.
Treatment
An insecticide will be applied by the pest control technician. Carpet beetle treatments may include sprays or dust targeting the different stages of carpet beetles' life cycle.
Observation
The severity of the carpet beetles infestation might require multiple treatment visits. To ensure the treatment is effective, it is best to schedule follow-up visits.
Prevention
When the carpet beetle treatment is complete, you will be given instructions and tips on how to prevent carpet beetle infestations in the future.
The best carpet beetle treatment is to hire a professional exterminator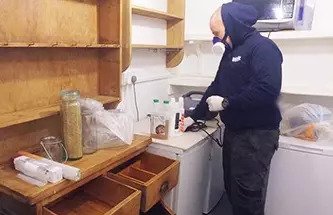 An infestation of carpet beetles may require the help of a pest control service. When carpet beetles infest your home, they can cause considerable damage in a short time. The larvae of the insect feed exclusively on animal-based and organic products, so your natural-fiber soft furnishings and textiles are immediately at risk. Carpet beetle larvae feed on:
Silk, leather, fur, cotton
Book bindings, canvas paintings
Upholstered items, natural carpeting, bedding, clothing
Synthetic rugs that have been affected by food/liquid spillages or grease stains
How do you prepare for pest control carpet beetles?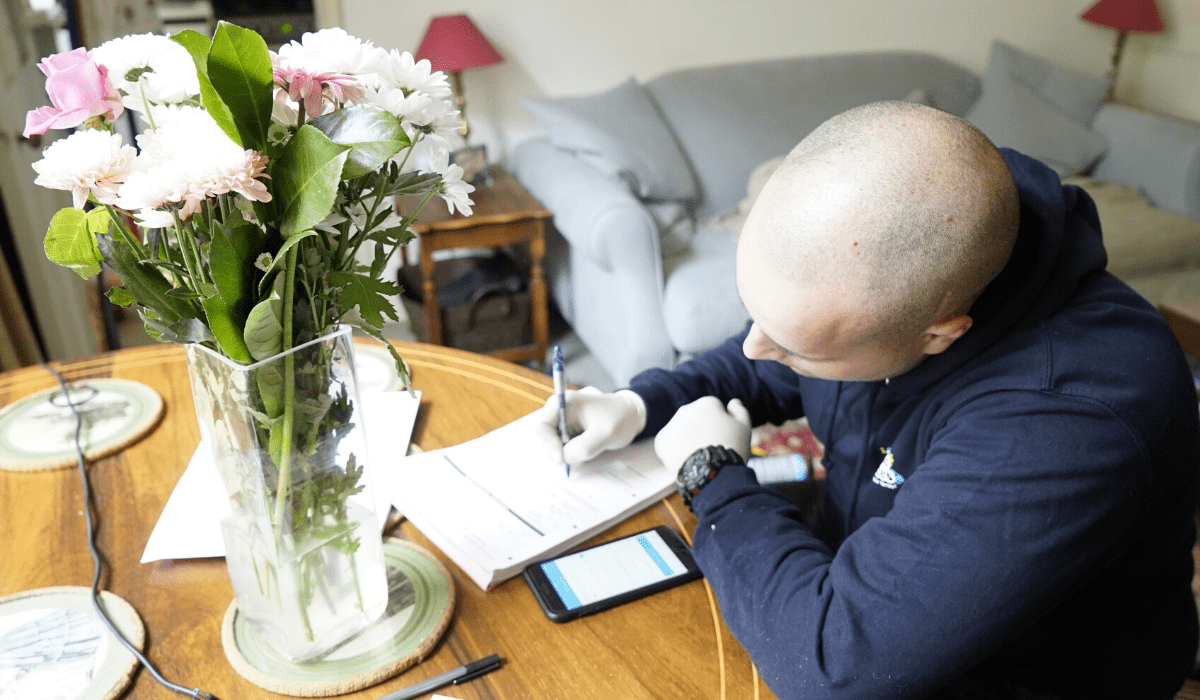 What to do before and after the carpet beetles removal:
Before the carpet beetles pest control service
Remove light furniture to provide better access to affected areas;
Vacuum all affected items thoroughly;
Remove pets temporarily from the property;
After the carpet beetle treatment is completed:
Do not vacuum/mop the treated areas for a few days, so you don't hinder the residual action of the insecticidal product;
Ventilate your property by opening windows and doors;
Leave the treated area empty for a minimum of 2 hours;

As a member of the Fantastic club, you can get £30 OFF for 10 different services within 1 year.
Carpet beetle pest control in London and the UK
Carpet beetles control FAQ
Q: What kills carpet beetles instantly?
A: Use Boric acid powder to eliminate carpet beetles. Boric acid can kill beetles, larvae, and eggs; sprinkle generously on carpet and vacuum after two to three hours.
Q: Do carpet beetles live in beds?
A: It is rare for carpet beetles to infest beds or people the same way bed bugs do. Instead, they prefer to feed on fabrics like carpet, wool and other natural materials.
Q: Can you see a carpet beetle egg?
A: It is easy to distinguish carpet beetles' eggs from others because they have ledges that look like backbones. They are white and can reach up to 0.5mm long with an oval shape.
Q: How much is it to get rid of carpet beetles?
A: A carpet beetle exterminator typically charges between £180 to £260, including materials and tools. Most infestations require one treatment, but severe cases of persistent pests may require multiple visits.
Q: What time of the year do you see carpet beetles?
A: Carpet Beetles eat only pollen and nectar from garden flowers and lay their eggs in bird's nests, felt, fabric, or fluff accumulated in buildings. A carpet beetle pupa usually emerges during the spring and summer. Adult carpet beetles search for egg-laying sites in April, May and June, while the grubs are active in October before hibernating.
Q: How does pest control get rid of carpet beetles?
A: Carpet beetles are controlled using residual pesticides sprayed on the floors and walls. Pesticides like these will kill adults and larvae immediately and have enhanced residual properties. A professional fogging machine reaches every corner of a room where carpet beetles hide.