Get up to 100%-effective heat treatment in 2 visits!
Don't let rodents and insects ruin your business!
Become a Fantastic Club
member and get up to 20% OFF!
Up to 100% elimination of insects in just 2 visits
Eco-friendly, time-saving and safe treatment
Inspection and spraying included
3-month insect-free guarantee
Suitable for domestic and business properties
Bed Bug Heat Treatment in London for 100% Eradication of Insect Infestations
There are many instances where insects have become immune to the insecticides that should supposedly kill them. So, what should you do if you ever find yourself in such a situation?
The answer is heat treatment as part of the bed bugs control and other insects removal – a new, eco-friendly method that is harmless to your possessions and extremely efficient against insects in any stages of development.
The certified pest exterminator will use special heaters to heat up the affected room to 56°C, easily eliminating eggs, larvae, and adult insects from your property in no more than a day.
The services of Fantastic Pest Control have an average score of 9.8 / 10 as rated by 361 precious customers.
| Type of Insect | Lethal Temperature |
| --- | --- |
| Bed bugs (adults and nymphs) | 45°C / 113°F |
| Bed bugs (eggs) | 48°C / 118°F |
| Bed bugs (all stages) | 50°C / 122°F |
| Other insects (moths, fleas, roaches etc.) | 56°C / 133°F |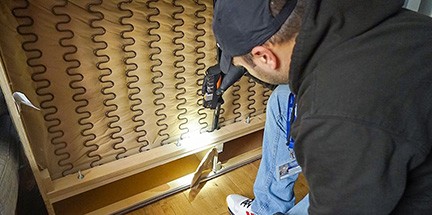 During your first visit, we will send a specialist for a thorough survey of all affected areas in your property.
To avoid accidental property damage, the technician will also give you advice on which items you should remove from the room before the actual bed bug heat treatment, such as wax items, synthetics, or electronic equipment. Finally, the expert will apply a potent insecticide spray to start tackling the infestation.
Bed bugs aren't the only insects that can be treated with the thermal procedure. Fleas, moths, booklice and the like are all susceptible to high temperatures and will be destroyed.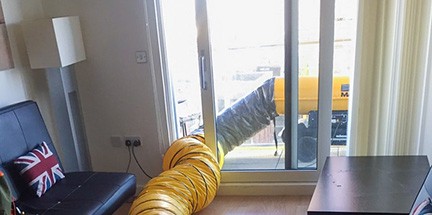 The actual heat treatment for bed bugs will commence 2 to 3 days after the survey. In order to perform the service, your local technician will bring special pest control heat treatment equipment. To put it simply, it consists of a professional grade heater that raises and maintains the room temperature at a constant 56°C.
The expert will stand by at all times to monitor the temperature levels and to make sure that the system works properly. Note that the length of your service will depend on the size and number of rooms which will be treated.
Don't forget: Clothes, books and other delicate items should be removed before the session begins.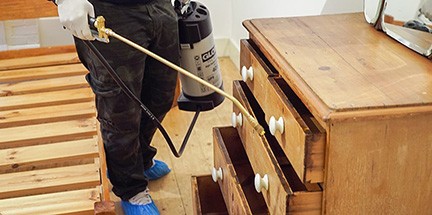 As part of your guarantee, the same pro will arrive 2 weeks later for an after care inspection to confirm that all bed bugs or other insects are eradicated. If requested, the specialist can apply another layer of preventive spray at no additional cost as soon as he's made sure that pesky pests no longer inhabit your home.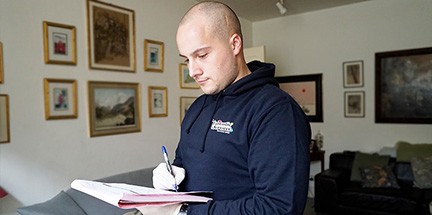 With the whole property pest-proofed and treated, the professional will stay just a tad longer to provide you with handy tips on how to keep your home safe from potential future infestations.
Our Thermal Treatment is Suitable For:
Hospitals / Nursing Homes
The cost of heat treatment varies: To give you a personalised and accurate estimate for the bed bug heat treatment procedure, we need to organize a survey of your property first. The technician will inspect the infested areas and provide you with the best solution for your case.
Please, call us or use our online form to fill in your details and receive more information about the service.
Don't forget to get our deals
Frequently Asked Questions
What is heat treatment?
Heat treatment is a revolutionary and eco-friendly method that can safely eliminate larvae, eggs, and adults of many insect species without damaging your possessions in any way. It is extremely effective against a wide variety of insect infestations, for instance, bed bugs, fleas, moths, cockroaches, book lice, woodworm, silverfish, ladybirds, and spiders.
How much does heat treatment cost?
In order to calculate the price of the bed bug heat treatment service, we will first need to carry out a preliminary survey. Note that our service is insured against all damages and comes with a three-month guarantee for your peace of mind.
How does heat treatment work?
Most insects are not able to endure hot temperatures so that's what we'll use against them. A certified pest controller will heat up the affected area up to 56°C, drying out the pests and killing them in a matter of hours. The procedure is super effective and can deal with even the most severe of insect infestations.
Why is it so effective against bed bugs?
Bed bugs have been known to develop insecticide resistance pretty quickly which is why the demand for a more efficient method has been rising. The heat treatment is able to destroy the entire bed bug population in just a single procedure and is effective even against more developed problems.
Why is the success rate of heat treatment better than the regular chemical treatment?
Sometimes the insect presence at a property can become resistant to the traditional means of pest control, especially if you've attempted to DIY the pest control. However, with our heat treatment, there is a 100% guarantee of complete pest eradication because chemicals aren't the essence of the procedure. And since no chemicals are used, people sensitive to ingredients in insecticides won't be exposed to potentially dangerous substances.
Is heat treatment safe?
Yes, however all clothes, books, electronics and other delicate items should be removed from the treated room before the start of your session as they may sustain damage from the high temperatures. You will receive detailed instructions onse your property gets surveyed.
Can I be in the house during the heat treatment?
Each room is treated separately and you can not be present as the temperature reaches unbearable degrees. You will be able to return as soon as we finish treating your home or business.
What if we only have a problem in one room?
We recommend complete treatment of the property as pest infestations are known to spread quickly and you never know how they came about in the first place. It's best to be safe and to have the rooms treated.