Pest Control in Leicester
Full service including inspection, extermination and proofing
Availability on bank holidays and weekends
Safety-tested pesticidal treatments with proven efficacy
Round-the-clock customer care and sales specialists
Get Timely Pest Inspection and Treatment of Your Property in Leicester
Local teams from Leicester work seven days a week with a flexible schedule to ensure there's always a team available to come and treat your property. All teams are fully equipped with the necessary technology for inspecting and treating any premise. Even though the most common calls we get from people from Leicester are about silverfish, moths, and flies, the pros can also help you with other pests. We also offer cockroach control, bed bug treatment, rodent extermination, and many more.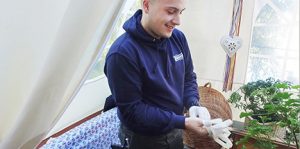 This is the fundamental step of our services. There is no pest infestation that can be stopped without a proper observation of the situation. Th skilled technician will identify the type of pest species you have been confronted with, determine how the vermin got in and assess the scale of the issue, in order to decide on the most appropriate pest extermination solution.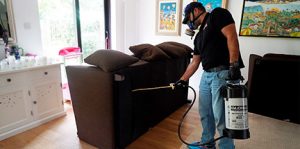 When all information about the pest infestation is gathered, the local pest controller will proceed with the treatment itself. He may employ specialised equipment, pesticidal sprays, fumigants, traps, baits or vermin deterrent devices, depending on the type of pest your property has been infested with. The technician always uses the most effective, safe and quick method for pest extermination.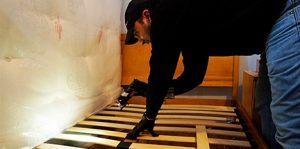 Evaluation of the final results is a vital part of any pest control job we schedule. It gives our customers the comfort and satisfaction that they can rely on further assistance, upon request. For your peace of mind, you can always schedule our guaranteed services, which include free inspections and re-treatments, if necessary, within a monitoring period of three months.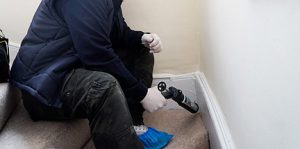 To provide the client with even greater service, we make sure that any technician from Fantastic Pest Control makes an additional effort to pest proof any previously infested buildings. He can also give you advice on how to prevent re-infestation in the future.

Local Exterminator in Leicester is at Your Disposal
Meet Peter Darvell - he's got years of experience in managing pest control situations for customers in your locale. He is familiar with all possible threats and damages which may be caused to properties by various types of vermin. This makes him able to take expertly a wide range of preventive and emergency pest control measures whenever it's required.
Peter is a representative in other local areas such as Derby, Northampton and Nottingham.
Still Have Questions About Pest Control? Read the Informatiom Below
Interesting Facts and Stats About the Pests in Leicester
#1. Compared to most insects, silverfish have one of the longest lifespans of up to two years. This and the fact that most infestation often goes unnoticed often leads to developing a huge silverfish infestation without even knowing it. We advise you to call your local Leicester exterminators as soon as you spot a couple of silverfish in your home or business.
#2. House flies have large compound eyes which give them almost a full 360-degree view. This means that even though their eyes aren't moving like ours, flies can see behind themselves. This is nature's way of giving them the ability to stay away from danger and to navigate easily.
#3. Did you know that too many flea bites can make your dog or cat anaemic? Both adult and young animals can suffer from this problem if they are bitten too much. We advise you to take emergency measures at the first signs of fleas in your house. Know that treating your pet only won't help much if the parasites have already spread on their bedding and other parts of the house.
#4. You've probably heard that moths are attracted to light. But did you know they are also attracted to beer and bananas? Some moths are at least. This means that they will attack not only most fabrics in your home but also your food and even beer. Stop moth infestations on time by calling your local Leicester exterminators ASAP.
Check out more pests in our library
| | |
| --- | --- |
| | Leicester City Council |
| We have services that can help control and reduce the issues caused by such pests. | Does NOT treat ants, pigeons, squirrels. |
| You can talk to a real person at any time. | Response time is TEN working days. |
| We work on weekends and bank holidays as well. And we offer emergency treatments as well. | Only works on weekdays. |
| We can thoroughly inspect the property and check the type of insects | DON'T provide insect identification service |
If You're Based Nearby Leicester - We've Got You Covered
If you are in urgent need of pest control assistance in Leicester, we will send a local professional to your address within two hours of your call. You can also count on our fast response if you are located in any of the nearby areas below:
Certified by
Check out the latest posts from our blog