Reliable local experts, certified and fully vetted
All pesticides and equipment is provided by the team
Simple booking process
Services seven days a week, 24/7 customer care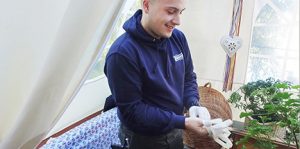 When the pest controller arrives on-site, he will do an extensive survey of the property to get a grasp of the severity of the situation and will determine which products they need and how they should treat the property.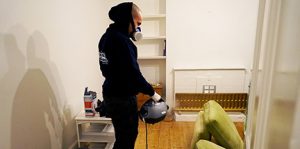 After deciding how to treat the property, the exterminator will get to work. Our methods for dealing with pests are as follows: we use repellents to keep squirrels or birds away from the property; other proofing methods we use for rodents are sealing their entry holes; spraying and dusting for insects, fumigation (for severe issues), traps and baits.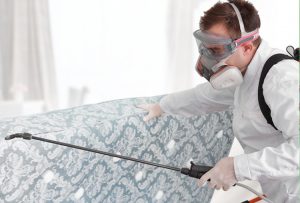 After the property has been treated, and if you have purchased a guaranteed service, then you are entitled to two free of charge visits, to keep track of the situation. Learn more about this option on our prices page.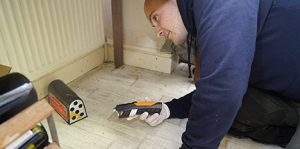 Fantastic Pest Control also offers other additional services that you can find extremely helpful. You can book a property fumigation if the property is too big, or if the problem is too huge to deal with using a regular treatment. We also offer commercial services and we help businesses, offices, and other business properties.
Stoke-on-Trent Pest Controllers are Ready for Action
Irving Moss is the manager of the local team of technicians in Stoke-on-Trent. He has been working with us for many years now and has acquired all certificates, has undergone all training, and is qualified to lead the team into different jobs. He is knowledgeable in the variety of pesticides and insecticides, he knows which are the effective ones and which ones are safe for your health. You can trust his expertise and rest assured that your property will be taken good care of.
Irving is responsible for pest control in other areas such as Wolverhampton and Coventry.
We Offer a Wide Range of Pest Control Services:
Rodents

When dealing with mice, rats, or squirrels, the team will arrive with equipment that helps them detect the problem and find the entry points of rodents. The exterminators will seal them all and use traps and baits to catch the vermin. They use different devices depending on the severity of the problem.

Bed Bugs

When we treat a property for bed bugs, we go all the way. We treat not only the bed but also the mattress and the headboard, the floor and carpets, cupboards and wardrobe near the bed, the curtains, skirting boards. The exterminators use two types of insecticides to achieve great results.

Bird Control

Fire gels and other repelling methods are used for bird control. If your property is bothered by pigeons or other birds, you should do something to keep them away. Bird excrements can also carry various diseases. We will make sure your home is saved from such danger.

Fumigation

When all other treatments have been unsuccessful, it is time to book a property fumigation. It fully eradicates all crawling or flying insects. The treatment is performed using pesticides under COSHH regulations. Fumigation gets rid of spiders, moths, fleas, carpet beetles, flies, and other nasty bugs.
Professional vs Council Services
| | |
| --- | --- |
| Stoke-on-Trent Council | |
| Expensive bed bug service that includes only one visit. | Our bed bug service includes two treatments in the price. |
| Offers commercial contracts. | We offer custom-tailored services to all customers. |
| | |
Stoke-on-Trent is Always Safe from Pests with Our Emergency Services
We understand how unpleasant and scary it can be to find that your home is infested with pests. That is why we have worked hard to make sure we can deliver to you an urgent service to deal with the problem. There are local teams in Stoke-on-Trent that will get the job done. They also operate in the following area:
- Newcastle-under-Lyme
- Staffordshire Moorlands
- Stafford