Pest Control in Southend-on-Sea
Services available 7 days a week
Able to help you when there's an emergency
Highly effective methods with lasting results
Helpful advice from the pest technicians
Pest Control in Southend-on-Sea for Domestic and Business Properties
There is no need to panic in case your home has been invaded by damage-causing, disease spreading pests such as cockroaches or rats. Fantastic Pest Control in Southend-on-Sea is able to offer you a timely and effective solution. Simply book a service for your address and we'll send a professional who will take a closer look at the situation and apply the most appropriate treatment against the specific species of bug or rodent.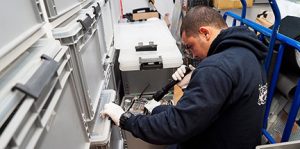 Before the actual treatment begins, the specialist will carefully inspect your property in order to figure out the scale of the infestation and come up with an action plan against the annoying insects and rodents. Even if the pesky critters are hiding, your local pest controller knows how to identify the signs of infestation.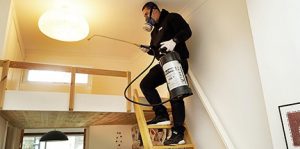 As you can imagine, the treatment depends on the specific pest that is at hand. It sure would have been convenient if there was a single method that worked against all house-invading bugs and rodents. Alas, this is not the case. But don't worry about it because your local pest exterminator brings all the necessary equipment and anti-pest products to tackle any infestation, no matter how spread out it is.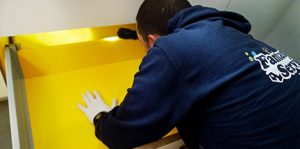 After the treatment, you should keep watch of the areas that were affected by the infestation the most. In case there is some kind of problem, you should contact us immediately. On the other hand, if your property is at higher risk of re-infestation, then we recommend for you to purchase a guaranteed service package which grants you follow-up visits from your local pest specialist.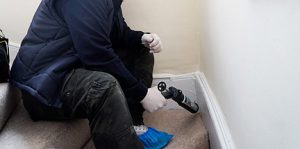 The best way to handle all pest-related issues is to prevent them in the first place. So why don't use the opportunity to talk to your local pest controller when he comes to your place for a treatment? He will be happy to answer all your questions and even offer you some useful advice on how you can protect your property in the future.
This is your local pest controller in Southend-on-Sea
We would like to introduce you to Jim Barlett who is the pest control team leader for the area of Southend-on-Sea. You can be 100% sure that he will be able to solve your pest-related problems. After all, he has many years of professional experience and uses time-tested methods to eliminate the pesky rodents and insects that invade properties. He is also fully certified and well-versed in the various best practices against pests. Jim is also responsible around East Hertfordshire, South Norfolk and Suffolk Coastal.
Find out about our pest control services in Southend-on-Sea
Mice & Rat Removal

Can you imagine how much damage and devastation the pesky rodents cause if they are left to do whatever they want? That is why we specialise in treating and proofing against the highly undesirable vermin. Your technician will make sure to block all the holes that the rodents are using as entryways and he'll set traps to capture the specimens that are left indoors.

Cockroach Treatment

To put it simply, the treatment against roaches is done in a single visit. Basically, the technician will apply a special bait gel near the most affected areas of the property. The roaches will consume the substance and scatter, crawling as far away from the property as possible, escaping however they can. However, they will eventually perish and the nearest roaches will consume their carcasses. This will start a chain reaction of roach eradication.

Wasp Nest Removal

One day you just walk out of the house and notice something odd. Where did all these wasps come from? And then you realise that the angry stingers have formed a nest nearby. If that is indeed the case, then please don't attempt anything on your own. The wasps can bring a world of hurt when they are provoked. Just give us a call and we'll send a specialist to deal with the wasp colony and remove it safely.

Services for your business

A pest infestation is highly undesirable for any commercial operation. Doubly so when it comes to venues that serve food. However, our expertly delivered pest control is a convenient option for every workplace and business. So just make a booking for a time that is convenient to you and leave the rest to the pest exterminator. And if you request it in advance, the specialist can arrive in a non-branded vehicle to keep things discreet.
Comparison Between Fantastic Pest Control and Your Local Council Services
| | |
| --- | --- |
| Southend-on-Sea Council | |
| DOES NOT provide pest control services! | We provide a variety of pest treatments for residential and commercial properties. |
Not just in Southend-on-Sea
That's right! Fantastic Pest Control is available in the areas nearby. So when you notice the first signs of infestation, you can resort to our helpful services. Give us a call if you are in:
Amanda McIntosh
The professional attitude of the exterminators is what caught my attention the most and impressed me. As a whole, the company looks attentive to their customers and have ok prices.