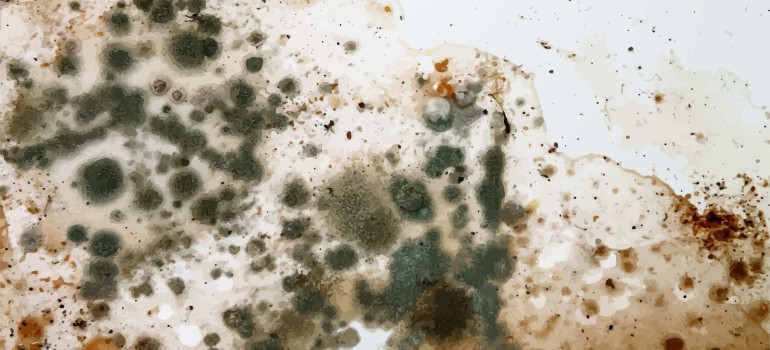 Image source: Nataliia Dorosh / Shutterstock.com
What's the connection between dampness, mould, and pests? Well, dampness creates favourable conditions for mould growth. Mould, on the other hand, produces a strong, musty smell which can be attractive to insects. Mould spores can also be a food source for insects, such as booklice and carpet beetles. As well as feeding on it, these insects may feed on other mould-affected organic materials.
To maintain a pest-free environment, homeowners, property managers, and anyone trying to maintain a healthy environment must understand how dampness, mould, and pests interact.
This article aims to explore the relationship between mould and different house pests, signs of infestation and the potential dangers they pose.
Does mould attract bugs?
Mould attracts bugs, yes. Humidity and damp conditions create mould that attracts various pests. For instance, cockroaches, silverfish, and centipedes prefer moist and humid conditions. In mouldy environments, these pests seek shelter, water, and food sources.
Mould alone does not guarantee the presence of pests, but it can create favourable conditions that attract them.
The best way to prevent pest infestations and maintain a healthy living environment is to deal with mould issues immediately.
What insects are attracted to mould?
Mould attracts various insects due to its abundant food sources and ideal environmental conditions. Some of the insects that are attracted to mould include:
Booklice: The booklice is a small, wingless insect that feeds on moulds and fungi. It lives in damp, moist environments. Libraries, basements, and humid areas are common places to find them.
Carpet beetles: Moldy and decaying organic matter attract carpet beetles, including mould-infested carpets, upholstery, and clothing. In addition to eating mould, they also feed on the fibres affected by mould.
Silverfish: A silverfish is a nocturnal insect that thrives in damp, humid conditions. The presence of mould on wallpaper, books, and cardboard attracts silverfish.
Centipedes and Millipedes: Basements, crawl spaces, and areas with high humidity are common habitats for these arthropods. Their diet consists of mould, fungi, and small insects attracted to mould.
Fruit flies: Mold can also attract fruit flies, although decaying fruits and vegetables are usually what the flies are after. It is possible for these tiny flies to find additional food sources in mouldy areas in kitchens and bathrooms.
Termites: Although mould does not directly attract termites, it can create conditions that are conducive to termite infestations. As termites require water to survive, they are attracted to damp environments. Mould typically thrives in moist and humid environments, and if left unchecked, it can create an ideal environment for termites.
Cockroaches: It is well known that cockroaches are resilient and can survive in various environments, but they are particularly attracted to moist-rich areas. The presence of mould makes a home an attractive environment for these pests.
Book a pest inspection! Call us today!
You don't have to be alone in the battle against pests. Hire a professional pest expert!
Call us
What are the usual signs of mould bugs?
Several signs indicate that mould insects are present. Here are some common indicators of mould bugs' presence to keep an eye out for:
Visible insects: The presence of visible insects near the mould is, of course, the most telling sign. They may be crawling on or near mouldy areas, indicating their attraction to mould as a food source.
Increased insect activity: A sudden increase in insect activity in your home or specific areas, especially those prone to mould growth like bathrooms, kitchens, garages, etc., indicates the presence of mould bugs.
Surface damage: It is possible for insects to feed on the mould itself, causing visible damage to the affected surfaces. Indications for insect activity could be irregular patterns or chewed areas on the mouldy materials.
Insect droppings: A mould-attracted insect will leave behind droppings or faeces. Dark specks or stains may appear near the mould-infested areas. Check for any signs of insect waste, as it could indicate their presence.
Odours: Certain mould bugs and insects can produce unpleasant odours. An infestation of insects could be causing unusual or foul smells near mould growth.
It is advisable to seek the help of a pest control professional if you suspect the presence of mould bugs or insects.
How do you get rid of damp-attracted bugs?
You can eliminate bugs that thrive in damp conditions by following these steps:
Eliminate moisture sources: Dampness-attracted bugs thrive in humid environments, so identifying any moisture source in your home is crucial. Use dehumidifiers to reduce humidity levels in bathrooms and basements and fix leaky pipes and faulty faucets.
Declutter: A cluttered area is conducive to damp bugs hiding and breeding. Primarily focus on basements, attics, and storage areas. Items such as old newspapers, cardboard boxes, and clutter that provide hiding spaces for insects should be removed.
Clean regularly: Vacuuming effectively removes damp insects and their eggs. Basements, crawl spaces, and dark corners are common places where insects hide. Dispose of the vacuum bag or empty the canister as soon as possible to prevent re-infestation.
Identify and seal entry points: Small cracks and gaps can allow mould bugs to enter your home. Seal any openings in your walls, windows, doors, and foundation with caulk or weatherstrip.
Apply insecticides or natural remedies: You can try either natural repellents or insecticides to eliminate damp bugs. You can use diatomaceous earth, boric acid, or essential oils like lavender or citrus as natural remedies. If you choose insecticides, ensure they are labelled for indoor use and specifically target the insects you are dealing with. Take safety precautions and always follow the instructions.
Consult a pest control professional: If the infestation persists or becomes overwhelming, seek professional assistance.
The best way to deal with mould bugs is prevention. Maintaining a clean and dry environment, sealing entry points, and addressing moisture issues promptly will significantly reduce the likelihood of a damp bug infestation.
What is the danger of not addressing the mould and mould bugs in the house?
You should be aware of the following potential dangers:
Health risks: Mold itself can cause health problems, such as respiratory issues, allergies, and even infections. Some insects, such as certain types of beetles or mites, transmit mould spores or their own allergens. Mould spores may cause allergic reactions such as sneezing, runny noses, red eyes, and skin rashes when inhaled or touched. It is also possible for moulds to trigger asthma attacks.
Damage to structures: Mold pests can cause deterioration in structures they infest. Certain types of wood-boring insects, such as powderpost beetles or termites, thrive in damp environments and can further weaken mould-damaged structures.
Mould growth: Some pests, such as cockroaches, potentially help mould spread further. As a result, the affected surface could sustain further damage and develop a more extensive mould problem.
Mould infestation spread: Insects that carry mould spores on their bodies or transfer them from one area to another can spread mould to previously unaffected areas.
It is crucial to address both the mould issue and any pest infestations associated with it in order to eliminate these potential dangers.
Get rid of pests before they damage your property!
If you think you are dealing with an infestation, book a pest inspection, followed by a treatment.
Call us
Does mould attract rodents?
While mice and rats are not directly attracted to mould, they may still be drawn to mouldy areas indirectly. It is common for mould to grow in areas where there is excess moisture, which can result from leaks, water damage, or high humidity. The availability of food and water can make this an attractive environment for rodents.
Rodents are opportunistic creatures who seek out shelter, food, and water constantly. Mould may indicate that there is an underlying moisture problem, which can cause water damage or damp materials that rodents can use to nest. Mould can also break down organic materials, including food waste, which attracts rodents.
Rodent infestations may not be directly caused by mould but by conditions that facilitate mould growth. For rodent control to be effective, mould issues and entry points must be addressed.
Takeaways:
Insects are attracted to the strong, musty smell that mould produces.
Taking care of mould issues immediately is the best way to prevent possible pest infestations.
Insects can feed on the mould itself, causing visible damage to surfaces.
Mould does not directly cause rodent infestations but can attract mice and rats occasionally.