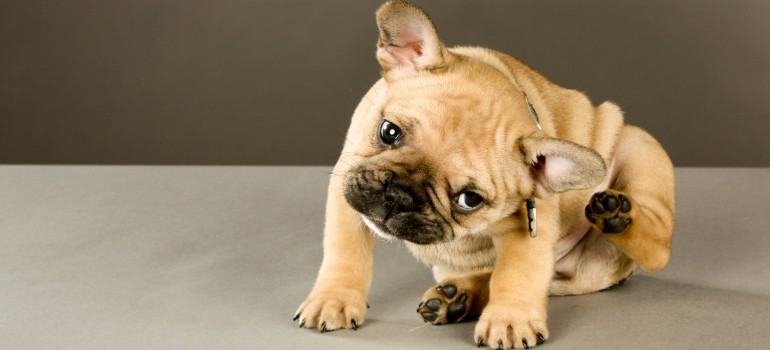 We've all heard of fleas, some of us have even had the bad luck of actually "meeting them in person" and it's never a fun time. These small blood-sucking insects can be a real nuisance to both you and your furry pets.
So, you've been out and about walking your dog and now that you're back home, your dog seems to be acting odd, scratching and biting itself. You're left wondering – has my dog gotten infested with fleas? Where did it get them from? How can I get rid of these pesky insects? We'll go over all of this and even more, so keep on reading!
How do dogs get fleas?
Before we go into how to tell whether your dog has fleas and what to do about it, it's important to know where dogs get fleas from in the first place.

Your dog can catch fleas quite easily by being around other animals which are infested with fleas, be they domestic or wild.
Your pet can also become flea-ridden by going through an infested environment while running around outside. This can be explained by the way fleas move around – their strong hind legs grant them astounding jumping capabilities, which let them effortlessly jump from one host to another.
Check also: How to Get Rid of Fleas in My Garden Naturally?
How to tell if a dog has fleas
So how can you really be sure whether your dog has gotten infested with this nasty little pest? There are some telltale signs you should always look out for:
Your dog is scratching and biting itself more than usual
Bald spots, irritated (red) skin and/or scabs forming
Visible fleas or flea dirt (flea excrement) on skin and hair
The first signs might be caused by fleas, but they can also be a result of a different issue altogether.
The last sign, finding fleas and their excrement on your dog, is the most certain way to know whether your furry friend really is infested. You can use a flea comb or other fine-tooth comb and brush toward the backside of your pet and onto a wet paper towel. If dark little pieces of flea dirt fall onto the paper and proceed to dissolve and turn a reddish colour, then you can be certain that your dog has caught fleas.

To be able to spot the fleas, you have to first know what they look like, as well as have an idea of their cycle of life. They are small insects that survive by sucking the blood of their hosts. Fleas are about 3 millimetres long, are usually reddish-brown in colour and have narrow bodies and well-developed hind legs, which allow them to leap a distance nearly 200 times the length of their body, which is like a human having the ability to jump over the Eiffel tower with ease!
Fleas multiply extremely fast – 1 flea can quickly become 100 if left unchecked! They lay tiny white eggs, too small to be seen with the naked eye. After the eggs have been laid, they will fall from your pet and onto the floor of your home – into your carpets, furniture and even between the floorboards. Larvae hatch from the eggs, feed on organic debris and then pupate. An adult flea will emerge from its cocoon when the conditions are right. Once hatched, it will jump onto passing animals and the cycle begins anew.
What to do if my dog has fleas
So now you've confirmed your suspicions – your dog has caught a case of the fleas. You know there's no time to waste, as those pesky small insects will grow in number quickly. There are a few different dog flea treatments you can do to get rid of this annoying pest for good:
Give your dog a bath
One of the first solutions to get rid of fleas is to bathe your pet. Just use lukewarm water and add some soap, which can help get the fleas off your pet's fur and skin. If you're thinking about using specialised flea shampoo or something similar, make sure to talk to your veterinarian first, as such products contain chemicals that can irritate the skin of your pet.
Comb your pet using a fine-tooth comb
Dog fleas are tiny, fast, and difficult to grab, so one good way to remove them from your pet's fur is to use a fine-tooth flea comb. Dipping the comb in a mixture of water and dish soap will help catch the insects, as it keeps them from jumping away. Flea combs also help remove flea dirt and eggs from your pet. Any fleas caught in the comb should be disposed of in a container filled with hot water and dish detergent, which will quickly kill them.
Spray apple cider vinegar solution onto your pet
Vinegar doesn't kill the fleas, but it can definitely help repel them. These little jumping insects don't like the smell or taste of it, so if your pet's fur is covered in it, they might avoid being there altogether. Just dilute some apple cider vinegar in water and add it to a spray bottle. Some dogs hate being sprayed, so as an alternative, you can dip a brush in the mixture and get it onto their fur that way.
Use specialised veterinary flea products
There are different types of topical products available – powders, sprays, tablets, injections, collars and spot-ons, the last of which is a newer, simpler and safer method. It involves applying a small vial of liquid to the back of your dog's neck, which kills fleas and can even stop the development of eggs. Ask your vet which type of product will be safest and most effective to use in your situation.
How to prevent fleas on dogs
If not taken care of properly, fleas can be a recurring pest, as even if you kill all of the adults, there can still be eggs and pupae waiting to hatch at the right moment. So what precautions should you take to ensure you're not battling this jumping nuisance for an eternity?
Keep your home clean
Vacuuming regularly around the house is a great idea, along with high-temperature washes of bedding or fabrics where your dog has been. Give your sofa a good hoovering as well, especially in all the cracks and crevices. Don't forget to empty the vacuum cleaner bag after each hoovering! You need to keep in mind that wherever your dog has been for a longer period of time, there will likely be fleas. And yes, that can even mean your car.
Avoid contact with wild animals and infested areas
It's best to not let your dog wander around areas where they've caught fleas before. You should also avoid letting them come into contact with wild animals, like badgers, hedgehogs, foxes, squirrels, rats and the likes, which are more often than not chock-full of fleas. Most of these animals live in forests and parks and are more active at night.
Do regular checks and treatments
Check whether your dog has fleas on a regular basis and apply the necessary preventive treatments to lower the chance of your dog catching a case of the fleas, even when being in contact with flea-ridden animals or walking through flea-infested areas.
Don't let fleas infest your garden
Both wild animals and your dog can bring fleas into your yard and your wonderful green area can become a breeding ground for these nasty little insects. It's best to enlist the help of trained pest control specialists, so you're completely sure that your garden will be cleared of any unwelcome guests.
What is the danger of fleas on dogs?
Fleas might seem like an annoying, but a fairly harmless pest. They are so tiny after all, what harm could they actually do to my dog? Can fleas make a dog sick? Well, they most certainly can make your pooch feel unwell, as a single flea can bite them hundreds of times per day. In a short time, even a mild infestation of fleas can cause several different health issues for your dog:
Flea allergy dermatitis (FAD)
Some dogs are severely allergic to flea saliva and can experience extreme discomfort even from a single flea bite. Common FAD symptoms include excessive scratching, licking or biting around the tail, groin, or backside. As a result, scabs, bumps and bare spots can develop on the neck or back of the dog.
Flea-bite anaemia
Just like humans, dogs rely on having a certain number of red blood cells in their bodies to keep healthy and energetic. Too many fleas feeding on your dog can cause it to become anaemic from the blood loss. Any dog can develop flea-bite anaemia, but some are more susceptible – smaller dogs, puppies, elderly and sick dogs. Severe cases of anaemia can even be fatal. If your dog shows symptoms of lethargy, weakness or pale gums, you must take it to the vet immediately.
Tapeworms
Fleas can transmit this parasite to your dog if they ingest any fleas containing tapeworm eggs. Inside your dog's digestive tract, the tapeworm egg matures into an adult tapeworm that can grow to several feet long. The tapeworm hooks onto the lining of your dog's small intestine and absorbs nutrients as they pass through their digestive tract. This can cause nutritional deficiency, weight loss and debilitation for your dog.
Takeaways
Fleas are a common pest in the UK that affect both pets and their owners
Dogs can catch fleas from other animals and from the environment
There are different signs of your dog having fleas, but the most certain one is the presence of fleas and/or flea dirt
Fleas are tiny reddish-brown insects that affect many different animals, eat blood, are very mobile and reproduce extremely quickly
The best preventative measures are steering clear of infested areas and wild animals, keeping your home and yard clean, as well as using specialised veterinary products
Even a mild flea infestation can be dangerous for the health of your pet
Are you dealing with a pest infestation?
You don't have to be alone in the battle against pests. Hire a professional pest expert!
Call us
***
Did you find this useful? Do you have anything you'd like to add? Tell us in the comments below!