Pest Control in Leeds
Done with the latest professional equipment
3-month guarantee with our full service
Inspection, treatment & prevention included
Incognito service
Local Pest Control Leeds Services For Homes & Businesses
When you need a professional pest control company in Leeds, turn to Fantastic Pest Control. The local pest management team will do whatever it takes to tackle the rodent or insect infestation at your place. We use advanced professional equipment and proven methods to eliminate any property pests that bother you. Furthermore, we've got the means and know-how to protect your premises from a reinfestation.
Given the right conditions, some pests (like rats for instance) can cause immense damage. Not to mention the actual health hazard they pose. So even if you're not entirely sure whether your place is affected or not, turn to Fantastic Pest Control for a thorough inspection and we'll send an experienced pest controller to investigate.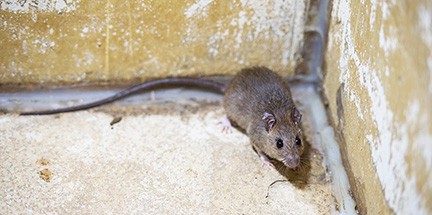 After inspecting your property, the pest control technician will block all those tiny holes that the rodents use as entry points. He will implement expanding foam, wire wool and sealants to fill even the tiniest of cracks.
And if the infestation is quite serious, the expert will safely apply pesticides that will eliminate the still present specimens.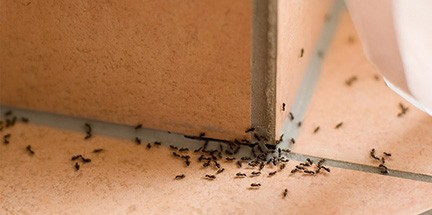 A powdered insecticide is used on the cracks and holes that ants use as entry points. They are tricked into believing that the powder is some sort of food so they'll carry it back to their nest. This will effectively eradicate the colony.
Also, the powder has about a three-month residual effect which will protect your place from future insect intrusions.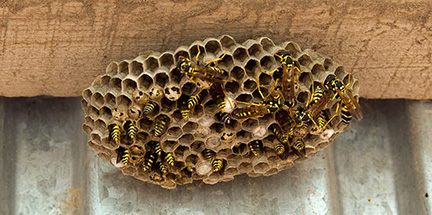 First of all, the nest should be located. Then, the pest control technician will apply a special powder that directly attacks the central nervous system of the wasps and puts them out.
Also, the applied insecticide will protect your place from a reinfestation.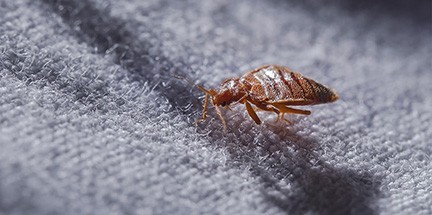 The treatment for these bloodthirsty parasites requires two visits. During the first visit, the pest control technician will apply an insecticide with an immediate knockdown effect. It is recommended for somebody to sleep in the affected rooms after the treatment to lure out the bed bugs in hiding. About two weeks later, the technician will return for a secondary treatment with another pest control formula that has a prolonged residual effect.
NOTE: Alternatively, you can opt for our special heat treatment service that eliminates 100% of the bed bugs present at your place (including their eggs and larvae). Specialised equipment is used to raise the temperature in the affected rooms to about 56°C. Also, It is absolutely safe for your property.
What are the most common pests in Leeds? Check out our Pest Calendar:
Be it wasp nest treatment services in Leeds, rat and mice extermination, or even bed bugs control procedures, you can be sure that Fantastic Pest Control will provide you with the most adequate and reliable professional assistance.
So let's say that you need our services right away. Then you are probably experiencing troubles with some of the most commonly met buggers. And by the way, turn to the Pest Calendar chart below for further some curious stats.


Pest Treatments Done by Local Exterminators
Meet Daniel Bradley--a local pest technician responsible for the effective services in Leeds. He has been working with Fantastic Pest Control for several years now, gathering valuable experience with various cases of pest infestations around properties of all size and type. Daniel specializes in both residential and pest control for businesses and has an impeccable reputation and success score.
Amongst all other tasks, Daniel also takes care of the performance of other pest control teams in nearby areas such as Bradford, Barnsley, Sheffield and Doncaster.
The Steps of Our Pest Control Treatments
Property Inspection

Your local pest technician will start the procedure by carefully examining the situation. He will inspect the premises carefully, in order to confirm the pest species at hand and evaluate the infestation. Depending on the type of pest, he will be able to tell how your home or office got infested in the first place, and how to proceed in order to eradicate the intruder.

Pest Treatment

All pest exterminators in Leeds use powerful insecticides and rodenticides provided by a leading industry provider. Those are professional-grade products that cannot be purchased at your local store, hence, they do a better job at eliminating the pests and protecting the areas. Your local pest controller will use a combination of techniques that will target your particular pest issue, be it bed bugs, mice, rats, cockroaches, pigeons, fleas, moths or other pest species.

Guaranteed Procedures

Most infestations require multiple visits and treatments with industrial-grade pesticides to completely remove the pest in all its life stages. This is why we recommend scheduling our guaranteed procedures which include two or more visits by an exterminator. It will allow us to treat the vermin with different products which will prevent the pest from forming a resistance and will actually kill off any remaining pest presence.

Advice and Prevention

After each pest treatment, your expert will give you valuable advice and insight on the infestation, and how to avoid further issues with pests. You will be provided with a written report on all completed work.
Fantastic Pest Control vs. Other Service Providers
| | |
| --- | --- |
| Leeds City Council | |
| Bird control is available only for commercial premises | We offer pigeon control no matter the type of building |
| They will contact within five days | We will contact you not later than the same day |
Our Coverage in Leeds and Other Local Areas
Don't hesitate to call us for emergency pest treatments around the Leeds area. All exterminators are locals and capable to arrive at your home in a matter of hours. To protect your privacy, they can do so with a confidential service.
Appart from Leeds, we also work with local exterminators in: