Pest Control in Camden
Save application of pesticidal products
COSHH-certified and fully insured exterminators
Effective 4-step pest management process
Emergency slots and out-of-hours sessions
Get an Expedient Pest Control Treatment in Camden
Don't put up with the effects of a rat infestation but call for professional pest control assistance in Camden! Our London-based company works with dedicated exterminators in over 30 boroughs in the capital. You can rely on our emergency response and out-of-hours help by entrusting the vermin removal task to a pest control expert near you.
We offer a range of pest management services, such as commercial pest extermination, bird control, squirrel removal, rat and mice control, effective treatment against flying and crawling insects, fumigation, sanitation and disinfection, as well as heat treatment, subject to area coverage.
To schedule your inspection, followed by a pest treatment, monitoring and protection, call or book online.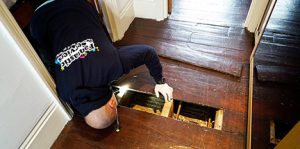 As a first step, your property will be thoroughly inspected for all the signs of pest activity. The exterminator will also evaluate the extent of the infestation. Then, he will discuss with you his pest management plan and proceed with the most suitable treatment. In some cases, the customer will be asked to vacate the property for a couple of hours.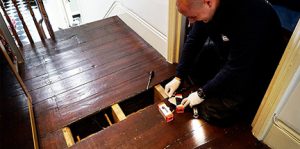 We employ a range of proven pest removal and extermination techniques, which render guaranteed results at once or over a period of time. Fumigation, for instance, effectively eradicates an insect infestation in one visit, whereas handling a rat problem may require more than treatment.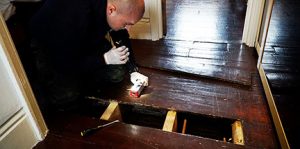 If your case calls for observation after the initial pest treatment, we will schedule up to two additional visits over a period of time. If necessary, the premises will be retreated until the complete elimination of the vermin infestation.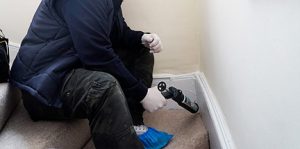 The pest controller will provide you with a service report and further information on proofing the property against vermin recurrences. He will suggest different preventive measures that you can take in order to maintain your home or business safe and free of pests.
Who Covers Our Pest Management
The local pest exterminator for Camden is Richard Louis. He has years of experience in maintaining businesses and homes pest free by employing industry-powered and company-set pest control methods. The specialist boasts expertise in rodent extermination and insect control, as well as proficiency in applying effective bird repellent techniques. He is prompt, presentable and reliable, thus, you can count on his professional and timely assistance.
The pest control technician in your area is fully licensed, certified and insured to execute our services with outstanding results. Moreover, he may be hired out of business hours, subject to availability.
Richard is also responsible for our pest control services in Kensington and Chelsea.
Popular Pest Control Services for Your Home or Business in Camden
Crawling insects control

Crawling pest insects can pose risk to your health by carrying various diseases or by triggering allergies in susceptible persons. They can also cause damages to your property (carpet beetles, moths and woodworms). Hence, timely insect control actions are a must if you suspect an infestation. You can count on our guaranteed insect management solutions, such as cockroach control, dust mites control, flea treatment, bed bugs control, etc.

Flying insects control

Our expert extermination services for flying insects include fly control, moth control, wasp control and carpet beetle control. Depending on the type of service you have purchased, the insecticidal treatment will be applied in one to three visits by a seasoned pest exterminator in your area.

Rodent control

Our rodent control services include rat and mice extermination, as well as wildlife management solutions for squirrels. The local pest control franchisee will inspect your premises and confirm the type of rodent infestation you need assistance with. He will take different pest control measures, which may involve setting up traps and baits, sealing entry points and spraying/dusting the area with effective pesticidal products.

Dead animal removal

The service is often booked after a rat or mice extermination treatment by clients who do not wish to deal with the rodent carcasses themselves. Note, however, that your local pest controller will not attempt to remove the dead animal if it is located in an inaccessible place (ex. under the floorboards). You can schedule the service independently for any small dead animal you come across in or around your property.
Why Fantastic Pest Control is The Better Option
Being in the industry for years, we know exactly what our customers want - fast response, quality treatments, reliable exterminators. We've learned to provide all of that and more to our Camden customers.
| | |
| --- | --- |
| Camden council | |
| At least 3 days waiting period | No waiting. We schedule your service immediately. |
| Working on office hours only | Available 24/7, on weekends and bank holidays |
| Payment is done prior to the pest technician's arrival | You pay when the service is complete |
Check our coverage around Camden
The local exterminators in Camden service the area 7 days a week and even on bank holidays. This means that you can use our emmergency services as soon as you notice a pest problem - all you need to do is give us a call.
We also work with teams of professional pest controllers in other nearby areas:
Already used the Fantastic Pest Control services twice. The first time I called the exterminators and they treated the problem effectively. A month later I found a bee nest in my garden and contacted again Fantastic Pest Control as they did such a great job the first time. Once again the problem was solved in a professional manner.