Quality results with safe products
Emergency pest control in your area
Helping both homeowners and businesses
Insured and experienced exterminators
Tried and Failed with Pests? Let the Pest Exterminators in Northampton Eliminate All Intruders
If you have ever tried to get rid of pests in your home, you know how laborious this task is. Fantastic Pest Control in Northampton can deal with the problem for you effectively and with a long-lasting protection of your property.
We send out local exterminators who are experienced in dealing with a wide range of rodents, crawling and flying pests. They will evaluate your situation and choose a suitable treatment to achieve a complete extermination, as well as give you and your family peace of mind and safe environment to live in.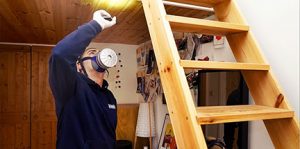 In order to destroy the infestation, your pest technician needs to first locate the nest. Cockroaches, bed bugs, mice and rats all have different habits and nest preferences, so your pro will check all appropriate spots. At this step, he will evaluate how serious the problem is and how the pest was introduced into your home in the first place.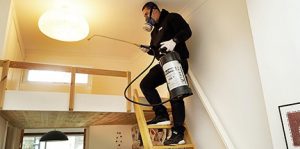 Once the pest has been located, your local exterminator will choose the most suitable way of treating the infestation. We use a variety of high-grade pesticides and insecticides in order to deliver fast results and exterminate all vermin.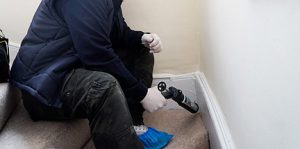 Some pest species take time to remove because of their habits or ways of reproduction. In such cases, we recommend booking our guaranteed pest control procedure as it is more likely to eradicate the pest and rid you of the problem once and for all. Our guaranteed service includes two additional visits (free of charge), during which your exterminator will take all needed follow-up measures.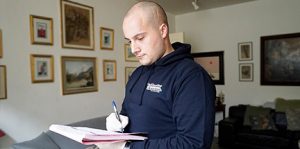 After each visit, your technician will give you some actionable tips and tricks on how to prevent further pest problems. He will also use rodent-proofing materials to block entries for rats and mice.
The Local Pest Technician Who Services Northampton
Meet Peter Darvell – the expert who is responsible for the quality of our services in the entire Northampton and even in some nearby districts.
He started his journey a couple of years back as a driver for one of the teams but quickly managed to learn all the ins and outs of the pest control industry. He quickly became responsible for his own team of local exterminators and is currently supervising several teams in nearby areas such as Derby, Leicester and Nottingham.
Numerous Pest Control Procedures in Northampton and Beyond
Bed Bugs

Notoriously difficult to destroy, bed bugs have been developing resistance to various extermination methods and are now one of the main pest problems around Northampton and not only. Your local pest technician has several ways of dealing with the pesky bug. Our friendly operators will give you detailed instructions on what to do prior to his visit and you can leave all the rest in his capable hands. Our guaranteed services will surely eliminate all bed bugs on site.

Wasps Control

If you or a member of your family are allergic to wasp stings, fear not as Fantastic Pest Control will send out a local exterminator to deal with the pest promptly. He will first check if what you have are wasps or bees as the second is protected species that we do not deal with. If a wasp nest has been identified, your technician will use a knock-out powder to kill the buggers.

Mice and Rats

These little buggers always seem to find their way into our homes. Notify your local pest expert as soon as you detect their presence and we will do the rest. Our rat and mouse control procedures achieve fast results no matter if the rodents are infesting commercial or residential properties. Additionally, we can also offer to install some rodent-proofing solutions for a small fee.

For Businesses

Our pest control procedures are customisable and can fit even the needs of businesses. When dealing with pests in commercial premises, our focus shifts to prevention, protection, and monitoring alongside the treatments we offer.
Council Service vs Professional Service
| | |
| --- | --- |
| Northampton Council | |
| Does NOT provide pest control services. | Provides a variety of pest control services. |
Local Exterminators in Northampton and Beyond
Don't worry if your home or office isn't located in Northampton. You can find professional pest controllers in other nearby areas as well.
Moreover, if you need an emergency service, you can schedule one even on weekends and bank holidays.
Here's a short list of neighbouring areas that we also cover: