Fast response time in emergencies
Guaranteed services and single treatments
Local fully insured pest controllers
Professional products and advanced methods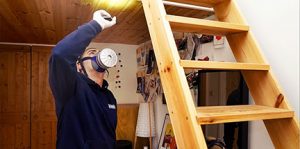 Your pest control service begins with a preliminary survey when the affected areas are carefully inspected. The investigation stage of the anti-vermin treatment allows us to get a clearer picture of the extent of the infestation so that we can undertake comprehensive measures to combat the issue.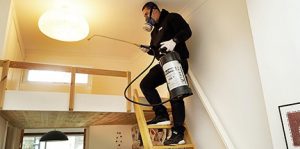 Our pest management solutions include the use of repellents (bird removal), proofing methods (rodent control), spraying, dusting, fumigation (insect control), traps (squirrels), baits (rats, mice, cockroaches), dead animal removal (rats and mice) and fumigation, which is an effective insect-destroying service for vacated properties.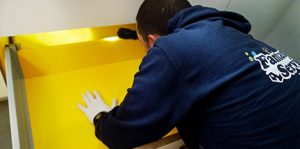 Often, one anti-pest treatment is not sufficient against certain types of vermin (ex: bed bugs control situations) or when you are confronted with a heavy infestation. Therefore, we recommend that you purchase one of our full-service options, which come with the guarantee that your property will be on our monitoring list for 1 or 3 months. This means that at any point if you notice an evidence of the same pest playing havoc, we will come again and treat the premises for free.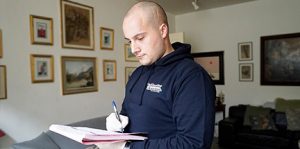 There is very little point of spraying your kitchen with insecticides against the pesky moths if you are not going to protect your food supplies and secure your pantry in the future. Hence, it is important that you follow our post-service prevention instructions to ensure the long-term protection of your property against the same vermin.
Milton Keynes Is Safe Against Pests with Our Fantastic Specialist
Let us introduce you to Martin Grant from Milton Keynes who has been our franchise partner in the area for a number of years. The pest exterminator has gained all relevant certificates and qualifications to provide you with safe and effective vermin control solutions. He is fully insured against damages and additionally trained to handle professional pesticidal products.
You can request a survey with the local exterminator through our booking form on this website or by phoning us at your convenience. Note that you are encouraged to specify the level of urgency your pest situation should be addressed with.
You can count on Martin to deliver you an efficient service in other areas as well, he works in Slough and in Oxford.
What pests do we treat?
Mice and rat control

Rodents will never stop their ongoing attempts of moving into your home in search for food and shelter unless professionally deterred. This is where we can come of your assistance. We use advanced rat and mice control techniques designed to repel the health-hazardous intruders from getting into your property.

Insect control

We will free you from any flying or crawling insect infestation that is damaging your property or poses risk to your health. Roaches, fleas, bed bugs, spiders or flies will be exterminated professionally and safely by our local pest franchisees.

Wasp removal

Our wasp removal assistance can be invaluable if you stumble across a large nest with angry stingers near your property. This applies especially if you have young children who are far more sensitive to a wasp's toxic sting than adults. Hence, don't hesitate to get an emergency wasp control solution with us!

Commercial pest services

Fantastic Pest Control will assign a personal account manager to you who will deal with every aspect of your pest management service. This means that you can focus on operating your business while we provide you with expert rodent control solutions, an anti-insect treatment or a professional disinfection service.
Hire Our Emergency Pest Control Team in Milton Keynes
Get help as soon as you discover any signs of vermin infestation at your property in Milton Keynes. Whether it's a cockroach control issue or you've been invaded by rats, Fantastic Pest Control will assist you without delay. The areas below are also on our service coverage list: