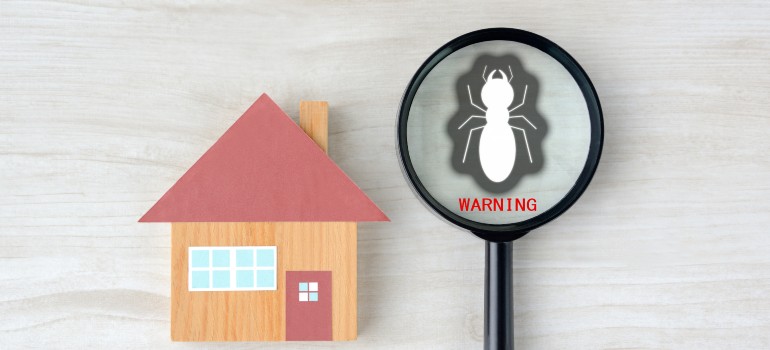 If you need to know anything about how pests can reduce the value of your home or more generally about potential property damage caused by pests, this article is for you.
Whether you're buying, selling, renting, or dealing with property in any way, it's important to understand how pests lower property value and the action you can take to protect yours.
Explore the most common pests, how they affect property value, and what to do right here.
Pests that can damage your home
If you've found pests at home or a property you own or manage, you need to take action as soon as possible if you want to minimise the harm they can cause.
Pest damage is wide-ranging and depends on the type of pest infestation you have on your hands. From fabric, fixtures, and fittings to actual structural damage, it's risky to let any pests make their home in your property for very long.
1) Rats and Mice
Mice and rats in walls or under floorboards are problems for all kinds of reasons. First of all, because they like to nest. Rats' nests in homes are often created by the little critters clearing a space for themselves in your insulation or drywall.
Second, they eat. And they eat a lot. A variety of fabric, accessible food in the kitchen, wood, paper, books, and even electrical wires!
Not only is this a cause of potentially a whole slew of problems, but they also leave urine and faeces behind themselves on their hunts. This can mean they leave diseases and other contaminants behind them.
Damage caused by rats and mice can be varied and extensive
Structural damage can result from rodent nesting behaviour
Electrical wire and gas pipe damage (and a fire risk) is common with mice or rats
Nibbling of food and droppings spread disease
Furniture and clothing can be chewed and holed
2) Squirrels
For many people, squirrels are cute little creatures you encounter in your local park. For those unlucky enough to have them infest their home though, they're a pest that can cause serious damage.
You'll most commonly find squirrels in the loft, hiding in out of the way corners and ripping up the insulation to build nests.
But the main aspect of squirrel damage is caused by their chewing behaviour. Their teeth grow constantly and they need to regularly gnaw on things to sharpen and stop the growth. This means anything in your house that isn't incredibly tough is safe!
Squirrels in attics damage insulation, wood, and more
They breed very quickly, meaning it's vital to stop an infestation fast
Squirrels in roof spaces can access wiring and chew on it, leading to electrical and fire damage
Plastic PVC piping of guttering, drainage channels, and the like can also be compromised, leading to water damage
Roofing shingles are a particular favourite, also compromising the structure and waterproofing of your property
Are you dealing with a pest infestation?
You don't have to be alone in the battle against pests. Hire a professional pest expert!
Call us
3) Ants
Ants are interesting creatures, highly organised and varied in the damage they can do to your home.
Different species of ants cause different problems. For example, black garden ants won't deliberately cause structural damage, only widening existing cracks to gain entry. But species like carpet ants will. Pharaoh ants carry a kind of bacteria that can carry diseases.
Carpenter ants cause wood floor damage not by eating it but by making space for themselves – this can happen with rotting wood outside but also under floorboards and in wooden pillars
In fact, Carpenter ants damage wood so severely they can affect a property's structural integrity
Signs of carpenter ants in your house are often easy to spot – they don't hide from you. They're often most active at night.
Carpet ants and other species create nests, which can also damage your property as they tunnel through any wooden parts of the structure like termites
Most species of ants are attracted to homes by food being left out or by the level of humidity they prefer, often a problem in UK homes
Check also: How to Get Rid of Ants Invasion in Your Home?
4) Woodworms
Woodworms are one of the most pernicious types of pest you can find in UK homes. Woodworm damage, as you might expect, is heavily weighted towards the wooden parts of your property. This can be a serious problem. Because once they've started feeding, woodworms don't stop.
They make one tunnel, then they make another, and soon you find yourself needing to move out of the property until its structural integrity can be checked by an expert.
Woodworms like to eat wood, including load-bearing parts of properties such as structural timber and rafters
Damaged structural components can collapse causing serious harm and damage
Woodworms in floorboards are common, but it can be difficult to spot signs like exit bore holes until it's too late
Leaving woodworm untreated can be disastrous as they compromise the strength of any timber they're in
Woodworm treatment needs to be fast-acting but should be left to the professionals as there are different species that burrow at different depths and have different best approaches
Check also: Most Common Wood Boring Insects in the UK
5) Carpet beetles
Carpet beetles in the UK can be found in large numbers of homes. Don't let the name fool you though. They actually like to feed on all kinds of fabric – rugs, sofas, and clothes as well as carpeting. Plus, no leather items like bookbindings, furniture, or animal products like furs or feathers are safe.
Carpet beetle damage affects carpets, silk, wool, leather, curtains, and other natural materials
With furniture, carpet beetles can cause lasting damage that's expensive or impossible to repair
Even photographs and paintings can be targets
Many UK rental and insurance agreements don't cover carpet beetles
Carpet beetle treatment needs to be handled with care if you want to prevent damaging the very items you are trying to protect
Check also: How to Get Rid of Carpet Beetles
Does home insurance cover pest damage?
Many people assume that their homeowner insurance policy will automatically cover all kinds of pest damage. Unfortunately, this isn't the case.
In fact, when it comes to pest control, home insurance doesn't usually cover the cost. However, there are occasions when yours might cover some part of it. The type of pest you have doesn't normally matter though. This means general pest questions like "is rodent damage covered by homeowners insurance?" are likely to be answered "no".
But even if you do have a rodent infestation, you might actually be partially covered. The two terms to bear in mind when considering whether home insurance covers pest control are "preventable damage" and "unexpected damage".
Preventable damage is the kind of thing your insurer will say is the fault of the owner or tenant for the poor upkeep of the property. It happens over a longer period of time – something like an infestation with long-term visible signs that no action was taken to resolve.
Unexpected damage normally relates to things like storms. But it might – might – cover damage caused by pest-related problems. For instance, a fire caused by a rat chewing through electrical cables. That's probably not going to be much consolation to you though.
Pest control advice when buying a new home
All of this means that when you buy or start renting a new home, pest inspection should be one of the first things on your list of things to do.
Whether a new build or a property that's been serially occupied or left long-empty, pest inspection for a new home is always a good idea. This should include all parts of the building's interior and exterior and is always best accomplished by professionals.
If any pests are found, the simplest new home pest control measures you should expect are for webs and nests to be removed and for any entry points – the small gaps and cracks that pests enter through – to be sealed.
Takeaways
The damage different pests can cause to a property is wide-ranging
Structural damage is most common with woodworm, rodents, and some species of ants
Other types of pest can do all kinds of other damage and spread disease
Home insurance doesn't usually cover pest control or most pest-related damage
Pest inspection and control should be one of the first things you do before buying or moving into a new home
Are you dealing with a pest infestation?
You don't have to be alone in the battle against pests. Hire a professional pest expert!
Call us
***
Does that cover your property pest damage questions? Comment below to get an expert answer to your questions about how pests decrease the value of your home – and what to do about it!