Pest Control in Rochdale
Effective services by local technicians
Using the latest professional equipment
Using child- and pet-safe methods
Flexible booking options available
Pest control in Rochdale for local homes and offices
When you hear suspicious noises coming from your loft in the middle of the night or when you notice a musky smell in your basement, then a mice or rat infestation might be going on at your property. If you notice such signs, then take advantage of our local pest control in Rochdale. And keep in mind that we can help you with insect infestation as well. Be it cockroaches, bed bugs or angry wasps – no problem, we can easily take care of them for you.
The local exterminators in your area adhere to our proven process to get rid of any pest. This includes: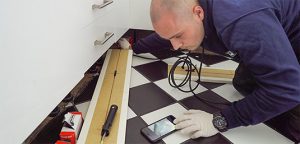 When the pest controller arrives at your property, he will conduct a thorough inspection in order to understand the scale of the infestation. This way he will determine what insect or rodent control measures to take against the harmful property invaders. For example, a sure sign of mice infestation is a specific musky scent coming from the secluded areas of the property such as the loft and the basement.
Based on his findings, the pro will be able to evaluate the situation and choose the most effective way to proceed.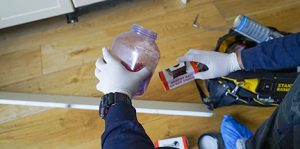 We use a wide range time-tested techniques and anti-pest products to eliminate the pesky bugs or rodents that have invaded your property. And rest assured that all our methods are perfectly safe for you and your family.
To give you an idea, when dealing with mice and rats, it is crucial to find out how they enter your property and cut their access. In case the technician finds small holes in the walls, then he will block them with wire wool and expanding foam.
For bed bug infestations, the pro will have to come at least a couple of times and spray with different potent insecticides. This is due to the bed bug's life cycle.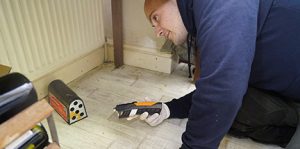 You have the option to purchase a guaranteed pest control package – either with a one-month or a three-month guarantee. This means that you will have one additional free visit by a pest control technician within one month after the initial treatment or 2 additional visits (for free) within 3 months of the additional visits.
The additional visits are needed to finish off any pest remainings left from the initial treatment. This way we can ensure the eradication of the entire pest colony and that you won't face the buggers any time soon.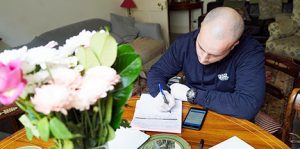 Our main goal is to provide lasting results when a treatment is concluded. For instance, when it comes to insect infestations, we use special deterrents that keep the annoying bugs at bay. Also, you can consult with your pest exterminator who will be happy to give you some tips on how to protect your property in the future.
Additionally and upon request, the pest officer in your area can instal rodent proofing tools at the premises.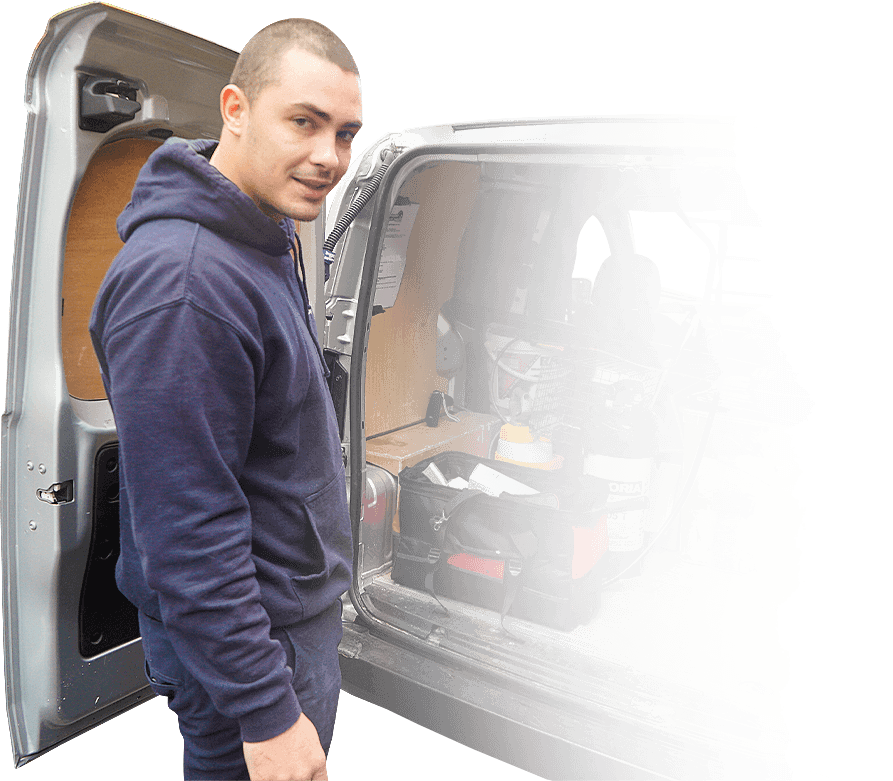 A trusty exterminator near you
This is Eddie Brown, a local pest controller in the area of Rochdale who operates under our brand. He has significant professional experience as a pest officer and has dealt with countless cases of insect and rodent infestations.
Also, he uses the latest high-end equipment and a range of effective anti-pest products to bring the best possible results. You can be absolutely sure that he will do everything possible to tackle your pest-related problems.
Eddie is also responsible for the pest control services provided by Fantastic Pest Control in the following areas: Tameside, Preston and Bury.
Have a look at our frequently requested pest removal services
Rodent Treatments

When seeking optimal results, choose our mouse control. The local rodent specialist will use a potent, but safe pesticide to lure all rats or mice out of their hiding spots and into the strategically placed traps. He will also seal all small tunnels that the animals use to get in and out of your property with wire wool, expanding foam, and sealants. If you booked a guaranteed service, you can also arrange for the professional to arrive and remove all dead rodents for you.

Bug Extermination

Unfortunately, a universal spray that lands all insects on their backs has not been yet invented. However, the local pest exterminator is aptly prepared to meet any bed bug or other insect that may have called your property "home". Most of these are spray-based, but there is the occasional exception. Wasp control, for instance, is done with a paralysing powdery substance, which is carefully injected into the hive. The hive is then safely removed and disposed of in a responsible manner.

Carpet Beetle Treatments

Although the sight of carpet beetles is unsettling enough, the insects that do the actual damage to the fabric are their offspring. The larvae feed on a wide variety of materials during their development, including on dead skin, fur, wool, hair, and other organic matter.

To end their feast, the expert pest controller in Rochdale will spray the whole carpet with an insecticide, which will eradicate them almost instantly.

Solutions For Your Business

If your business is situated in Rochdale, then you can rely on Fantastic Pest Control to respond quickly whenever you are being harassed by pests. One of our first lines of the defence includes the so-called fumigation, where the specialist will treat all surfaces with a potent spray in order to make your premises unappealing for any rodents, insects, or squirrels. He can also perform:

- Pest disinfection: done by professionals who use specialised agents. The products eliminate pathogens like Salmonella, E.Coli, and more;
- Bird control: Spikes, nets and occasionally fire gels will be used to scare the birds away from your rooftops.
Prices for Pest Control in Rochdale
Prices for mice, rats, ants, cockroaches, flies, fleas, moths, carpet beetles, spiders and silverfish
Property Size
Treatment with a 1 month guarantee**
Full treatment with a 3 month guarantee***

Fantastic Club Price

| Standard Price

1 bedroom

£115

| £135

£157

| £185

2 bedrooms

£123

| £145

£166

| £195

3 bedrooms

£132

| £155

£174

| £205
Pest control for Bed Bugs in Rochdale
Property Size
Treatment with a 1 month guarantee**
Full treatment with a 3 month guarantee***

Fantastic Club Price

| Standard Price

1 bedroom

£144

| £169

£204

| £240

2 bedrooms

£152

| £179

£212

| £250

3 bedrooms

£161

| £189

£221

| £260
Other pest control services in Rochdale
Pest

Fantastic Club Price

| Standard Price
Property fumigation

£145

| £169
- Prices are applicable for residential properties only.
- No further charges go on top of the rates except parking and congestion, if applicable.
- £30 additional charge on all night jobs (night job is considered between 8pm and 5am appointment time)
** Treatment with a 1-month guarantee consists of 1 major visit + 1 follow-up in a 1-month period. Please mind that a follow-up can be organised only upon your further request.
*** Full treatment with a 3-month guarantee consists of 1 major visit + 2 follow-ups in a 3-month period. Please mind that follow-ups can be organised only upon your further request.
**** If your property has more than 4 bedrooms, contact us for a quote.

Join the Fantastic Club and get:
- 10% OFF 25+ Fantastic services, including pest control
- Access to member-only deals
- Last-minute emergency slots
See how our pest control differs from the council's
| | |
| --- | --- |
| Rochdale Council | |
| You pay a re-booking fee no matter when you decide to reschedule. | You don't pay for rescheduling if you inform us in advance. |
| | |
| Do not treat properties against flies | We have an effective fly control procedure |
Prompt pest control treatments in Rochdale and beyond
Feeling cornered by the pests? Your commercial facility or household is safe in the hands of the pest control expert near you, who can provide you with an emergency extermination. That's right – just tell us your location and the specialist will be there in less than three hours to sort out the situation in the time it takes you to go out for a walk.
Not located in this area? Besides Rochdale, we also cover:
- pest removal services in Bury;
- pest removal services in Oldham;
- pest removal services in Manchester;
- pest removal services in Tameside.
I sublet a flat in Rochdale and my landlady had furnished it with old furniture. I thougth they had woodworms and called to inform her. She asked me to call someone to check it and I booked your service. The team inspected the flat and assured me that there really is a problem. We called her and she wanted the property treated. Fantastic Pest Control did a great job. I would give them five stars.