Guaranteed pest control services
Safe application of pesticide products
Dedicated local pest controllers
Emergency callouts and out-of-hours slots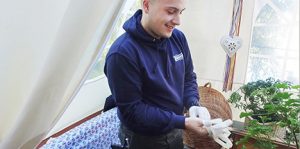 The local pest control specialist will check out the affected areas and confirm any suspected pest activity, based on the evidence of damages, marks, excrements and other debris. He will be also able to suggest how far gone the infestation is, in order to decide on the most suitable pest control action.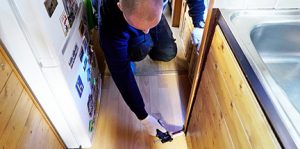 As all our services are COSHH-compliant, the technician will employ safely industry-tested pesticidal products and methods, which may include spraying or dusting, setting up baits, etc. When extermination is not applicable (birds and squirrels), the local pest controller will use humane repellents or traps to counteract the issue.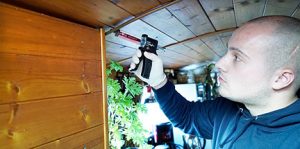 Most vermin problems are best treated in more than one visit. This is why we have devised different multi-visits booking options for you to choose from. A 3-months full service, for example, will give you the extra peace of mind that the local technician will observe your property over this period and will repeat the treatment if needed.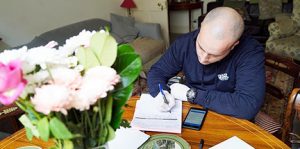 There are various things you can do to prevent the same vermin problem from happening again. And the pest exterminator will gladly share with you his expert knowledge and proofing tips, upon request, so your property remains pest free for long.
Opt for a Local Pest Control Technician Near You
Meet Josh Wright. He is one of the most diligent and conscientious pest exterminators in Cheshire West and Chester who has become a household name of recent. The number of positive feedback we hear about our star franchisee partner is due to his dedication and expertise in eliminating even the most hard-to-deal-with vermin infestations. Comfortable working in both residential and commercial settings, the local pest controller gets the job done to the highest standard. He is fully insured and COSHH-certified to safely free you from the pesky pests, be it mice, fleas, roaches and more.
Josh also represents the pest control services offered in Liverpool and Wirral.
Take a Look at Some of the Pest Removal Services We Offer
Rodent Control

Mice and rats are the usual culprits when it comes to damaged wires, contamination and debris signs in areas that you store food supplies. We apply effective rodent control methods and products with guaranteed results. We also focus on sharing with you various proofing and deterring techniques, so you can deny the squeaky health-hazardous vermin access to your property.

Insect Extermination

Our insect control services can be booked as a single visit or you can purchase one of the guaranteed options that come with regular monitoring and free visits/retreatments over a period of time. We employ industry-tested and safe insecticidal solutions, which have proven efficacy and render favourable results.

Wildlife control

We specialise in executing wildlife control services in a legal fashion, which are designed to deter untamed animals from invading and damaging your property. The pest specialist will choose from a range of repellents to combat any type of bird control issues and industry-approved traps to trap and safely remove squirrel intruders.

Commercial pest management

Depending on how large and busy your public or commercial venue is, we develop a corresponding and effective pest management plan after a thorough inspection of the premises. The local exterminator will proceed with applying a suitable anti-pest treatment and will advise you on whether another visit is recommended. Upon request, out-of-business-hours sessions can be arranged, subject to availability and service coverage.
| | |
| --- | --- |
| Cheshire West & Chester Council | |
| Monday to Friday treatments only | Pest control at any day of the week and even on bank holidays! |
| Don't offer heat treatment for bed bugs | You can choose between bed bug control or heat treatment procedure, depending on your needs |
| Calls are received 8am to 7pm, Monday to Friday | 24/7 customer support to answer your queries |
Need an Emergency Pest Control Service in Cheshire West and Chester?
Working with locally based franchisee partners means that you can have your pest control situation addressed in a matter of hours. Hence, count on our fast response and timely assistance if you live or run a business in Cheshire West and Chester or in the following nearby areas: