Pest Control in Cheshire West and Chester
Guaranteed pest control services
Safe application of pesticide products
Dedicated local pest controllers
Emergency callouts and out-of-hours slots
Local Pest Control Services in Cheshire West and Chester
Read related articlesIf you struggle from any pest infestation, Fantastic Pest Control now covers Cheshire West and Chester area. We protect homes and commercial properties for years and keep working in compliance with all regulations. We strive to perform top-notch services so the pest exterminators use only approved and modern equipment.
In Cheshire West and Chester people have problems mostly with fleas, ants, moths and silverfish but we can treat much more pests such as mice, bed bugs, cockroaches, pigeons, fleas and more.
The process starts with a property inspection when the technician decides the type of treatment. Then, he proceeds to the treatment and if a full treatment is chosen he will come for another visit to check the situation. At the end of the service, the exterminator gives a report and will advise you how to prevent future infestations.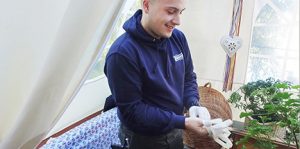 The local pest control specialist will check out the affected areas and confirm any suspected pest activity, based on the evidence of damages, marks, excrements and other debris. He will be also able to suggest how far gone the infestation is, in order to decide on the most suitable pest control action.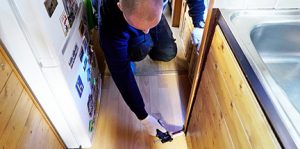 As all our services are COSHH-compliant, the technician will employ safely industry-tested pesticidal products and methods, which may include spraying or dusting, setting up baits, etc. When extermination is not applicable (birds and squirrels), the local pest controller will use humane repellents or traps to counteract the issue.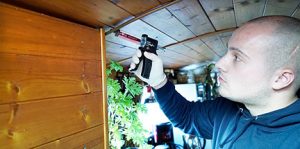 Most vermin problems are best treated in more than one visit. This is why we have devised different multi-visits booking options for you to choose from. A 3-months full service, for example, will give you the extra peace of mind that the local technician will observe your property over this period and will repeat the treatment if needed.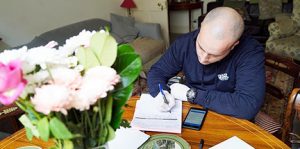 There are various things you can do to prevent the same vermin problem from happening again. And the pest exterminator will gladly share with you his expert knowledge and proofing tips, upon request, so your property remains pest free for long.

Opt for a Local Pest Control Technician Near You
Meet Josh Wright. He is one of the most diligent and conscientious pest exterminators in Cheshire West and Chester who has become a household name of recent. The number of positive feedback we hear about our star franchisee partner is due to his dedication and expertise in eliminating even the most hard-to-deal-with vermin infestations. Comfortable working in both residential and commercial settings, the local pest controller gets the job done to the highest standard. He is fully insured and COSHH-certified to safely free you from the pesky pests, be it mice, fleas, roaches and more.
Josh also represents the pest control services offered in Liverpool and Wirral.
Take a Look at Some of the Pest Removal Services We Offer
Interesting Facts and Stats About the Pests in Cheshire West and Chester
#1. Fleas can spread as quickly as for 50 days they can lay approximately 2 000 eggs. So flea infestation should not be underestimated at all. Fantastic Pest Control has treated successfully about 1 400 properties against fleas for the last several months.
#2. Ants are little crawling insects which can cause many problems. They spread quickly and usually visit the kitchen especially cabinets where food is stocked. Some ant species like carpenter ants can even cause structural damages to the building. For the past year, we've got more than 800 call-outs regarding serious ants infestations and we've managed to successfully treat all of them.
#3. Adult moths are not dangerous, they just fly around. Their caterpillars are those who cause the damages. In Cheshire West and Chester, the pest exterminators treated about 500 properties infested by moths.
#4. Silverfish are not as dangerous as other pests but still make some damages. They are attracted to paper, starch, oat, cardboard boxes, books, glue. So they can quickly destroy documents and old books. Fantastic Pest Control helped with silverfish infestations to about 500 properties for the last 12 months.
Research more pests from our library
| | |
| --- | --- |
| Cheshire West & Chester Council | |
| Monday to Friday treatments only | Pest control at any day of the week and even on bank holidays! |
| Don't offer heat treatment for bed bugs | You can choose between bed bug control or heat treatment procedure, depending on your needs |
| Calls are received 8am to 7pm, Monday to Friday | 24/7 customer support to answer your queries |
Need an Emergency Pest Control Service in Cheshire West and Chester?
Working with locally based franchisee partners means that you can have your pest control situation addressed in a matter of hours. Hence, count on our fast response and timely assistance if you live or run a business in Cheshire West and Chester or in the following nearby areas:
Certified by