Pest Control in Tameside
Workday, weekend, and emergency services available
Safe treatments against, rats, birds, moths, and more
Customer support available for any day of the week
Responsible, equipped, and insured pest technician
Comprehensive Pest Control in Tameside
Your home is your castle, or so you thought. If the pests have become such a menace that you have been forced to leave your own property, don't waste any more time and get in touch. Book pest control in Tameside with Fantastic Pest Control and get the vermin out of your home. The specialist will assess your situation and conduct a safe and efficient treatment that will help you reclaim your home or business in a day's work.
All pest treatments, be it bed bug control, rat eradication, mouse control or wasp nest removal follow our proven technique: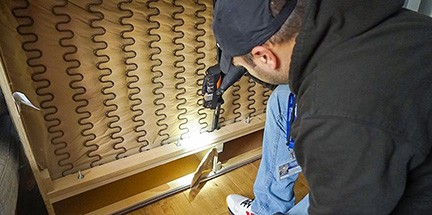 The pest control process will begin with a thorough inspection in order to pick a suitable treatment. After locating the mice nest, ant colony, or whatever it is that is pestering you, the local exterminator will ensure to seal all entrances into your property that the pests use to forage for supplies. After identifying just how serious the problem is, he will move to step two, which is the actual treatment.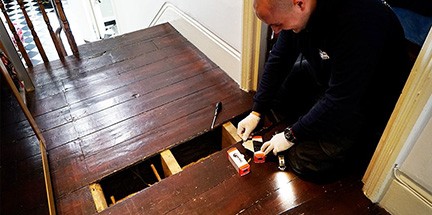 The treatment itself can take on many forms, depending on what the exterminator had encountered. The specialist has access to a variety of equipment, including sealing materials, insecticide sprays, gels, traps, poisonous baits, UV equipment, and other gadgets.
This means that he is fully equipped at all times to battle pretty much any common pest in the UK, be it rats, ants, moths, spiders, mosquitoes, wasps, cockroaches, pigeons, squirrels, dust mites and more. At the end of the pest control session, he can also supply you with a risk assessment report upon request.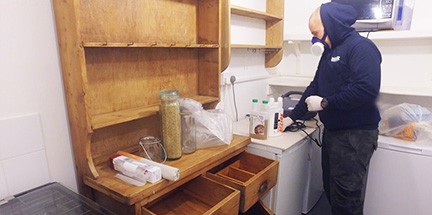 We highly recommend booking our guaranteed services. This will allow you to schedule up to two free follow-up visits by the professional in case the pests didn't learn their lesson from the first treatment. The extra visits can be claimed for up to three months after the first treatment and will ensure that your property will not become re-infested.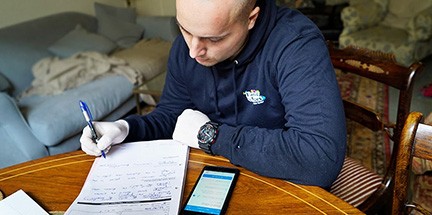 There are lots of preventive measures that you can take to make your property better protected against the hordes of tiny thieves. And the pest specialist in Tameside will gladly share all of them with you for free, as well as help you identify those areas of your premises that are most vulnerable to infestations. Take advantage of that and follow his instructions to prevent the pesky vermin from coming back again.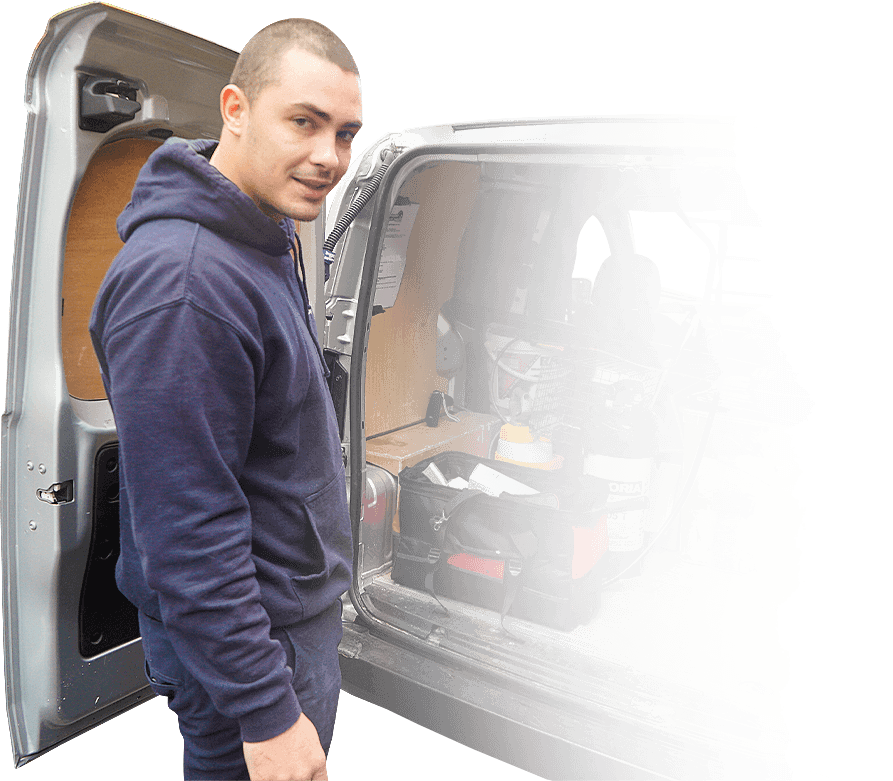 A Closer Look at What Your Local Pest Controller Can Do for You
Part of Fantastic Pest Control, Eddie Brown has been in the pest control field for many years and knows what it means to deliver a service up to an industry standard and beyond.
He has access to the latest tools and equipment, works in the safest manner possible without disturbing your work routine, and has passed all relevant training courses in the area so you can be sure that the pests will not dare approach your property once he's done with the treatment.
Eddie is also responsible for the pest control services provided by Fantastic Pest Control in the following areas: Rochdale, Preston and Bury.
Ensure Your Peace of Mind with Professional Pest Treatment Near You
Rodent Extermination

The agile vermin have excellent teeth, which allow them to gnaw their way through just about anything, including wiring, timber, pipes and even brickwork! The rat control specialist is experienced in locating even the most obscure of entry points (up to ½ inches) and sealing them with wire wool, expanding foam, and sealants. Traps will also be used to rid you of any strayed mice or rat. Our mouse control procedure is done in a similar manner.

Insect Extermination

Over the years, single bed bug treatments have become less and less efficient due to the insect's ability to quickly develop an immunity to the insecticides. That is why your pest controller in Tameside will arrive twice over the course of two visits (two weeks apart) to treat your bedroom mattress or any other affected item with two separate products. Other insects the expert treats against include spiders, ants, cockroaches, moths, dust mites, fleas, flies and more.

Wasp Hive Removal

Even if you are not allergic to the things, you can still get stung quite badly if you get too close to a wasp's hive. The specialist will neutralise the nest from a safe distance using an extendable wasp removal wand to inject a powdery substance. The insecticide will paralyse and eradicate the small wasp empire. The professional will then safely dispose of the hive for you if it is located somewhere within his reach.

Services for Your Business

A pest infestation is one of those slippery variables in your business that you simply cannot predict. As a preventive measure, you can ask the certified exterminator to perform general fumigation or pest-proof the premises. To do this, he will spray all potentially risky areas with a potent insecticide which will make your building in Tameside very unappealing to both insects and rodents.
Prices for Pest Treatments Around Tameside
Prices for mice, rats, ants, cockroaches, flies, fleas, moths, carpet beetles, spiders and silverfish
Property Size
Treatment with a 1 month guarantee**
Full treatment with a 3 month guarantee***

Fantastic Club Price

| Standard Price

1 bedroom

£115

| £135

£157

| £185

2 bedrooms

£123

| £145

£166

| £195

3 bedrooms

£132

| £155

£174

| £205
Pest control for Bed Bugs in Tameside
Property Size
Treatment with a 1 month guarantee**
Full treatment with a 3 month guarantee***

Fantastic Club Price

| Standard Price

1 bedroom

£144

| £169

£204

| £240

2 bedrooms

£152

| £179

£212

| £250

3 bedrooms

£161

| £189

£221

| £260
Other pest control services in Tameside
Pest

Fantastic Club Price

| Standard Price
Property fumigation

£145

| £169
- Prices are applicable for residential properties only.
- No further charges go on top of the rates except parking and congestion, if applicable.
- £30 additional charge on all night jobs (night job is considered between 8pm and 5am appointment time)
** Treatment with a 1-month guarantee consists of 1 major visit + 1 follow-up in a 1-month period. Please mind that a follow-up can be organised only upon your further request.
*** Full treatment with a 3-month guarantee consists of 1 major visit + 2 follow-ups in a 3-month period. Please mind that follow-ups can be organised only upon your further request.
**** If your property has more than 4 bedrooms, contact us for a quote.

Join the Fantastic Club and get:
- 10% OFF 25+ Fantastic services, including pest control
- Access to member-only deals
- Last-minute emergency slots
What Makes Us Better Than Your Local Council
| | |
| --- | --- |
| Tameside Local Council | |
| Services with a key pick up have an additional charge. | With Fantastic Pest Control you don't have to pay for a key pick up. |
| | We can install rodent proofing materials in homes and business properties. |
| Investigation of roof space noise - £100 + vat (£119). | Each inspection is £30 and becomes free if you book a service during the same visit. |
Same-day and Emergency Pest Control in Tameside and the Area
Have those squirrels in the attic been driving you crazy for several days on end? Well, that sounds like an emergency! The local Fantastic Pest Control partner can have the equipment ready and arrive at your domestic or commercial property in just a few hours. Of course, this applies no matter the pest control problem you're having. We also offer same-day appointments, but our booking slots are open for any day of the week, weekends and bank holidays included. Discreet treatments with an unbranded van are also available in Tameside as well as:
- exterminators in Manchester;
- exterminators in Oldham;
- exterminators in Stockport.
Thanks for your bee control guys. The pest controllers were quite helpful and seemed very experienced. I have recommended your services to my mum who has cockroach infestation. Keep up the good work!