Pest Control in West Lancashire
Efficient, safe & responsible approach
Compliance with safety codes and standards
One-off and multi-visits anti-pest treatments
Fully certified, equipped and insured exterminators
Discreet pest removal services at short notice
Why Entrust a Fantastic Pest Controller with Your Vermin Problem?
Fantastic Pest Control in West Lancashire works with a local pest management franchisee who is experienced in handling all common types of vermin infestations. From rats, mice, birds and cheeky squirrels to various flying and crawling insects such as wasps and bed bugs, the expert is fully qualified and insured to free your property from the unwanted critters.
He follows closely our company standards and the industry safety codes and procedures to ensure that the service is completed with guaranteed results. The pest exterminator in your area can be booked at short notice and outside business hours. He will perform the service in four simple steps.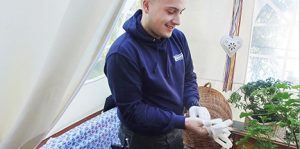 The successful elimination of your vermin issue depends on a careful inspection of the affected areas. The local pest control expert will assess the extent of the infestation by checking your premises for pest activity signs and evaluating their intensity. This will give him a pretty good idea about the severity of your problem and he will be able to choose amongst different means of extermination.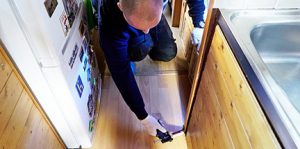 The pest technician will resort to a suitable pesticidal or pest repellent method/product depending on the type of vermin your home or business has been infested with. These include but are not limited to spraying, dusting, trapping, applying baits, gels, bird deterrent nets and spikes, fumigation, etc. We tailor each treatment to suit your particular case and we can successfully remove bed bugs, rats, mice, wasp nests, cockroaches and more from your home or business premises.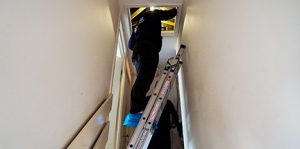 Some of our services are executed in a single visit (wasp nest removal) and others require at least two treatments (bed bugs control). Hence, we have developed different service options, which require observation of the situation over a period of one to three months. Our services come with a guarantee, so make sure to book an option that includes two or more visits by your exterminator.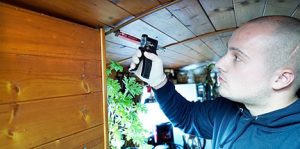 In order to ensure that your property is comprehensively protected against a future infestation, the specialist will offer his pest proofing expertise to you and will advise you on all the relevant post-service safety measures you need to take. Following his advice is essential if you want to avoid further vermin problems.
So far two visits have been made to my house by the same technician. He's very professional and knows what he is doing. I can only speak for his work, but the company as a whole seems customer oriented. They are helpful and their prices are not too expensive. I will keep using the company until my bird problem is resolved.
Fast Service Delivery in West Lancashire
Homeowners, landlords and business proprietors in West Lancashire can now benefit from our emergency pest extermination services and wildlife removal solutions. Get the right help without delay if you are located locally, including in the following areas: