Efficient, safe & responsible approach
Compliance with safety codes and standards
Heat treatment for bed bugs available
Fully certified, equipped and insured exterminators
Discreet pest removal services at short notice
Why Entrust a Fantastic Pest Controller with Your Vermin Problem?
Fantastic Pest Control in West Lancashire works with a local pest management franchisee who is experienced in handling all common types of vermin infestations. From rats, mice, birds and cheeky squirrels to various flying and crawling insects such as wasps and bed bugs, the expert is fully qualified and insured to free your property from the unwanted critters.
He follows closely our company standards and the industry safety codes and procedures to ensure that the service is completed with guaranteed results. The pest exterminator in your area can be booked at short notice and outside business hours. He will perform the service in four simple steps: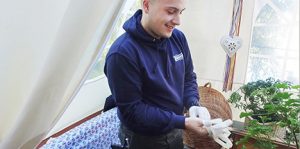 The successful elimination of your vermin issue depends on a careful inspection of the affected areas. The local pest control expert will assess the extent of the infestation by checking your premises for pest activity signs and evaluating their intensity. This will give him a pretty good idea about the severity of your problem and he will be able to choose amongst different means of extermination.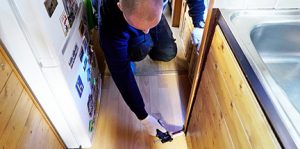 The pest technician will resort to a suitable pesticidal or pest repellent method/product depending on the type of vermin your home or business has been infested with. These include but are not limited to spraying, dusting, trapping, applying baits, gels, bird deterrent nets and spikes, fumigation, heat treatment and more. We tailor each pest control service to suit your particular case and we can successfully remove bed bugs, rats, mice, wasps, cockroaches and more from your home or business premises.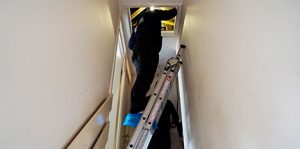 Some of our services are executed in a single visit (wasp nest treatment) and others require at least two treatments (bed bugs control). Hence, we have developed different service options, which require observation of the situation over a period of one to three months. Our services come with a guarantee, so make sure to book an option that includes two or more visits by your exterminator.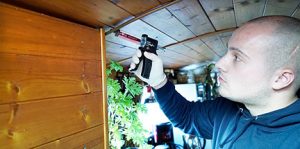 In order to ensure that your property is comprehensively protected against a future infestation, the specialist will offer his pest proofing expertise to you and will advise you on all the relevant post-service safety measures you need to take. Following his advice is essential if you want to avoid further pest problems.
Some of the Pest Control Services Available in West Lancashire
Bed Bug Treatment

Our comprehensive bed bug control in the West Lancashire area is completed in at least two visits by your local exterminator. This is because bed bugs are a resilient pest, so the colony needs to be sprayed a couple of times for them to die off. During the first treatment, the technician will spray with a powerful knock-out product that tackles all living bed bugs. On the second visit, the pro will use a residual product which will protect your home for many months to come.

Insect Heat Treatment

If the bed bug problem is too persistent or you just want to blast off any living insect that dared to infest your home, we can offer you our heat treatment. It utilises high temperatures which the insects cannot bear. We will send a local exterminator in your West Lancashire home or business building to help you prepare and treat all infested rooms. The heat treatment procedure has a success rate of 100% and is perfect to rid you of bed bugs, moths, fleas, ants and more.

Mouse Control

Mice are sneaky little creatures and as soon as autumn arrives, they will attempt to hide into your home and feast on free meals. Your pest controller will come up and check your property for potential entry points. He will use sealants to cover every hole that a mouse can use to enter. Then, he will proceed to lay down poisonous bait that will get rid of the mouse colony in two or more visits.

Rat Control

Rats are another nuisance you would want to avoid at all costs. Not only are they bigger than mice, but they also bring more destruction, disease and baby rodents into your home. The vermin breed extremely fast and can cause you a lot of headaches. The local expert will be able to rid you of your rat problem in two or more visits and while at it, he will seal any openings that the rodent is using.
Fast Service Delivery in West Lancashire
Homeowners, landlords and business proprietors in West Lancashire can now benefit from our emergency pest extermination services and wildlife removal solutions. Get the right help without delay if you are located locally, including in the following areas: