Pest Control in Sevenoaks
Done by highly professional technicians
Extermination & protection against common pests
Using only safe, agency-approved anti-pest products
Available all week long, even on holidays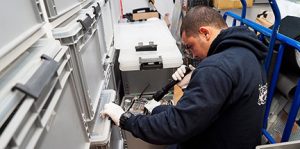 Assessment of the situation is important. That is why when the pest controller arrives at your property, he will carefully inspect the affected areas in order to determine the level of infestation and how to best deal with it. For example, a cockroach colony can reach viral proportions and this calls for heat treatment.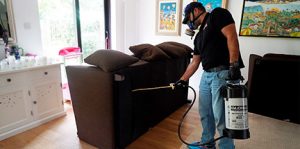 The type of treatment is determined by the type of pest that is bugging you. For example, a bed bug infestation is usually done in two major visits. The first treatment eliminates the majority of the bed bug colony. However, a small percentage of the colony will develop resistance against the product used against them. That is why a secondary treatment with a different product must take place.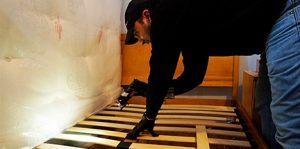 Some infestations present a bigger challenge. That is why we offer a budget-friendly option. Consider purchasing a guaranteed package that includes free additional visits from your technician. Either use our online booking form or talk to our customer care staff for more details on our service packages.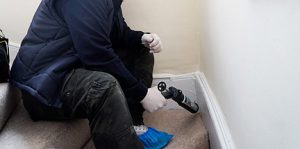 Once the situation is under control and your property is pest-free, consider what improvements you can do to limit the chance of future infestations. Also, the pest control technician will be glad to give you some useful advice on how to protect your property from rodents and insects.

Your local pest control technician in Sevenoaks
Meet Mark Hobson who is one of the experts that might show up on your doorstep if you book pest control for your property in Sevenoaks. He is actually a team leader with quite the professional experience. Using highly effective anti-pest products and modern equipment, you can be sure that if he is on the case, then consider your pest-related issues solved. Of course, this applies for any technician who wears the Fantastic Pest Control uniform.
Mark is also the person who is responsible for the pest treatments in Dartford and Medway.
Some of our locally available pest control services
Rodent Control

Be it rats or mice, the most important part is to block the access of the rodents. Usually, the opportunistic critters take advantage of small holes in the walls and use them as entry points. The technician will use expanding foam and wire wool to block those holes. And if there are any specimens left inside, he will eliminate them using traps and bait techniques.

Insect Control

Be it flying or crawling insects, they usually spread pretty quickly. The type of treatment highly depends on the species. Usually, the affected areas undergo fogging treatment in order to immediately eliminate the existing colony and their eggs. The treatment might also include the application of another anti-pest product to protect from re-infestation.

Bird Control

Urban birds are generally considered to be a pest, especially around high buildings. They can cause quite the mass which is a problem for cars parked nearby. To tackle this problem, we can install wires and nets on the roof of the building which will chase the birds away.

Spider Control

If you notice a spider or two at your place from time to, then you have nothing to worry about. However, if spider increase in number, then there might be a nest somewhere in your home and we can provide a treatment against the eight-legged.
See What Makes Us Different Compared to Your Local Council
| | |
| --- | --- |
| | Sevenoaks Council Service |
| We offer heat treatment for most pest species | No information about heat treatment |
| Our pest control services are available even on bank holidays | Weekend availability not mentioned |
| | |
We also service the areas nearby Sevenoaks
Hey, if your home or workplace is not technically in Sevenoaks but somewhere nearby, then no worries. Just give us the exact address and leave the rest to us. For example, here are some of the nearby areas that we service: