Pest Control in Erewash
Modern methods meeting all COSHH regulations
Single and multiple treatment options available
Experienced, uniformed, and reliable exterminators
Check available booking slots in real time online
End Your Living Pest Nightmares with a Fantastic Pest Control Near You
Waiting for your council may not always be the best decision, especially if you're dealing with quickly multiplying pests like rats, cockroaches, or bed bugs. Defuse this ticking pest bomb in time with the help of a certified and insured local specialist.
The pest control expert knows the habits of all pests by heart and will use this knowledge to his advantage to quickly identify, pinpoint, and remove the threat from your premises using safe products, decoys, and traps.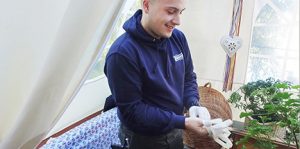 The local pro carries a unique "hideout checklist" for each of the species that has settled under your rooftop. Roaches, for instance, like to live in dark and humid places, like basements or bathroom pipes, while rats prefer to flourish in attics or inside wall cavities. Once their hotbeds are located, the pest exterminator will update you on the situation and will begin the treatment.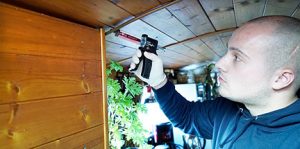 The professional's vehicle stores a wide assortment of equipment suitable for tackling any of UK's common and annoyingly persistent pests. All pest control methods are designed around the weaknesses of each species and will usually be performed in one visit. Bed bug treatments, however, will be performed in two visits since the insects may survive the initial spray treatment.
Wasp control, for example, is carried out with an extendable wand and a potent powder which, once injected into the hive, paralyses and kills the entire wasp population. Things are different on the rodent front where traps, baits, and sealants will be used. Squirrel control also differs in that the animals will be trapped and promptly disposed off in a safe manner.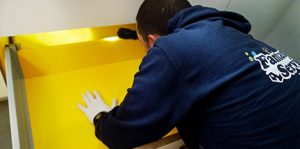 Sometimes, single treatments will not guarantee 100% removal. To ensure that the spiders, moths, or whatever else is bothering you are gone for good, we recommend booking a guaranteed service. This way, you will have access to two extra visits free of charge in case the animals have adapted to the treatment. To request an extra visit, please get in touch within a 3-month period after the pest technician's initial visit and he will sort matters out in no time.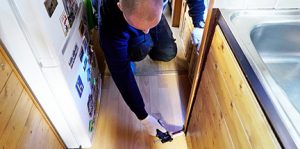 After each pest treatment, you will receive custom-tailored tips that you can use to turn your property into an impregnable fortress against future pests. For example, you may need to replace cracked pipes, empty the bins around the house more frequently, or trim down overgrown greenery to ensure that pests won't have an easy means of entering your premises.
Our Professional Pest Control Is Available in Erewash and the Vicinity
Is your home or commercial establishment in prompt need of rodent or insect control? Our fully equipped franchisees can respond to your emergency call within a couple of hours, regardless if your property is located at the heart of the Erewash district or in nearby regions. We also cover: