Fully insured & certified exterminators near you
Professional equipment and products provided
Discreet arrival in unmarked vans, upon request
Regular inspections & monitoring, subject to conditions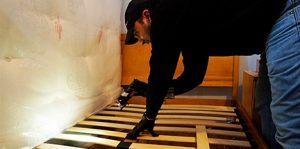 The first stage of our service involves a thorough check-up of the areas where the vermin are most active, breed or seek shelter. The evidence of the intruders' activity is carefully assessed, in order to determine the scope of the infestation. Only then, the pest expert will be able to decide on the best and most effective treatment method and product.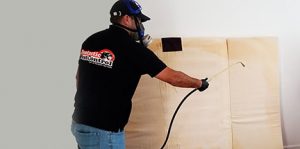 The local pest controller will safely and expertly proceed with the right treatment, be it the application of a fumigant, placing traps and baits, or installing pest repellent devices. Note that severe infestations require more than one treatment over a period of time.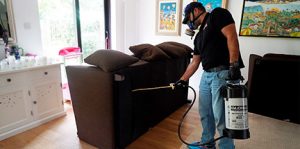 These involve the careful observation of your property after the initial treatment. At the first sign of any residual pest activity or if you spot a live specimen, then, you can request another visit from us. And this can be free of charge if you schedule our multi-visitations guaranteed package that will give you a peace of mind for a period of 3 months.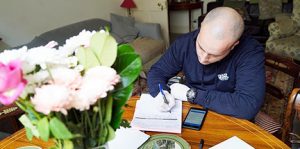 Another free perk that you will get is the specialist pest prevention advice, courtesy of your local service provider. He will explain to you in great detail about all the dos and don'ts that you may need to observe, in order to avoid vermin recurrences in the future.
Your Local Pest Control Assistant in Cornwall Is:
Let us introduce you to Roger Stone who can treat your property in Cornwall against a wide range of pesky vermin. The pest technician holds all relevant qualifications, certificates and insurance to provide our pest control services with guaranteed results. He can be booked at short notice, subject to availability, whenever your vermin situation requires an expedient response.
The local exterminator is experienced in applying a number of advanced rodent control, insect control and bird removal methods and products in compliance with all industry-set safety procedures and COSHH standards. At the end of the service, you can also seek his specialised pest prevention advice.
Roger also operates in other areas such as Plymouth, East Devon, West Dorset and Swindon.
Count on the Following Vermin Removal Solutions with Us
Rodent removal

We employ various techniques to eradicate rodent infestations, depending on the type of species you have issues with. Mice and rats pose risk to people as they may carry dangerous diseases. Hence, they are best exterminated. Squirrels, however, especially the Red Squirrel, should be trapped in accordance to local regulations.

Insect control

The local technician will spray/dust an effective insecticidal product that is suitable for the type of pest insect you have a problem with (ex: moths, fleas, bed bugs). Cockroach infestations are eradicated differently by applying gel baits. We also employ the use of monitoring stations that are placed strategically to control ants and termites. Severe insect infestations are best treated with powerful fumigants.

Bird removal

Whether chirpy sparrows, nuisance pigeons or aggressive seagulls have settled on your roof, we know how to deter them from invading your exterior space. The local pro will use only humane procedures and repellent devices, such as plastic spikes or nets, to keep the flying animals at bay.

Pest fumigation

The service is designed to eradicate any insects around your property and is particularly convenient for rented properties. It essentially kills off any insects present such as fleas, flies, moths and their larvae, cockroaches and more. The service is completed with powerful fumigants that have a high success rate.
Call the Cornish Emergency Pest Control Team at Fantastic
Fast and reliable, the local exterminators in Cornwall will be at your address within a couple of hours of your call. We also serve the following areas, listed below:
- Torridge;
- West Devon;
- South Hams;
- Torbay.