Fantastic Pest Control has cleansed over 5 000 properties throughout London in 2016. Here we have organised and presented all industry statistics, analysis, treatment reports and trends, based on jobs done per borough over the course of 2016.
Explore the interactive map above and discover London's least and most pest-infested boroughs. The change of colours indicates the magnitude of infestation, with pale and dark red representing normal and severe levels, respectively. Rodents and bed bugs are not featured in the map but are analysed in detail in #7.
Hover over an area to see a breakdown of the most common pests found there. This data is also available for download in a PDF file, which you will find attached below.
---
1. Most and Least Pest-infested Areas in London
---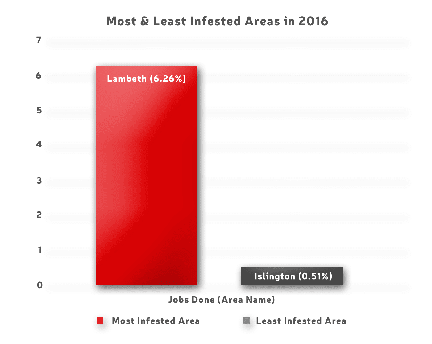 The London pest-infestation tends to vary throughout London.
"The most infested borough this year round appears to be Lambeth, while Islington is the least affected district of the lot." – Nick Mirevich / Pest Exterminator.
Even though Islington is the least pest-infested area, it is dominated by a variety of less common pests with a total of (34.21%), followed by mice infestations with (26.32%).
Lambeth is a different story – rodents ruled supreme then and remain kings now, staying within the pest control market's radar with a significant (14%) increase in activity. On the bright side, fleas in the area are now much less common, going at a rate of (13.46%) all the way down to (3.80%). The population of all remaining pests stays relatively unchanged, with moths now being slightly more common (6.64%) and "other pests" being much less so (12.96%).
In 2016:
Mice take the lead with (50%) in activity;
Other Pests with (20.46%);
The number of flea sightings remains about the same;
Cockroaches seem to be on the rise (6.91%) now as opposed to (2.63%) in the past;
Moths and bed bugs, however, are a bit less of a nuisance now, marking a (5-6%) decrease.
The graphics below are compared with our data shown on the interactive London map of pest infestation. The data there is visualised based on the pest control services we executed in 2015.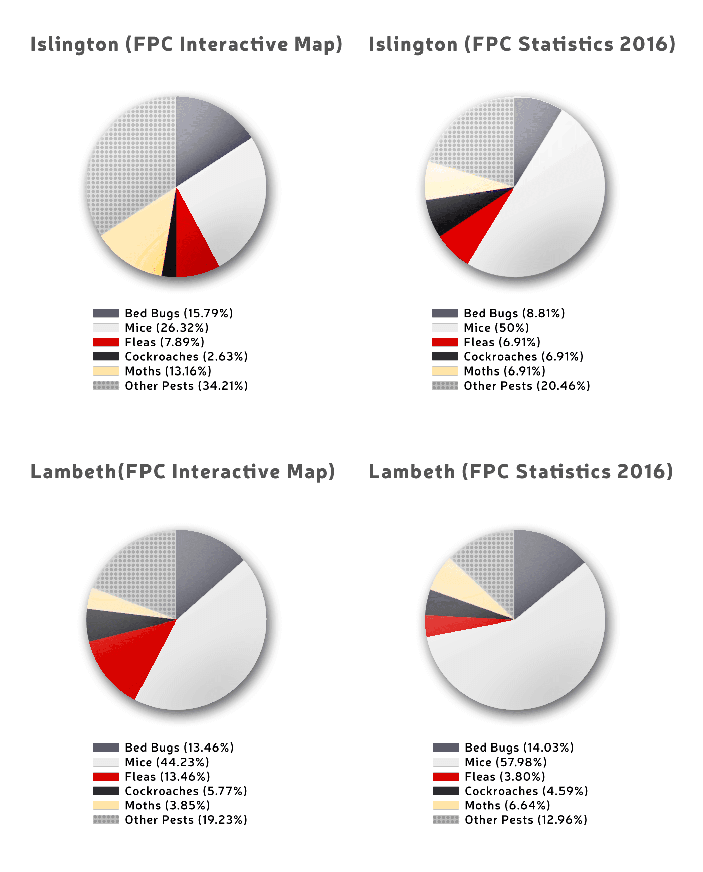 ---
2. Most Popular Services – The Report
---
Based on more than 15000 job requests throughout London, the most and least pest-infected areas in London vary from more than half our bookings for rodent control and the rest of pest extermination services: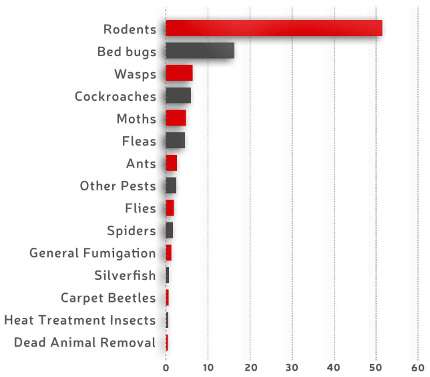 Rodent control (51.38%)
Bed bugs treatment (16.18%.)
Wasps extermination (6.22%),
Cockroaches (5.86%)
Moths (4.70%)
Fleas (4.38%)
Colonies (2.51%)
Other Pests i.e. birds, squirrels, woodworms, and the like (2.33%)
Flies (1.73%)
Spiders (1.53%)
Fumigation service (1.20%)
Silverfish (0,62%)
Carpet beetles (0.54%)
Heat insect treatment + Dead animal removal (0.49%)
---
3. Seasonal Pest activity in London
---
Pests tend to cause trouble throughout the entire year. After taking a closer look at all of the pest facts we have collected for 2016, we started noticing certain pest behavioural patterns in relation to the natural changes in climate.
Summer has been the most action-packed season for all pests throughout London – a whopping (36.04%) in activity.
As temperatures start dropping, so do the requests for pest exterminations. Autumn, the second most active season for pests, comes with a significantly lower score of (28%), followed by a lower still score of (21%) for Spring.
Winter when we recorded a pest activity peak of a mere (15%). This should come as no surprise as most pests, with the exception of the occasional mouse or cockroach, are far too busy hibernating (mosquitoes, paper wasps) or migrating away (moths, birds) from the biting cold to be bothered to roam the streets in search of a man-made shelter.
---
4. Times of Day and Pest Control Services
---

Operating 24/7 has helped us collect some interesting data on how the different times of day can affect the needs of our clients.
Mornings is when many of our clients (40.08%) reached out to make an anti-pest arrangement, specifically between 06:00 AM and 12:00 PM.
Between 12:00 to 18:00 each afternoon, we received a total of (45.39%) of all our bookings for 2016!
When night fell, we were usually met with a sharp decrease in activity, with a mere (12.21%) of our clients deciding to get in touch between 18:00 PM and 00:00 AM.
Even less were the bookings past midnight (2.33%) when customers would only call us if they were either too afraid or too disgusted to leave the safety of their bedrooms due to suspicious noises in their kitchens or bathrooms
---
5. Pest Control Services by Boroughs
---
Looking at all the pest control numbers that we've gathered for you, you may be under the false impression that London is just a few months shy of becoming pest heaven.
Over the course of 2016, Fantastic Pest Control has been eagerly taking actions to prevent that from happening by providing hundreds of quality services across all London boroughs. At some of these areas, however, the specialists met more resistance than initially expected, so we had to send the teams there a few times extra. But where were we most helpful, exactly?
Where were we most helpful, exactly?
We've made the most progress in Lambeth, where we performed (6.26%) of all treatments for the past year. Our next most frequented area was Camden, where we invested (5.99%) of our total yearly efforts in preventing and extinguishing pest infestations. In Hackney, Croydon, and Ealing we were met by about the same levels of pest "resistance", with the number of treatments decreasing with each subsequent area.
The next areas share a staircase-like shape, with client calls gradually decreasing in quantity as we move from Barnet (5.5%) to Brent (3.93%). Our impact in Newham, Redbridge, Tower Hamlets, and Harrow remains relatively even, starting with (3.44%) and ending with (3.33%).
You can see that our activity suddenly arrives at the (2.00%) mark, starting from the borough of Greenwich and ending all the way to Bexley (2.12%). This drastic change in treatment count, however, is perfectly natural – after all, these are all areas where the pest infestation levels are known to stay within "acceptable" limits.
The number of pest control jobs keeps plummeting until reaching Havering, Sutton, and the City of London, where the search for pest control treatments remains at a constant average of (0.83%). Finally, we had the least action in Islington (0.51%) as the area is generally devoid of pests.
---
6. Most Preferred Pest Treatments – by Types
---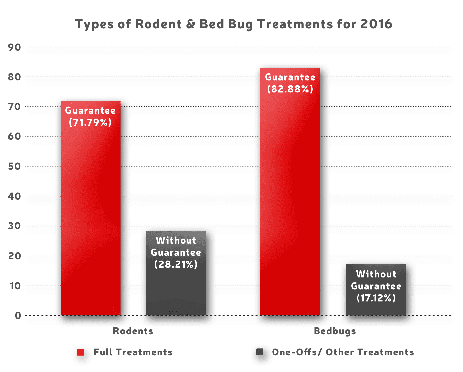 Generally, Fantastic Pest Control offers two types of treatment – guaranteed (but more taxing on the wallet) and one time only treatments (affordable, but long-term is not guaranteed).
"The benefit of guaranteed treatments is that, unlike one-offs, they can include up to several consecutive sessions until the pest infestation has been completely eliminated from your premises." – Nick Mirevich / Pest Exterminator
Looking at our pest control industry analysis, it appears that many Londoners have decided to play it safe.
An expected outcome, considering that not many are willing to pay for something that is not guaranteed to work. All the rodent treatment bookings that were made during 2016:
(71.79%) were covered by a guarantee, while only
(28.21%) included the thorough, but less efficient one-off treatments.
This disparity is even more evident with our bed bug treatments where the guaranteed sessions constituted (82.88%) of all bookings made during the previous year, leaving one-off treatments at… yes, exactly (17.12%)! The reasoning behind this incredibly low number? When you have blood-sucking insects living under your bed, you really don't want to take any second chances.
---
7. Rodents vs. Bed Bugs – Which Infestation is Greater and Where?
---
In our next big chunk of pest control statistics in London, we'll be taking a further look at two of our most requested services – rodent and bed bug exterminations.
Our clients encounter rodents much more often (51.38%) than bedbugs (16.18%). But in order to make a proper comparison, we have to keep drilling down into the actual numbers behind each service
We've already established Lambeth as the area in London that has been affected by pest raids the most, so we'll start from there. In this highly competitive environment rodents emerge on top with a substantial lead of (6.81%) in activity over bedbugs with just (5.31%).
Camden, another area that's been eagerly reaching out for the "Most Infested Borough of the Year" award, shares a similar status quo – (5,86% )in activity go "in favour" of the rodent family, while bed bugs lag behind with a significantly lower score of (4.76%). These differences appear marginal in another pest-frequented area – Hackney, where the rats (5.94%) barely edged out the bedbugs (5.86%).
So, what are the pest control trends on the other side of the fence? Well, our charts seem to indicate that Croydon is fairly populated with bedbugs (6.35%) as opposed to rodents (6.08%), though the difference isn't dramatic. Ealing is also a relative middle ground, with the tiny vampires' presence being almost on par (5.80%) with that of the long-tailed vermin (5.40%).
Barnet, on the other hand, is officially bedbug's land (4.46%), outgrowing their whiskered competitors (3.48%) by almost one percent. Other areas where bedbugs are prominent include Newham (7.39%), Tower Hamlets (5.56%), and Redbridge (4.58%), while Westminster (5.52%), Hammersmith & Fulham (5.09%), and Wandsworth (4.23%) remain strictly mice territory.
---
8. How Fast do People React to Pest Infestations?
---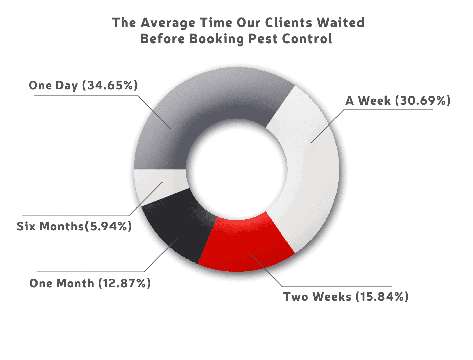 Most of our clients for 2016 (34.65%) were quick to contact us for professional pest control in London within just one day of spotting an infestation.
However, there were many still who waited around for an entire week (30.69%) before seeking professional aid, perhaps hoping that the uninvited guests would somehow show themselves the door. Other customers exhibited an even calmer attitude, reaching out to Fantastic Pest Control after timeframes of two weeks (15.84%) and one month (12.87%), respectively.
Finally, nobody decided to call us past a two month period, which is a bit peculiar seeing that almost 6 percent of all people contacted us after half a year! On a side note, we think that each member of the latter group should be getting a Medal of Valour for their patience and bravery.
---
9. Conclusions and Takeaways
---
Here, you will learn what type and how much of a given insect the pest controllers have encountered in each London borough. In the meantime, let's have a look at all the places where we did the most treatments for each particular insect:
Planning on moving out with your family to Newham? Then think twice, because it harbours the highest population of cockroaches we've encountered in London – (51.90%)!
You really don't want to stir up a wasp's nest in the borough of Bromley as the wasp activity in the area (49.32%) for 2016 was (and still is) the busiest in the capital.
Decided to try out Kensington & Chelsea instead? Then keep your clothes and food tightly sealed as moths (49.15%) are quite common there and so are ant nests (18.64%).
Waltham Forest, you say? Even if you manage to avoid the almond smell of cockroaches (18.75%), you are still very likely to get jumped by blood-thirsty fleas (29.69%).
Afraid of arachnids and their silky webs? Then Harrow is definitely a place you should avoid at all costs as our research shows that spiders feel quite at home there (12.38%).
Is your apartment in Hillingdon rather damp? Then check all dark corners and the areas behind your furniture, because a silverfish invasion (17.50%) is likely headed your way.
Does the high-pitched buzzing of flies drive you insane at night? Then steer clear from Havering where we've spotted quite a lot of these flying demons and their eggs (15.63%).
After all, you've read about Islington, you already know what to expect. But here is yet another reason to hire a professional before you arrive there – carpet beetles (11.76%)!