Pest Control in Suffolk Coastal
Emergency and short-notice services
Against all kinds of infestations
Complete inspection and treatment
Using high-end equipment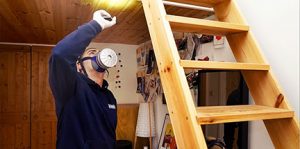 One of the most important aspects of this service is inspecting the property carefully in order to ascertain the scale of the infestation, what areas are affected the most, and how the pests have gained indoor access. When the pest controller is done with the inspection, he will know exactly what will be necessary in order to put the situation under control.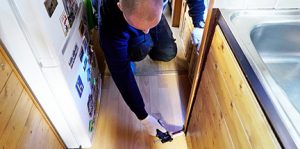 When the inspection is over, the specialist will begin preparations for the treatment as he brings all the needed equipment and anti-pest products in his vehicle. You have to remember that the various pests species known to invade dwellings are treated differently and some cases require secondary visits from the pest controller. For example, the treatment against bed bugs is always done in two major session, spaced at least a week apart.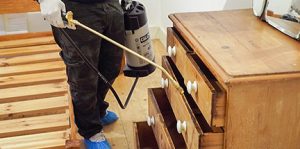 Remember that you can always resort to our budget-friendly guaranteed service packages in case your property is at much higher risk of re-infestation in the future. This option is particularly good for businesses such as restaurants and other venues that serve food. Talk to our helpful customer representatives today for more details. Or simply visit our 'prices' page to learn more.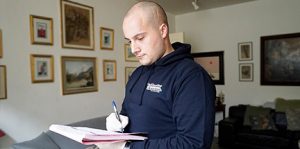 Remember that there is no solution that can keep your property protected from pests forever. And if your place is prone to get infested, you should implement a sound strategy to keep the pesky bugs and rodents at bay. You can consult with your pest controller after he treats your property, he will be happy to share with you some useful tips.

The Suffolk Coastal pest control technician you can trust
We would like to introduce you to Jim Barlett who is the chief pest controller in the Suffolk Coastal area. He manages an entire team of expert pest controllers but carries out a lot of the treatments himself. So when you make a booking for a pest inspection or a certain treatment, Jim might be the one to come to your aid. He is fully certified and has all the necessary skills and know-how to solve all your pest-related issues. He also works in the areas of Southend-on-Sea, East Hertfordshire and South Norfolk.
What can we do for your Suffolk Coastal home and/or business?
Insect Treatment

It doesn't matter what type of bug, be it crawling or flying, is... bugging you. We've got the means and know-how to eradicate every single creepy crawly at your place and to provide lasting protection against re-infestation.

Mice & Rat Control

Your property will be carefully inspected for holes and cavities in the walls. The pest controller will figure out how the rodents are entering inside your place and block those spots. And if there are whiskered troublemakers inside, the technician will capture them by setting traps and baits.

Outdoor Pests

For example, the common urban pigeon can be particularly annoying. They tend to form gatherings on the roofs of buildings and mercilessly bombard the streets and the parked vehicles. However, we can proof the roof of your building with wires and spikes in order to chase away the pesky birds. Squirrels can also cause some troubles if your place is near a park or a woody area but can easily capture them.

Pest Disinfection

What about the aftermath of a pest infestation? Well, this is something we can also help with. We can arrange a professional disinfection for your property after it has been treated against the specific pest. It is done with special biocidal products that destroy all signs of bacteria and contamination.
What more can we offer than your local council
| | |
| --- | --- |
| | Suffolk Coastal |
| We are able to arrange any type of pest treatment for you. | Does not provide pest control services at all. |
Covering Suffolk Coastal and other nearby areas
Fantastic Pest Control is expanding and being able to cover more and more areas within the United Kingdom. It is our mission to bring our advanced and convenient approach to as many households and businesses as possible. And right now our services are also available in the areas around Suffolk Coastal so make sure to contact us if your property is in: