Pest Control in South Gloucestershire
Discreet commercial and domestic pest control
Experienced, insured & uniformed local exterminator
Offering multiple guaranteed visits
Available on weekends, bank holidays & emergencies
Get Pest Treatment from a Certified Exterminator in South Gloucestershire
In the fight against pests, timing is everything. Schedule local pest control today to ensure that the mice family, cockroach troublemakers, or flying creepy-crawlies in your South Gloucestershire property are dealt with promptly and safely.
The local professional has passed all relevant RSPH courses and will bring the right products and equipment to put an end to the pest's reign in your food chain restaurant, gym, hotel, house, office or other premises once and for all.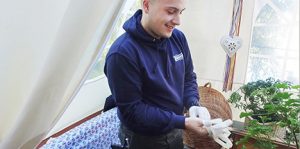 As soon as he arrives, the pest exterminator will check the most vulnerable areas of your property in order to locate all hotbeds. When the pests are discovered and identified, the specialist will instruct you on what to do next and will prepare the area for the treatment.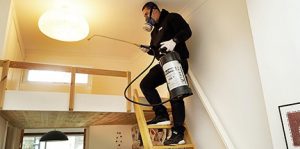 How the treatment is done will depend on the type of rascal that has holed up in your property. Since rarely are our clients sure of what animals have infested their premises, the expert will bring every tool and product at his disposal to battle anything from rats to squirrels.
For example, mice will be treated with sealants and expanding foam, with traps and baits coming into play only if the infestation has progressed too far. Insects will be treated with a variety of spray-based products (bed bugs) pastes (woodworms), powders (wasps), and bait gels (cockroaches), while birds will be removed using non-lethal methods.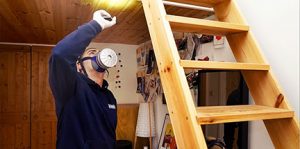 If you tried to treat the infestations on your own, the first treatment might not work since the pests could have already adapted to the pesticides. If you've booked guaranteed mice or other form of pest control, you can benefit from up to two free visits.
During these, the specialist will use a different range of products to re-treat the areas until the animals have left your property for good. The guarantee is valid for up to three months (90 days) after your initial treatment.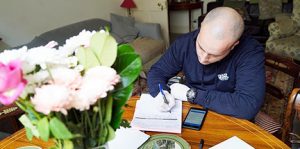 With the pests gone, you can ask the qualified technician for any tips and tricks you can use to prevent a future raid by local animals. He can also issue a detailed report for the service, including the type of equipment used, the number of rooms treated, and more.

Why Choose Martin Grant Over Others?
It's time you meet your local professional. Experienced and loyal, Martin Grant has been partnering with Fantastic Services for a number of years.
He has treated hundreds of infested properties in South Gloucestershire, ranging from two-room apartments to massive warehouses.
The pest exterminator is always keeping up with the latest trends and regulations in the field and undergoes routine QA checks to ensure a fantastic quality of work with each visit.
Martin also operates in Bristol, North Somerset, Wiltshire, and Gloucester amongst districts.
Pest Control Comes in Many Forms – Here Is What We Offer
Rat Control

The specialist fills in all entry points with wire wool, expanding foam and/or other sealants. However, any holes larger than 1 ½ inches in diameter will need to be repaired by a handyman instead. For bigger infestations, the pest controller can also lay multiple traps with fast-acting poisonous bait that will quickly spread within the rodent population.

Bed Bug Control

Bed bug treatments are done with two different insecticides, applied two weeks apart to achieve full insect extermination. Note that, in most cases, you will need to throw the recently infested item(s) away or wash them at a really high temperature in order to avoid re-infestation.

Creepy-crawly Control

Wasp control, for instance, is done by injecting a paralysing powder directly into the hive, which will make quick work of the entire wasp colony and render the hive completely harmless.

Commercial Treatments

General fogging: All surfaces are sprayed to prevent an infestation from nearby properties;

Bird control: Spikes, fire gels, and nets will be used to humanely drive the flocks away;
Compare Us to Other Pest Control Providers in the Area
| | |
| --- | --- |
| South Gloucestershire Council | |
| DO NOT treat for pigeons, seagulls, birds, moles and bees | We treat pigeons, seagulls, other birds and a variety of other pests |
| You can enquire for pest control only in office hours | We are available for you 24/7 |
Emergency and Regular Treatments in South Gloucestershire and Beyond
Sometimes, you just can't afford to wait a day or two, especially in the food industry where the presence of pests can shut down your business overnight.
This is where our local emergency services come into play. Get in touch at any time and the professional will arrive within a few hours to treat your property in South Gloucestershire or in any of the following areas: