Pest Control in Portsmouth
Licensed and insured pest technician
Treatment that is unrestricted by time
Bank holiday and emergency visits
Helpful prevention tips by an expert
Expel the Unwelcome Pests with a Certified Pest Treatment in Your Area
Pests are not necessarily invading homes and businesses because of bad hygiene. It's enough to simply leave some food outside or on the table a couple of nights in a row for the unsightly cohort of rats, ants, spiders, wasps, and other beasties to take notice of your building. And when that happens, you will be glad to know that Fantastic Pest Control has your back. The local exterminator is experienced in providing a wide range of anti-pest services with long-term results. Below, we have outlined the four key steps present in any of our pest control operations.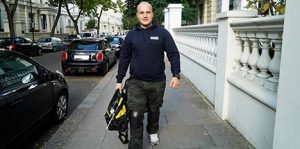 The pest exterminator is trained to spot even the most secluded of pest dens, the location of which will vary depending on the species he faces. If called for bed bug control, for example, the professional will make suitcases, clothes, mattresses, baseboards, upholstered furniture, and other bed bug-favoured spots his main priority. Depending on how many insects he spots, he will be able to tell you how serious the infestation is and what needs to be done to combat it.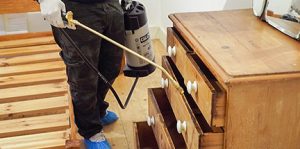 As strange as it may sound, battling pests is an exact science, from picking the right products and equipment to administering the right dosages. It's also about adapting to the current situation. Let's take our dust mite control treatment, for example. Usually done in one visit, it will have the exterminator use a special UV light device to treat anything from mattresses to sofas and curtains. However, a fast-acting insecticide can also be used to deal with bigger infestations.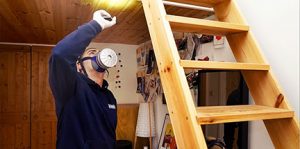 Pressured by the sudden pest control measures, some of the trespassing animals may "play dead" until the coast is clear and they can continue foraging for supplies. Thus, before leaving your property, the Portsmouth pest controller will advise you to be on the constant lookout for any suspicious activity around your home or place of business. Note that our guaranteed service treatments include up to two free post-service visits as long as you request them within the next 3 months.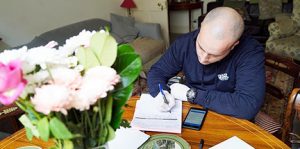 At Fantastic Pest Control, we make sure to reduce the risk of a recurring infestation for as much as possible by using residual pesticides and insecticides, as well as securely proofing all small apertures in case of a rodent infestation. However, nothing lasts forever, which is why your pest exterminator will gladly share expert tips on how to keep your property pest-free for longer.

Pick a Helpful and Certified Pro for the Job
Say "Hello" to Stanimir, an experienced pest technician working under the Fantastic Pest Control brand. He and his team of diligent pest exterminators have smoked out pests from hundreds of homes, as well as public and commercial establishments in line with the finest and safest traditions in the industry. Each professional is fully uniformed and equipped, wears an ID badge for easy recognition, and can arrive in a way that will keep the service private, if requested.
Stanimir is also the one who oversees the quality of our pest services around Brighton & Hove and Southampton.
What Makes Us Better Than Your Local Council
| | |
| --- | --- |
| Portsmouth Local Council | |
| They don't treat ants for residential properties | We do |
| All insect treatments have a non-refundable call out charge £10 before we come out. | No call out charge! |
| They expect to resolve the problem within the three visit treatment. | Fantastic Pest Control offers a full treatment service with a 3 month guarantee! |
You Can Spot the Pro's Branded Van in Portsmouth and the Area
What can you possibly do if you find yourself surrounded by pests? Call Fantastic Pest Control for an emergency treatment, of course! Whether it's going after rats, cockroaches, ants, moths, woodworms or something else, the specialist will quickly grab his tools of the trade and be at your address a few hours after your call. Besides Portsmouth, the professional can also service:
-Gosport;
-Fareham;
-Havant.