Pest Control in Mendip
Safe methods approved by Control of Substances Hazardous to Health
Inspection, extermination, and prevention done by a certified technician
Service available for any given day of the week, bank holidays included
Your local Mendip pest technician will
S.T.O.P.

the pests today!

Survey

On the initial visit, the exterminator will carefully look into the problem you have. Establishing the pest you are dealing with and any potential reasons, why your property is infested.

Treatment

The local pest control technician will use only high-quality solutions against your pests. Follow their instructions to maximise the effect of the treatment.

Observation

A key element of a successful pest control treatment is the observation of the progress. With the guaranteed service you can benefit from two follow-up visits. During those visits, the exterminator will assess the methods used and adjust if needed.

Prevention

The pro will make sure all entry points are blocked so that the vermins won't come back. He will write and give you a report where the whole process is described and will provide you with professional advice on how to avoid future infestations.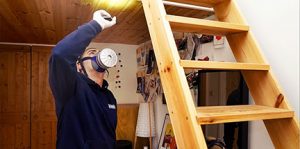 The professional will begin with a thorough inspection of your premises to determine if the pests are coming from outside or have settled in somewhere under your rooftop.
He will be on the lookout for certain giveaways (greasy wall spots, specific smells, excreta, etc.) in order to identify the species, locate their dens, and assessing their population. The specialist will then start preparing for the treatment and will give you further instructions once he's done.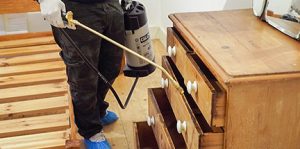 Unfortunately, pest eradication is not a one-dimensional process. Fortunately, your expert is well-trained in dealing with anything from dust mites all the way to squirrels and birds.
Since each animal requires an individual approach, he will carry a wide variety of equipment: sprays, bait gels, traps, sealants, powders, pastes, etc.
Almost all of these products, however, are completely safe for humans and pets, and the substances that aren't will be used by the exterminator with extreme care.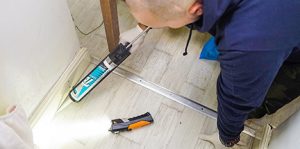 This step is only available to customers who booked a guaranteed treatment. Essentially, our guarantee allows you to book up to 2 additional visits free of charge, depending on the service you've chosen. If there are suspicions of an ongoing infestation even after the first treatment, the professional will perform the service again until your problem is fully solved.
Note: your guarantee lasts for 3 months or 90 days after your initial session.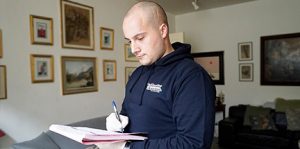 With over 10 years of experience in the field, your local exterminator is THE person to ask for pest prevention advice. In addition, you can also ask him to issue a detailed written service report that you can then present to your landlord, agency, or to whomever else needed.
The Mendip Pests Won't See Us Coming
Regardless if you're located at the very heart of the district or at its furthermost rim, the friendly pest controller is always able to help you deal with emergency scenarios on the very same day. In addition, we've expanded our reach even further and can now also serve areas, such as:
Postcode coverage:
BA10, BA11, BA13, BA16, BA2, BA3, BA4, BA5, BA6, BA7, BS18, BS27, BS28, BS39, BS40, TA11
Other locations we cover nearby Mendip
Certified by