Pest Control in Epsom and Ewell
Effective, agency-approved methods
Done be experienced and dedicated pros
Wide range of services for all properties
Working all week long, even during holidiays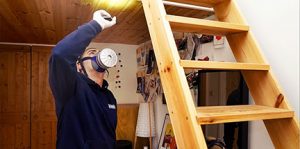 When your pest controller arrives at your property, he will carefully inspect the place in order to figure out exactly what is the situation. This way he will determine what actions to take against the bugs or rodents that causing troubles.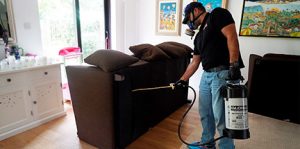 Of course, the type of treatment depends on the type of pest that is present at the property. So, for example, if you are dealing with a, let's say, bed bug infestation, then at least two visits from the pest controller will be necessary. This is because the first treatment against the tiny bloodsuckers will eliminate most of them, but some of the adult bugs will develop a resistant against the product used against them so a secondary visit will be necessary.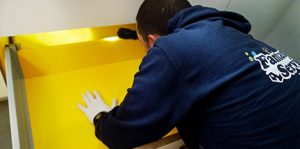 Stay vigilant after the pest control service. If you are able to, pay attention to the areas that were treated. We are confident that our treatment will solve the problem but you never know – if there's something wrong, then please let us know – especially if you have purchased a guaranteed service which comes with free additional treatments. Learn more about this option by talking to our friendly customer care staff.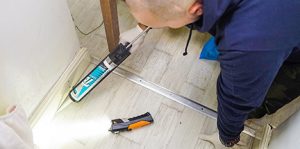 While your pest controller is there, you can consult with them regarding how to protect your property. After all, the best way to deal with pest infestations is to prevent them in the first place. The Fantastic Pest Control specialist will gladly share with you some helpful strategies.

Your pest controller in Epsom and Ewell is ready for action
One of the pros who services Epsom and Ewell is Carl Doogan. He is an experienced pest controller who uses highly effective methods and state of the art equipment. So if you make a booking for pest inspection and treatment, Carl might be the one to come to your address and put an end to your troubles with rodents or pesky insects. He is available in Woking as well. And if you request it, he can keep things discrete.
Here's how we can help you
Cockroach Control

The specialist may spray the affected areas if the infestation is of a larger scale. However, most of the time the treatment consists of applying a special bait gel – the cockroaches will eat from it and perish.

Bed Bugs Control

Our practice shows that the treatment against bed bugs requires at least two visits from a pest controller. This is done because some percentage of the bed bugs will develop resistance against the first product used against them. That is why a secondary treatment with a different product is necessary.

Rodent Control

It is crucial to mechanically block the "entrances" used by the pesky mice and rats. These usually include holes in the walls, air ducts, and other susceptible areas. The pest controller will use expanding foam and steel wool to block those entryways.

Commercial Services

If you are running a local business and your property has been affected by pests, then you should take measures right away. And if you contact us, we will be able to arrange service as soon as possible – there is no need to wait for the council a whole week or so. And if you request it in advance, the pest controller can arrive in a non-branded van to keep things discrete.
What Makes Us Better Than Your Local Council
| | |
| --- | --- |
| Epsom and Ewell Local Council | |
| The service does not guarantee to permanently eradicate the infestation. | Guaranteed pest control services! |
| Cancellations are not possible, only rescheduling | Cancellations available, if only made more than 24h prior the tretment. |
| Does not operate at weekends. | Available 24 hours a day, 7 day a week! |
Fantastic Pest control in your area and nearby
Our brand is expanding and we are doing our best to provide reliable and effective pest control for more and more areas. Here are some of the areas we cover near Epsom and Ewell:
- Mole Valley;
- Reigate and Banstead.