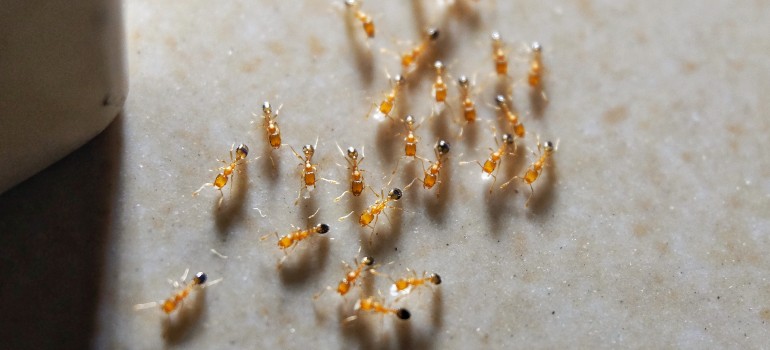 Pharaoh ants are among the most persistent and frustrating household pests. The tiny intruders are known for their resilient colonies and rapid reproduction. Pharaoh ants can disrupt daily life and compromise sanitation when they invade kitchens and pantries.
This article will teach you effective strategies and practical tips to eradicate and prevent this type of ants. Additionally, you will learn what causes pharaoh ants and what they like to eat.
Are pharaoh ants in the UK?
The Pharaoh ant lives in the UK, but they are not native species. Originally from Egypt, they have spread overseas.
They prefer to infest urban areas, especially buildings where they can move freely from one place to another without actually leaving the building.
As a tropical species, pharaoh ants are usually found in heated buildings in the UK. Among the most common places to find pharaoh ants are kitchens, specifically near ovens or other appliances that emit heat.
Can pharaoh ants bite?
The Pharaoh ants are capable of biting. In general, their bites are not painful or harmful to humans. Since they have relatively small mouthparts, their bites are usually described as more of a nuisance than a threat. Ants are known to bite when threatened or when disturbed.
Common signs of a pharaoh ant infestation
Seeing live ants in your house is, of course, the first sign of a pharaoh ant infestation. However, other signs can also indicate you have an ant problem, such as seeing ant trails and finding a nest.
When an infestation is detected, you should take appropriate measures for ant control. The following are some common signs of pharaoh ant infestation:
Live ants: You will likely see trails or clusters of ants near food, water, or nesting areas. It is common to find these insects in kitchens, bathrooms, or other places where food is stored or prepared. A pharaoh ant can be identified by its small, light-coloured, 2 mm long body. A pharaoh's ant's body varies in colour from yellow to red, and its abdomen is typically red or black. Usually, pharaoh ant queens are darker than worker ants. These types of ants have curved or bent antennae, giving them a look of elbowed appearance. It is common for their antennae to be longer than their bodies. Distinguishing pharaoh ants can still sometimes be challenging, as several ant species have similar characteristics. A pest control professional can help you determine the type of ants you are dealing with.
Ant trails: Pharaoh ants usually follow defined trails as they forage for food. You may see these trails on walls, countertops, or other surfaces. Ants often follow specific trails, which may change as they establish new ones.
Nesting sites: Nests of pharaoh ants are often hidden, making them hard to spot. Wall voids, baseboards, cabinets, electric outlets, and appliances are common nesting sites for ants. A small pile of ant debris, such as soil or insulation, may indicate nesting.
Multiple ant colonies: Pharaoh ants are unique in forming multiple colonies with multiple queens. Multiple ant nests or satellite colonies found throughout your apartment or house are sure signs of an ant infestation.
Food invasion: Sugar, fruits, meats, and small insects are some of the things pharaoh ants love to eat. Their preference for sugary foods is similar to that of sugar ants. Foods with fatty or oily textures, such as grease or cooking oils, can also attract pharaoh ants. In addition to dead animals, pharaoh ants consume decaying organic matter. So if you observe ants feeding on food crumbs or spills, or notice them around sugary or oily substances, this indicates an infestation. Pharaoh ants swarming around pet food dishes may indicate an infestation if uneaten pet food is left out in bowls.
If you detect any of these signs indicating a pharaoh ant infestation, it's crucial to act promptly. Bear in mind that managing the infestation on your own might be challenging due to the nesting tendencies of these ants. Nevertheless, we've outlined some DIY methods below for your convenience. Alternatively, you can opt to save yourself the trouble and ensure permanent eradication by reaching out to a professional ant exterminator.
How to get rid of pharaoh ants
Here are some tips on how to stop the invasion of pharaoh ants and eradicate them:
Locate ant trails – Observe their movements and search for trails leading to and from the nest. Your efforts will be more effective if you focus on the areas where they spend most of their time.
Place bait stations strategically – Using bait stations to control pharaoh ants rather than sprays is more effective. Place ant bait stations near trails and nest sites, following the instructions on the package. Eventually, the entire ant colony will be killed as the ants carry the bait back to their nests. For a natural way of getting rid of pharaoh ants, baking soda and sugar can be used as bait. Equal amounts of baking soda and sugar should be mixed and placed where the ants forage. While baking soda may not necessarily cause poisoning, the rationale is that formic acid in ants will react with it. Another eco-friendly way to repel pharaoh ants is to mix vinegar and water and spray the mixture in areas where the ants are active, such as window sills and doorways.
Monitor and replenish bait stations – Refill bait stations as needed to ensure they are still active. It may take months to eliminate the ant colony, so be patient and persistent.
Identify and eliminate food sources – Ensure that your kitchen and dining areas are always clean, spills are promptly wiped up, and that food is stored in tightly sealed containers. Take out the trash regularly as well.
Prevent nesting sites – You can reduce the number of hiding places for these ants by sealing off entry points and cracks in walls and floors.
Consult a pest professional – It's best to contact a professional pest control company on time if your efforts to control pharaoh ants do not succeed or the infestation is severe.
How long does it take to get rid of pharaoh ants? It can be challenging and time-consuming to get rid of pharaoh ants because of their complex nesting habits and ability to fragment colonies. The exact duration for complete eradication will depend on several factors, such as the extent of the infestation, the effectiveness of the treatment, and the thoroughness of the control measures. A pharaoh's ant infestation may take several weeks to several months to eliminate.
Why do I have pharaoh ants?
Food-rich structures, such as sugary substances, proteins, and greasy residues are what attract and sustain Pharaoh ants.
Additionally, these ants thrive in warm and humid environments. So if you are detecting Pharaoh ant infestation in your home, chances are that you are providing suitable conditions, including sufficient temperatures, moisture, and food sources.
This ant species prefers nesting sites close to food and water sources. Pharaoh ants build nests in wall voids, electrical outlets, cabinets, and other hidden areas that offer protection and suitable conditions.
Ways to prevent a pharaoh ants' invasion
Here are a few preventative measures that you can take to prevent pharaoh ants from entering your home and causing a new infestation:
Seal entry points: Check your home for cracks, gaps, or openings where ants can enter. Using caulk or weatherstripping will prevent ants from accessing them.
Clean: Again, ensure cleanliness in your living areas, especially the kitchen and dining areas. Spills should be cleaned promptly and sweeping or vacuuming should be done regularly. You should eliminate any potential sources of food that may attract pharaoh ants.
Trash disposal: Ensure garbage is properly disposed of by sealing garbage bags tightly and placing them in outdoor trash cans. To avoid ant infestations, regularly empty trash cans and clean the area around them.
Storing food: Store all food items in airtight containers, including pet food. As a result, ants cannot detect and access possible food sources.
Fix leaks: Moisture attracts Pharaoh ants. If you discover a leak or plumbing issue, fix it quickly. Maintain proper ventilation to reduce excess moisture in areas like bathrooms, kitchens, and basements.
Remove outdoor attractants: Keep outdoor areas clean and free of debris that may attract ants. Don't leave food or sugary substances outside; trim vegetation away from your home's exterior.
Check new items: Take caution when bringing new items into your home. Ensure used furniture, potted plants, or other items have been inspected. A pharaoh ant can hitch a ride on an infested item and enter your home.
These preventive measures will significantly reduce your chances of a pharaoh ant infestation in your home. Cleanliness and maintenance play a crucial role in preventing ants and other pests.
How to kill pharaoh ants?
Book pharaoh ants treatment
Call us
Takeaways
Pharoah ants are tropical species that are normally found in heated buildings in the UK.
Due to the similar characteristics of several species of ants, it can be difficult to identify them.
Multiple queens and multiple colonies make Pharaoh ants unique.
To control pharaoh ants, bait stations are usually more effective than sprays.
Professional ant control treatment is required if you cannot deal with the infestation.
Image source: Najmi Arif / Shutterstock.com